Getting to fly over the Alps during the sunrise is magical.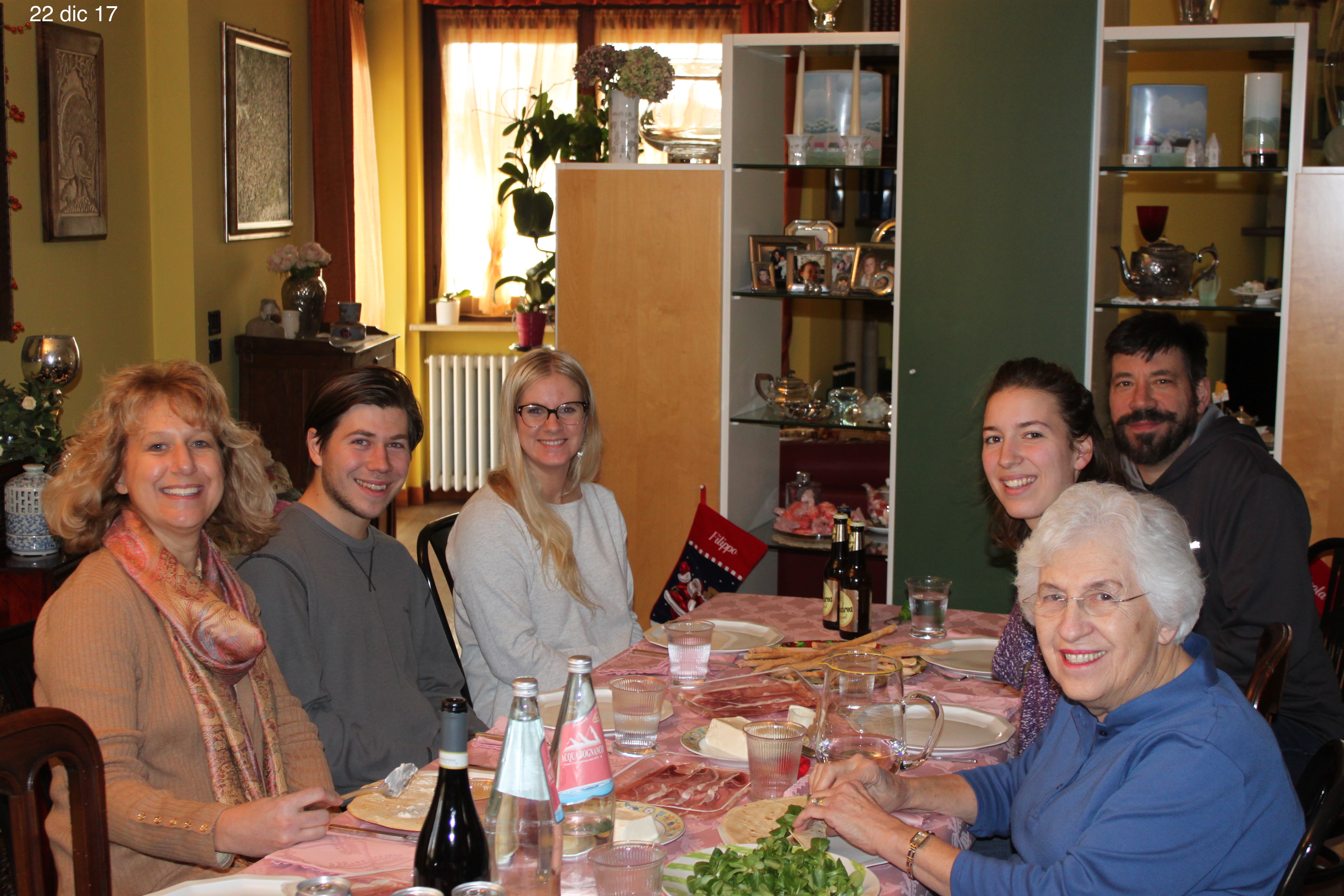 Our first meal after we were all reunited! We may have been jet-lagged but we were all very happy.

My Italian family owns a sock company so it wasn't long before we were getting a tour of the factory. It was pretty much how I remembered it from when I was here many years ago.

A happy family photo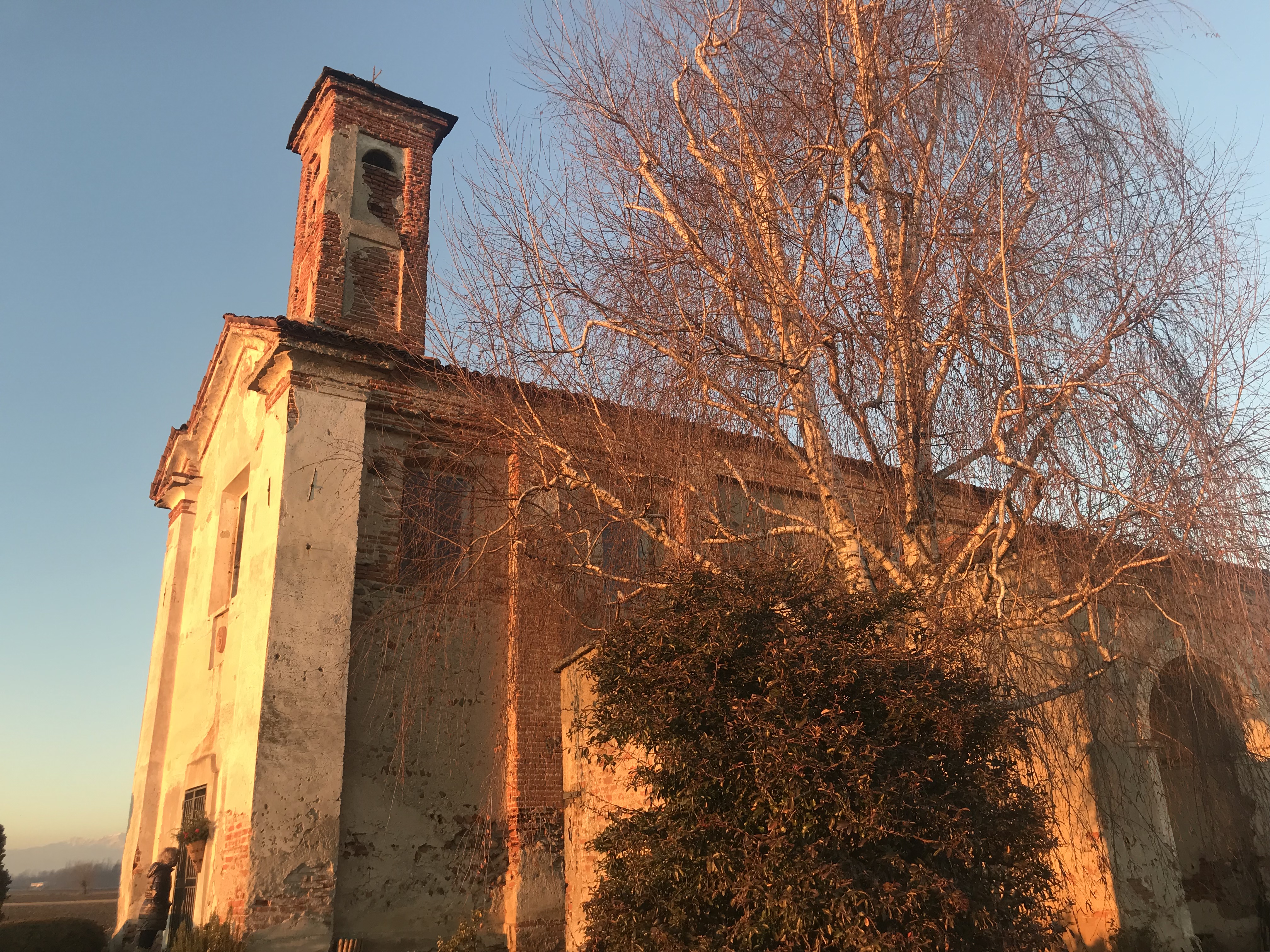 When we returned from Chamonix, we stopped at Chiesa Madonna della Neve (Madonna of the Snow), a tiny 15th century church.

The church was in the middle of large field that was lit beautifully by the sunset.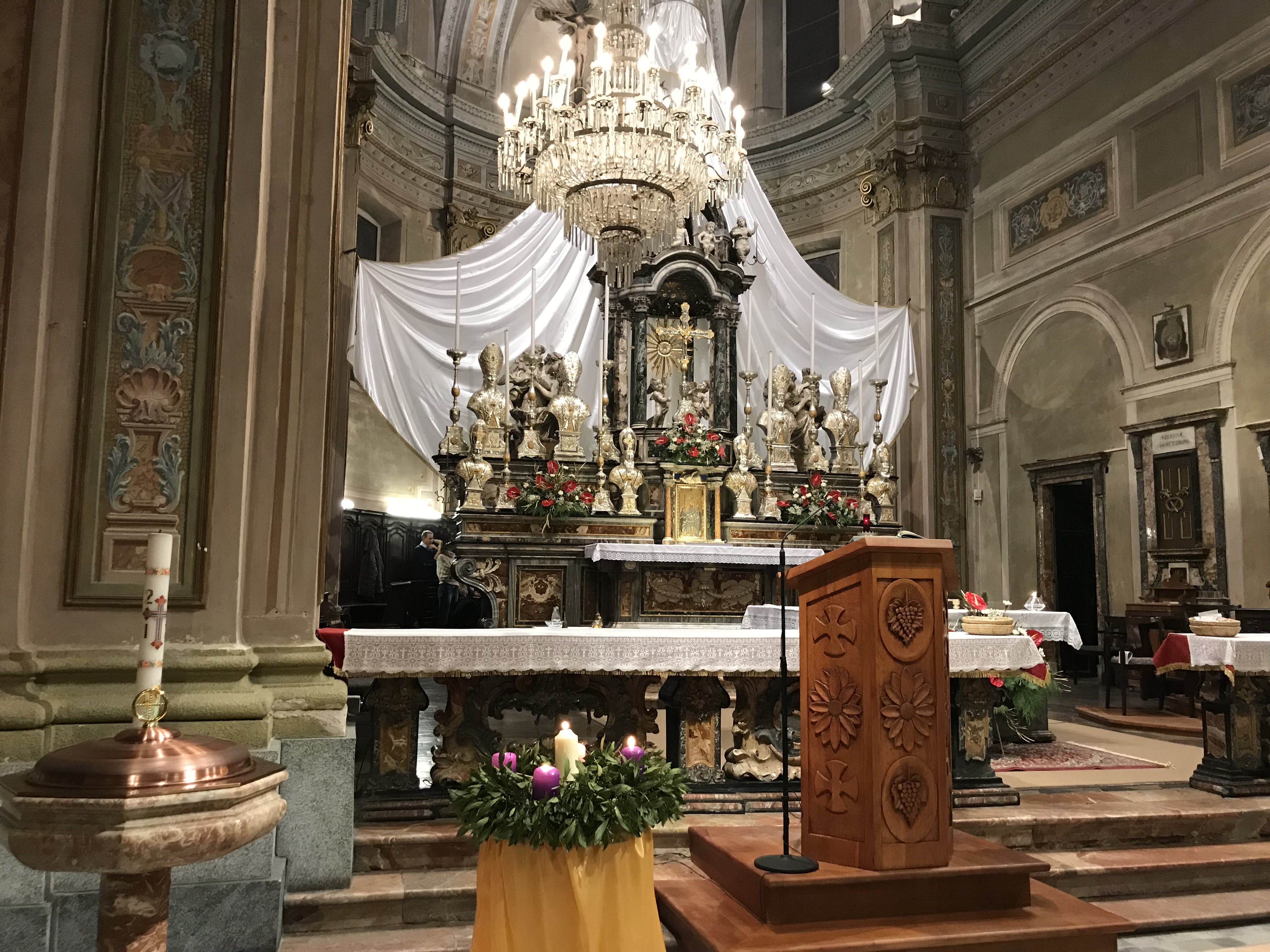 Mass on Christmas Eve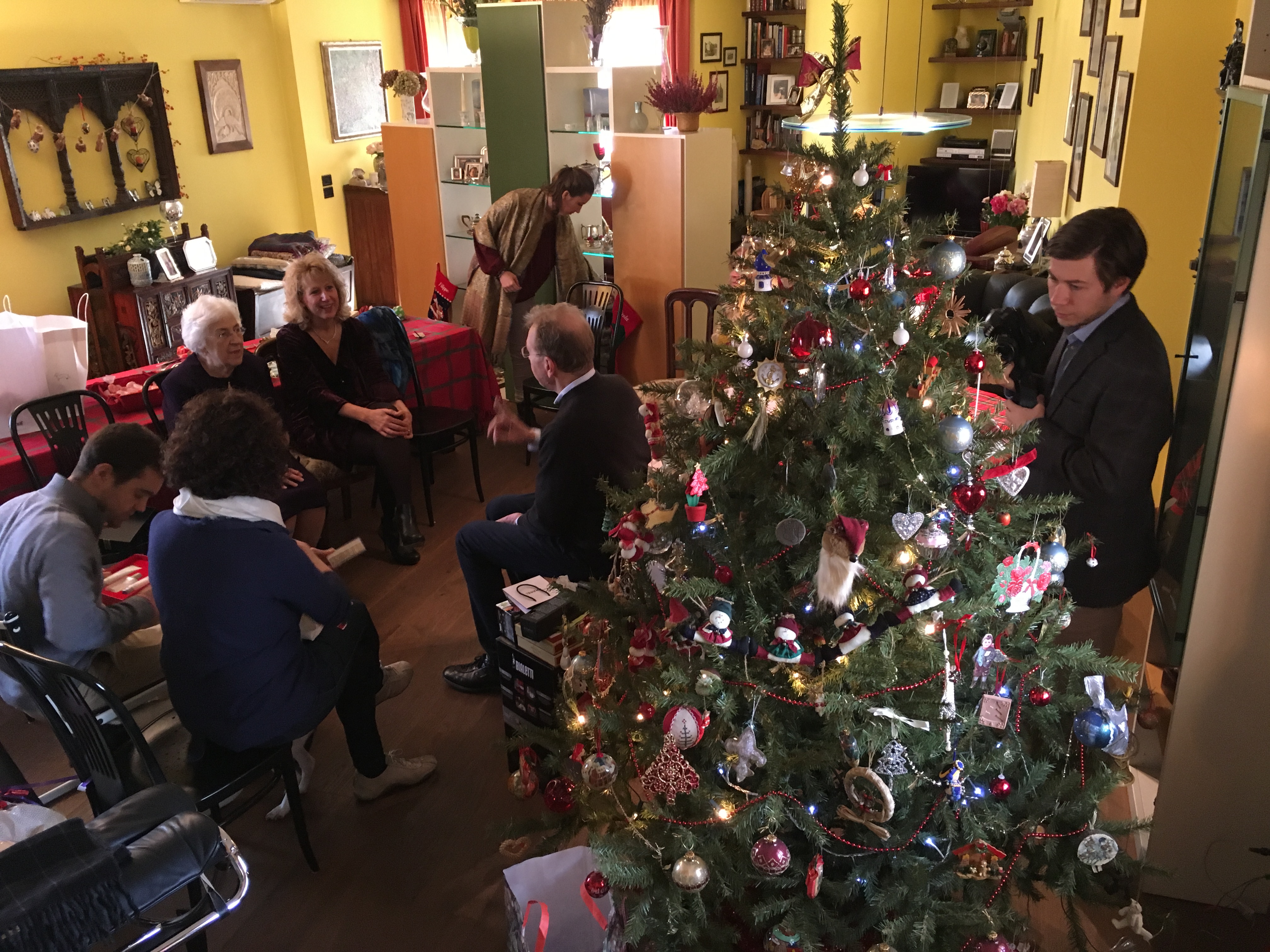 Christmas morning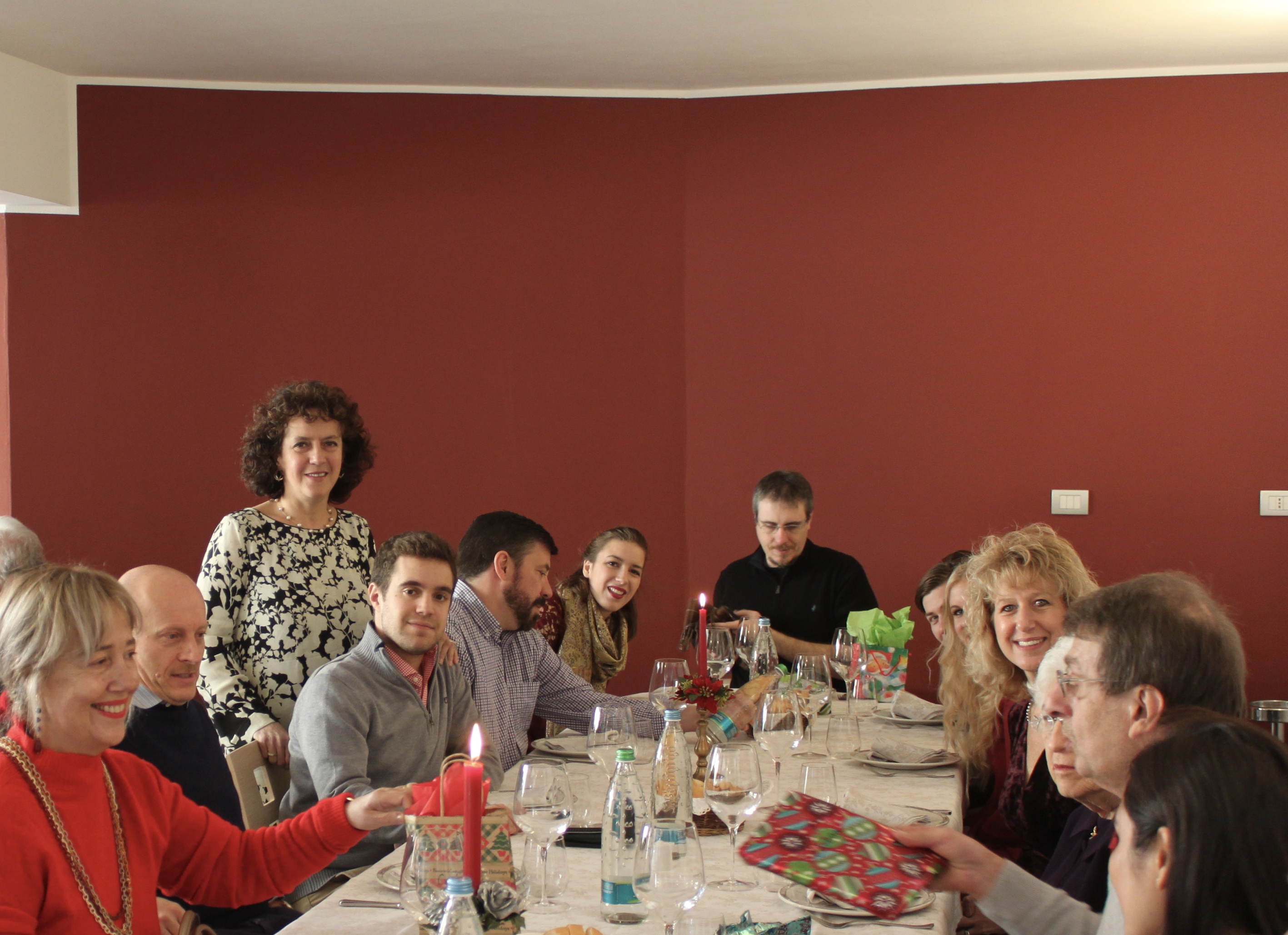 Our huge, multi-course, four-hour long, delicious Christmas lunch

A church on top of a hill in the beautiful town of Orta

A view to Isola San Giulio, an island monastery in the middle of Lago d'Orta.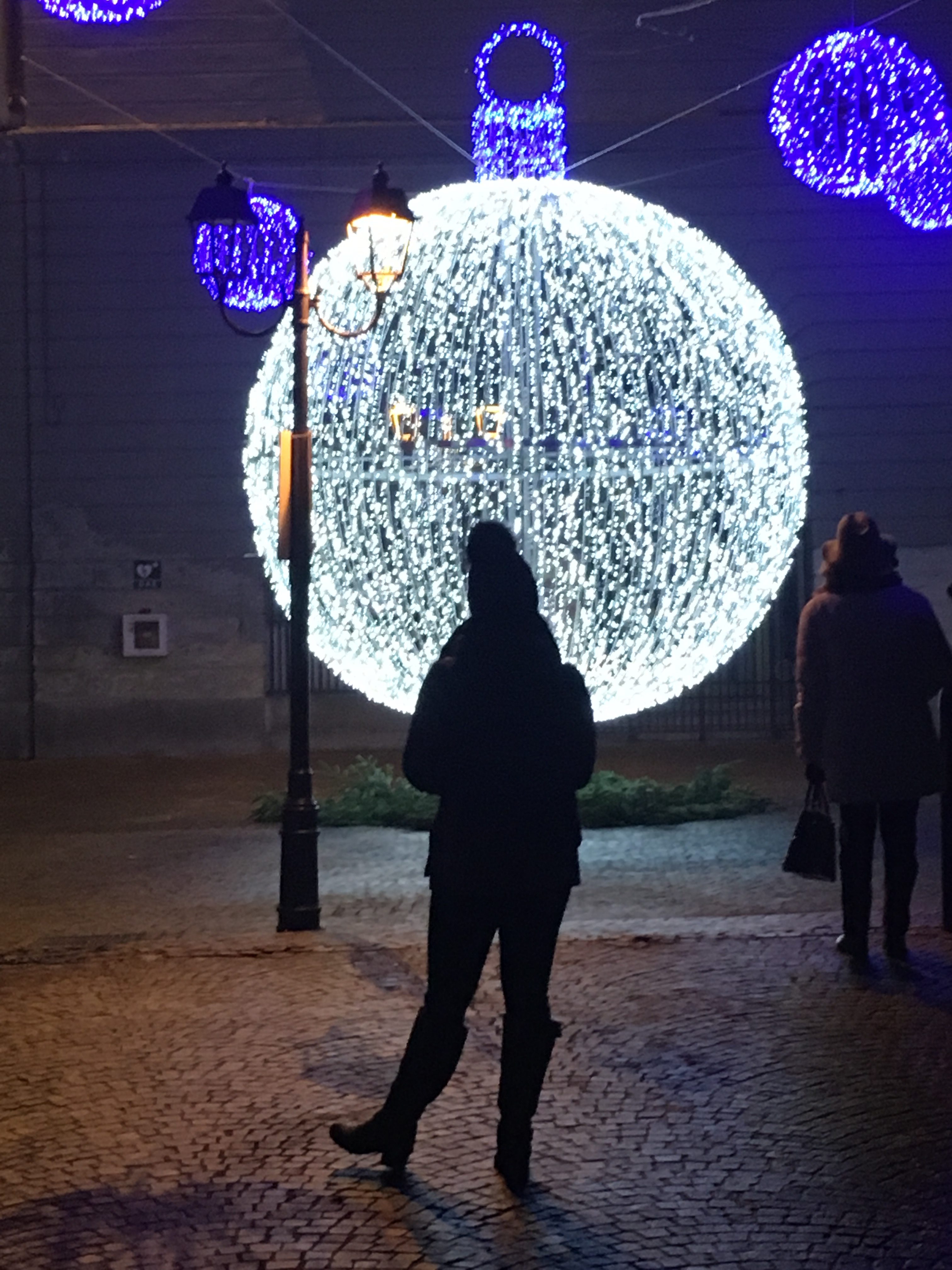 After we finished our visit with our family in Maggiora, we went to Arona, a small town on Lago Maggiore. Unfortunately it was too dark to fully enjoy the lake's beauty. Here is Taylor's silhouette in front of a Christmas light display.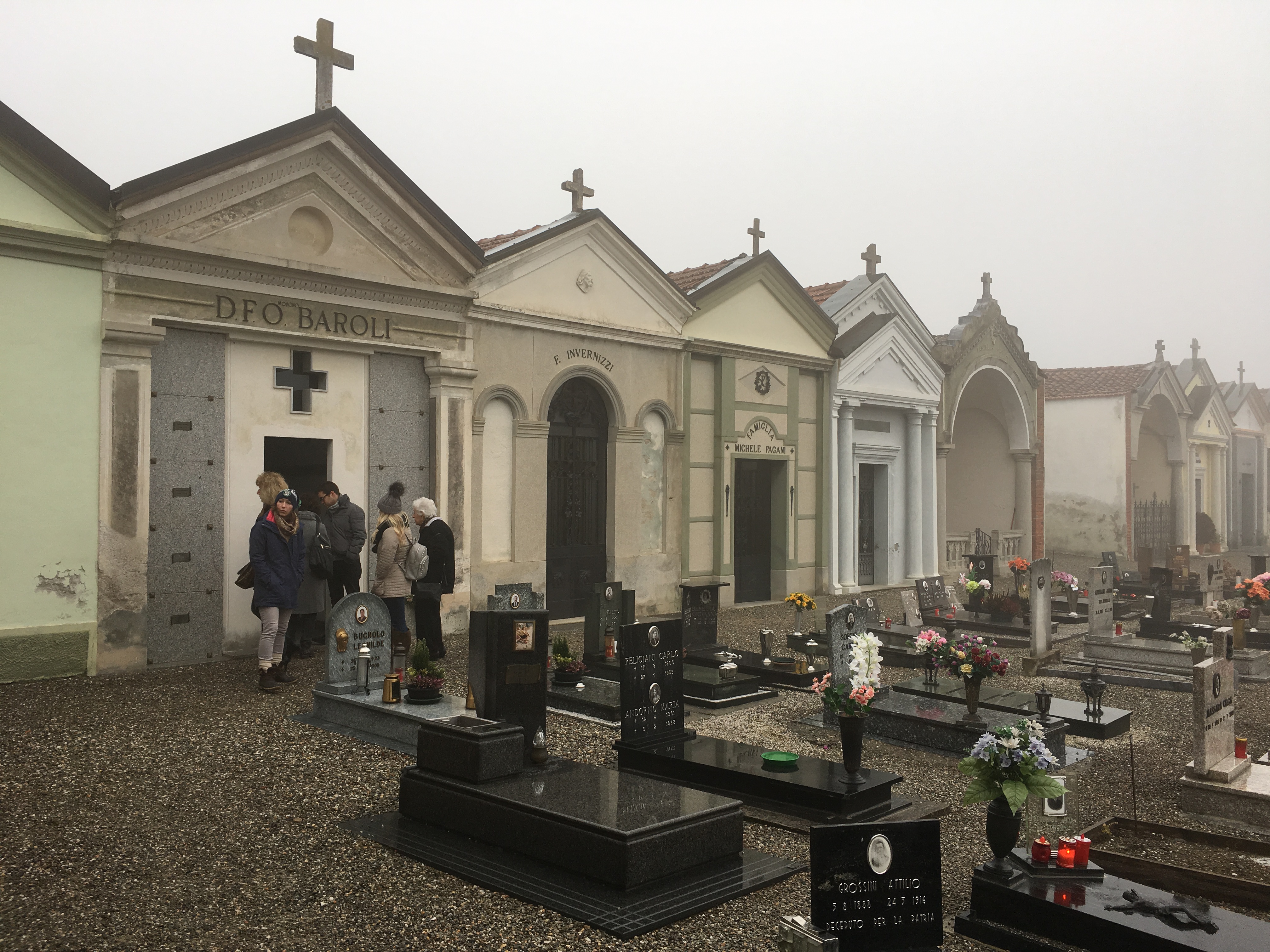 One morning we were able to visit the cemetery where many of our ancestors are buried.

It was hard to get an entire family photo, but we came close.
*Quick sidenote: to see photos for Chamonix click here!
Waking up for my early flight was definitely worth it because by around 9:00 AM I was reunited with my family. After hugging and grabbing our luggage, my mom, dad, grandma, and I were on the road with our Italian family back to their home in the small town of Suno. I had last visited eleven years ago, so during the ride back I was comparing what I saw with my memory. The conversations are typically a mix of Italian and English. Unfortunately for me, my already poor Italian suffered from having switched to German mode the previous week, but after a while I was able to follow along with the conversation.
We spent the morning greeting family and bumming around until my brother Dan and his girlfriend Taylor arrived and we ate lunch together. After lunch we visited a medieval castle that until 2003 was in my family's possession. We then continued on to the hotel to get settled and rest before returning to the house for dinner.  
Before I knew it, we were on the road headed to my cousin's chalet at the base of Mont Blanc, the tallest mountain in the Alps, in Chamonix, France. Once our things were dropped off at the chalet, we went into town for a delicious and filling fondu lunch, as well as some shopping. We returned to the chalet in the evening for dinner and called it a night. The next day consisted of breakfast, a stroll through town, a crepe lunch, and the car ride home. We briefly stopped at a tiny church built in the 15th century called Madonna della Neve (Madonna of the Snow) or Madonna di Campagna (Madonna of the Countryside).
Then Christmas Eve festivities began! We started by visiting more family, followed by dinner, and then Mass. After Mass, the whole town gathered in the square in front of the church where we ate panettone, traditional Italian Christmas cake, and drank mulled wine around a few bon fires. Santa even showed up on a sleigh pulled by horses and the children received some presents.
We woke up Christmas morning and went to my cousins' home where we met up with even more family and opened presents. Once the gifts were all unwrapped, we went out to lunch, which was a bilingual, multi-course, delicious, four-hour long meal! After we couldn't eat another bite, we headed to Lago d'Orta, Lake Orta, one of the many glacier lakes in northern Italy known for their beauty. We got there at sunset and walked through the streets before returning home to regroup for dessert and drinks.
The day after Christmas we went to visit relatives from the other side of my family in the nearby town of Maggiora where we had another tasty and extravagant four-hour meal, after which we went to another of the lakes, Lago Maggiore. While walking around, we saw the the restaurant where my grandma and grandfather had their wedding reception! We then went back to Suno, had a small dinner, and dug through some old family photos!