On Wednesday the school had an End of the Year Exhibition displaying a selection of our work. This is my studio professor, Ettore Mazzola, who not only taught us endless amounts of information, he also organized some soccer games for us!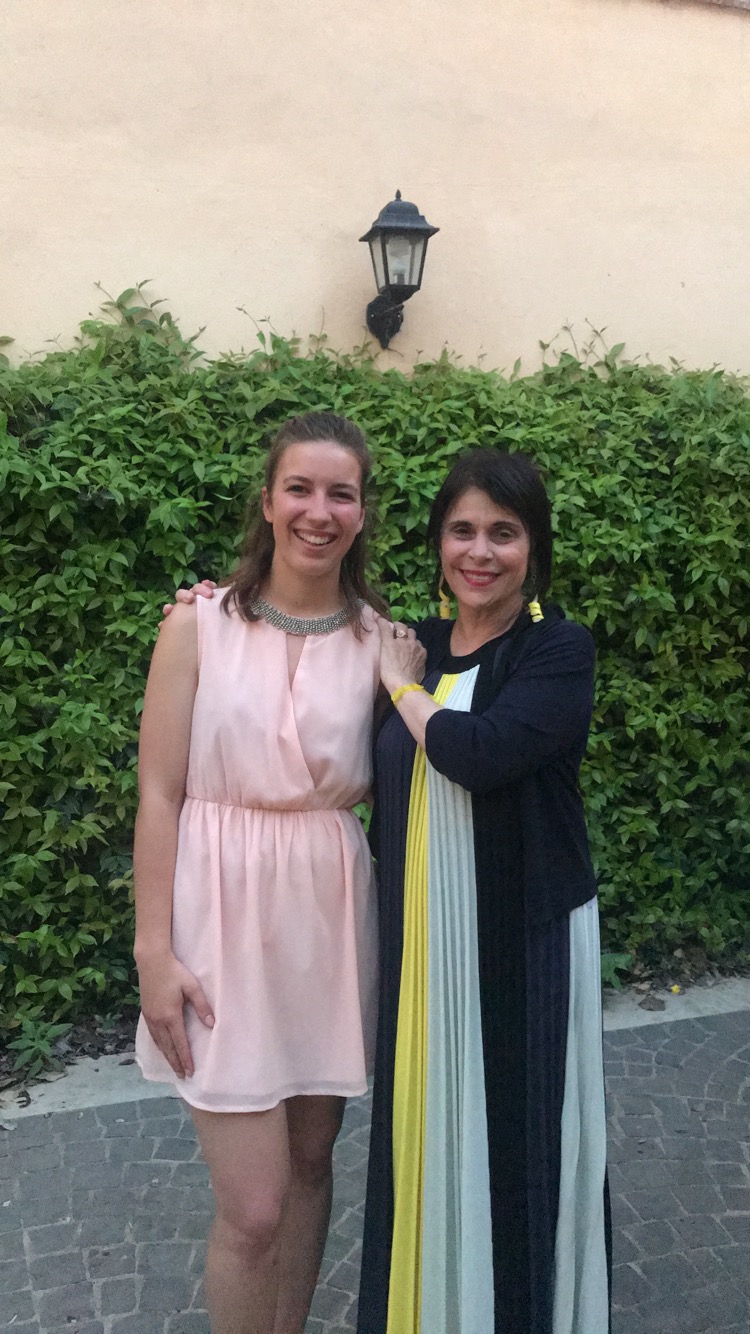 This was our guest professor, Judy DiMaio, who pushed us to expand our horizons. Her classes kept us on our toes as well as entertained and interested us.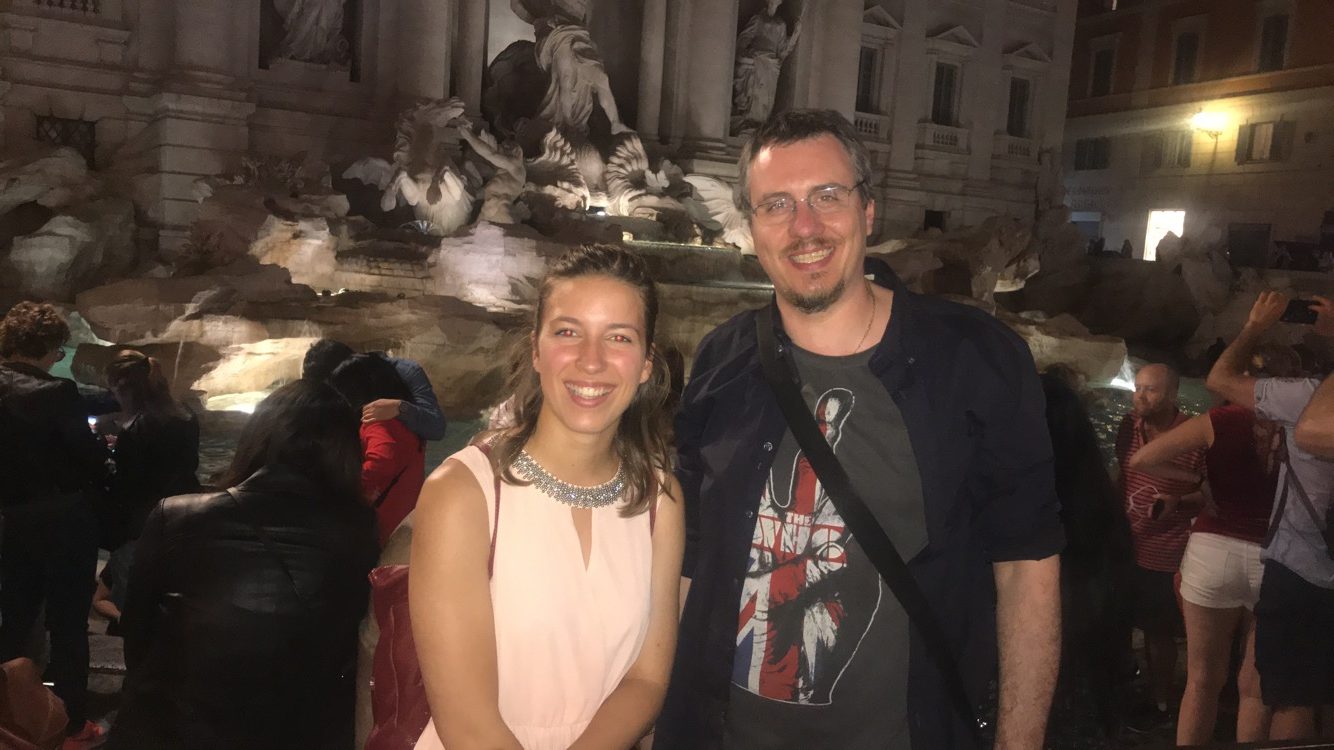 I was fortunate enough to have two members of my Italian family, Mario and his father Carlo, come to Rome for the Final Exhibition. I was grateful for them coming to see my work and sharing in my past year.

Again, it was fantastic to see some family before leaving the country.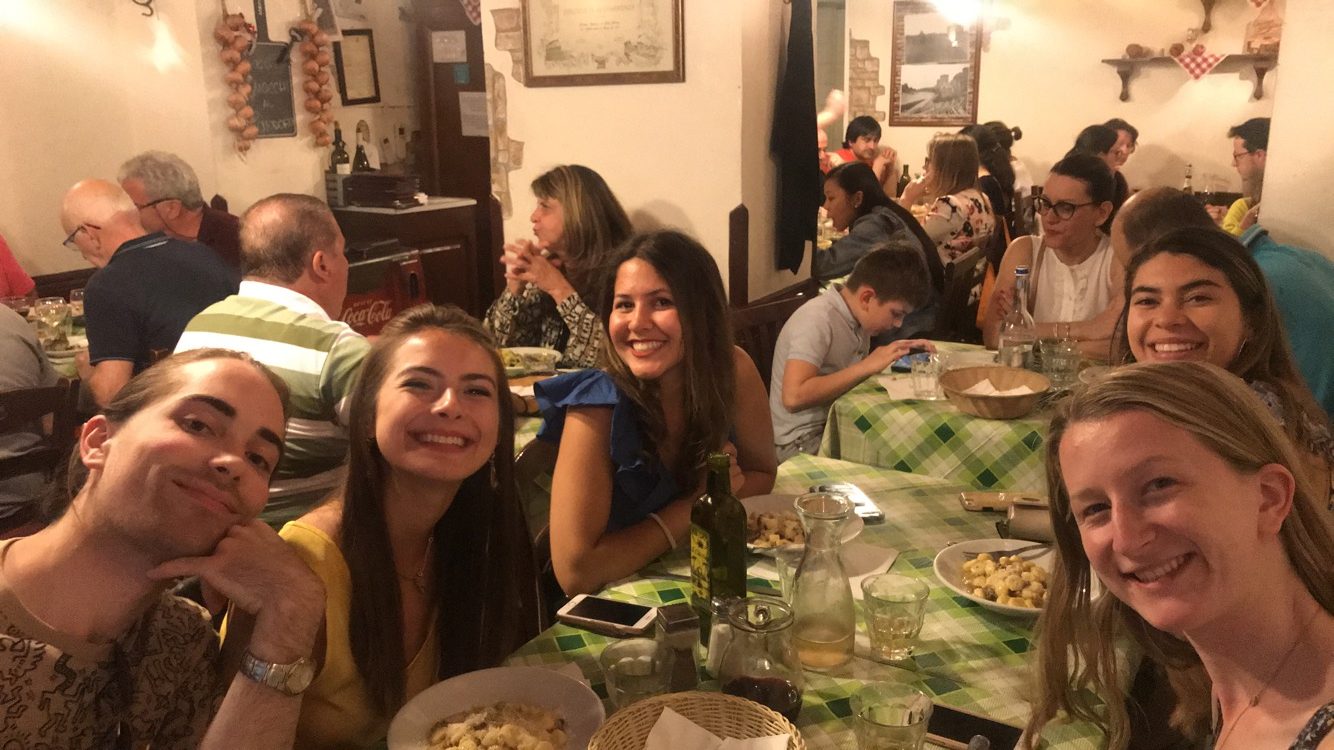 The last Gnocchi Giovedi, Gnocchi Thursday, together in Rome.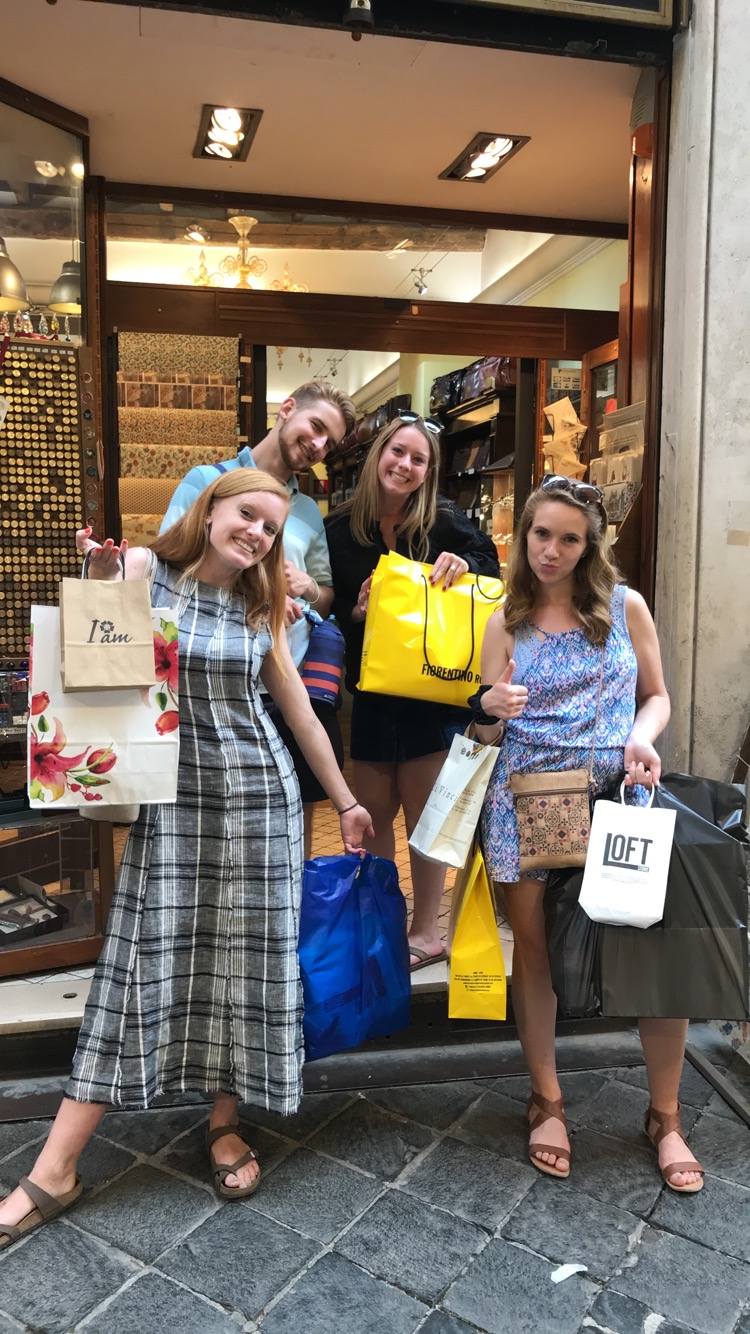 On Friday many of us went present shopping for family and friends.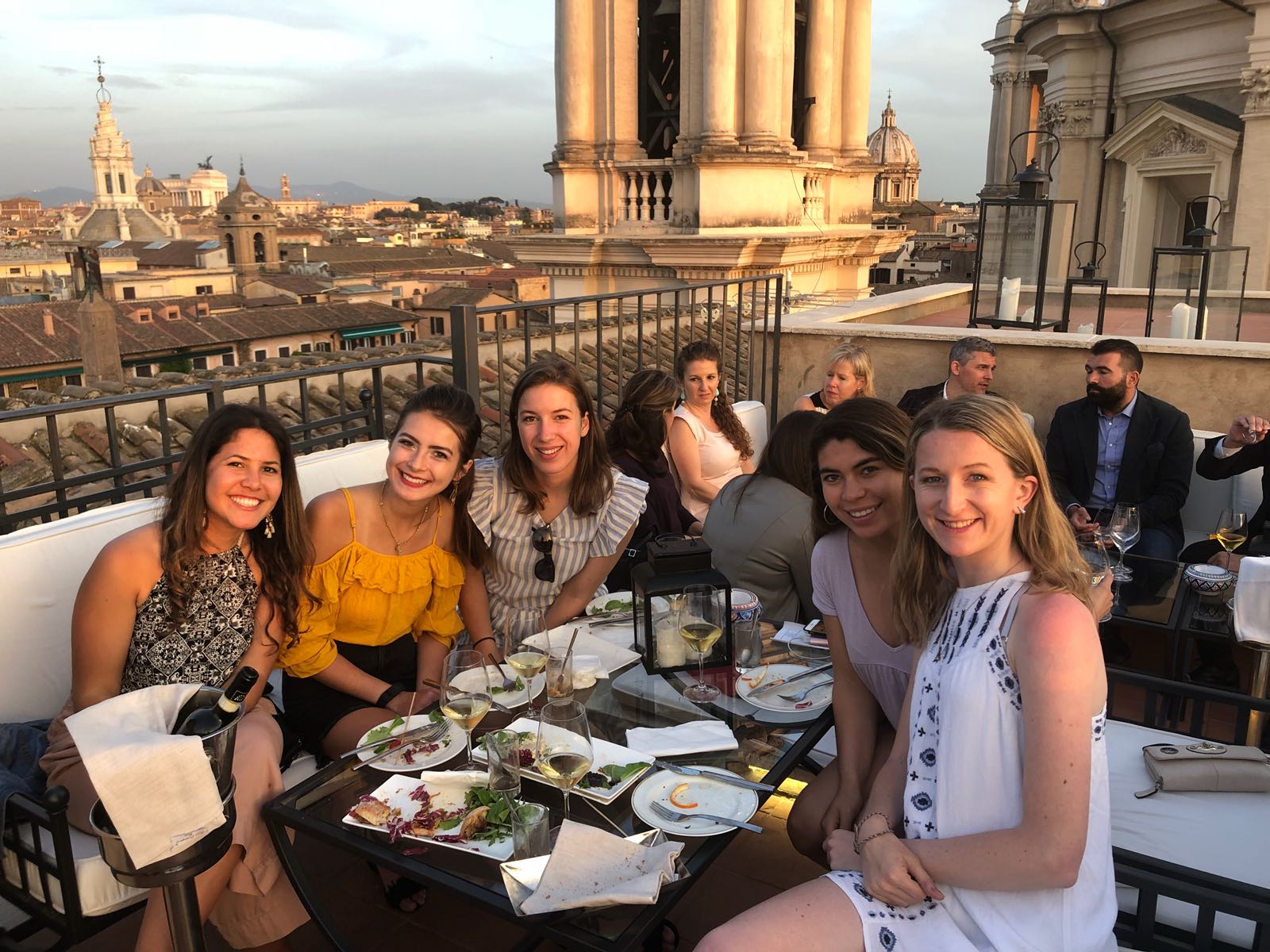 Dinner at Terrazza Borromini seemed like a perfect way to wrap up the year: a stunning sunset dinner overlooking the Eternal City.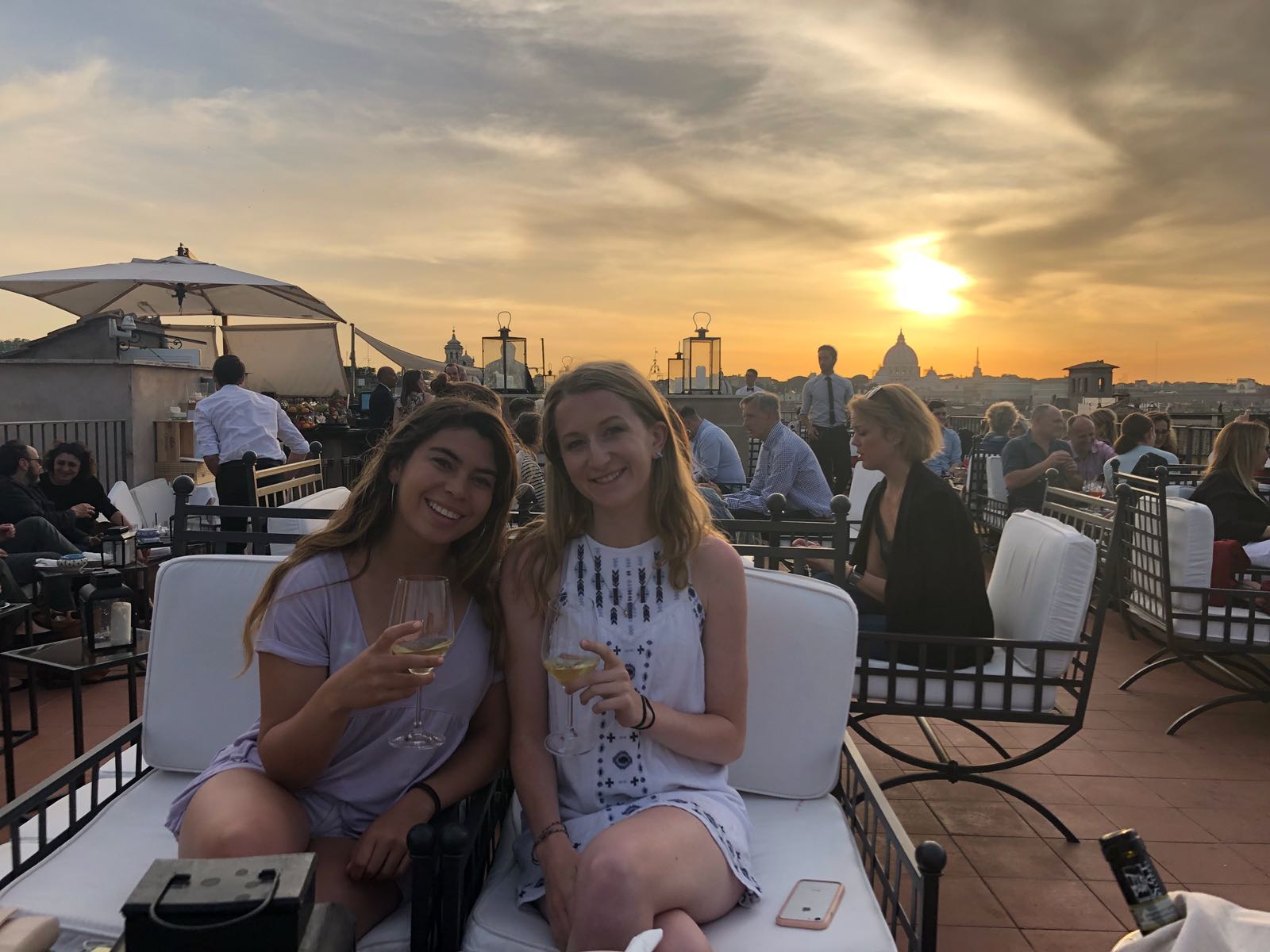 The dome in the back is Michelangelo's dome for St. Peter's Basilica!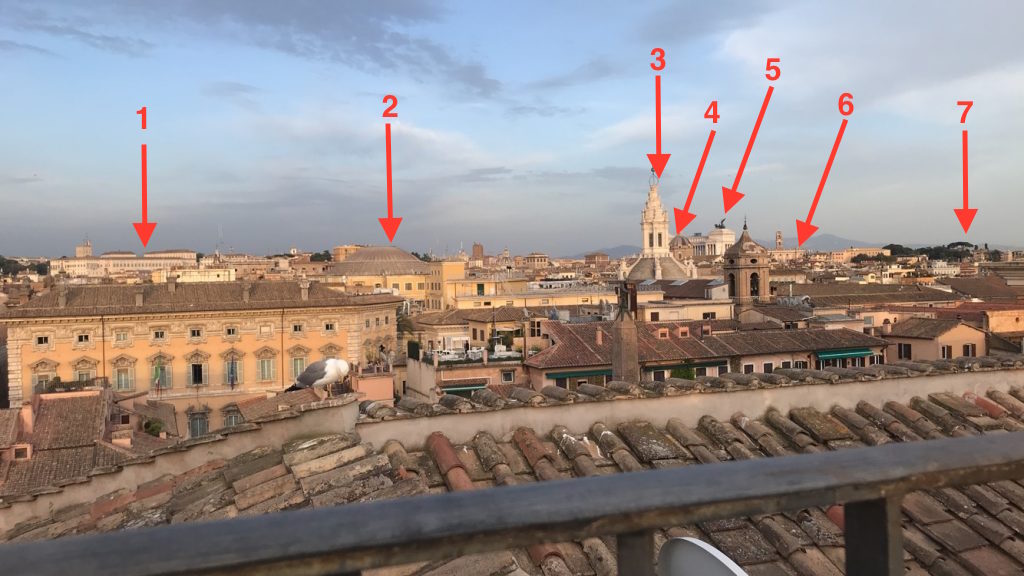 Here is an example of how incredible the view was. From left to right:
1. The Quirinal Palace - Presidential Palace on the Quirinal Hill, one of Rome's famous Seven Hills
2. The Pantheon - The incredible concrete dome is still the world largest unsupported dome.
3. St. Ivo alla Sapienza - The Borromini designed chapel of Rome's oldest university, La Sapienza. 
4. Il Gesu - The Jesuit Church in Rome 
5. Altare della Patria - A national monument celebrating the unification of Italy 
6. The Campidoglio - Michelangelo designed piazza on top of the Capitoline Hill, one of the Seven Hills
7. The Aventine Hill - Another one of the Seven Hills known for its gardens
*Also you can't see but Piazza Navona is directly below us!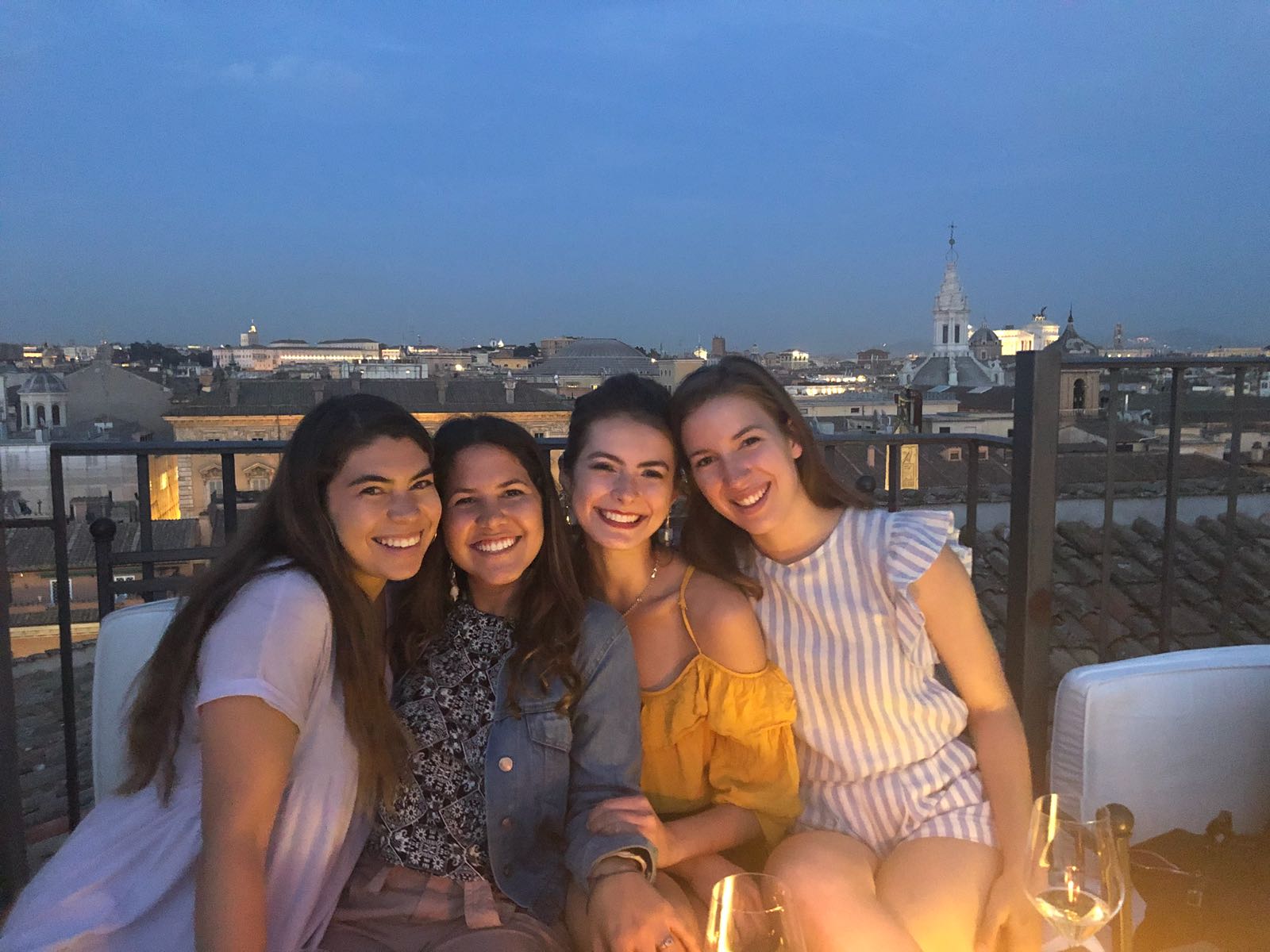 A truly lovely night!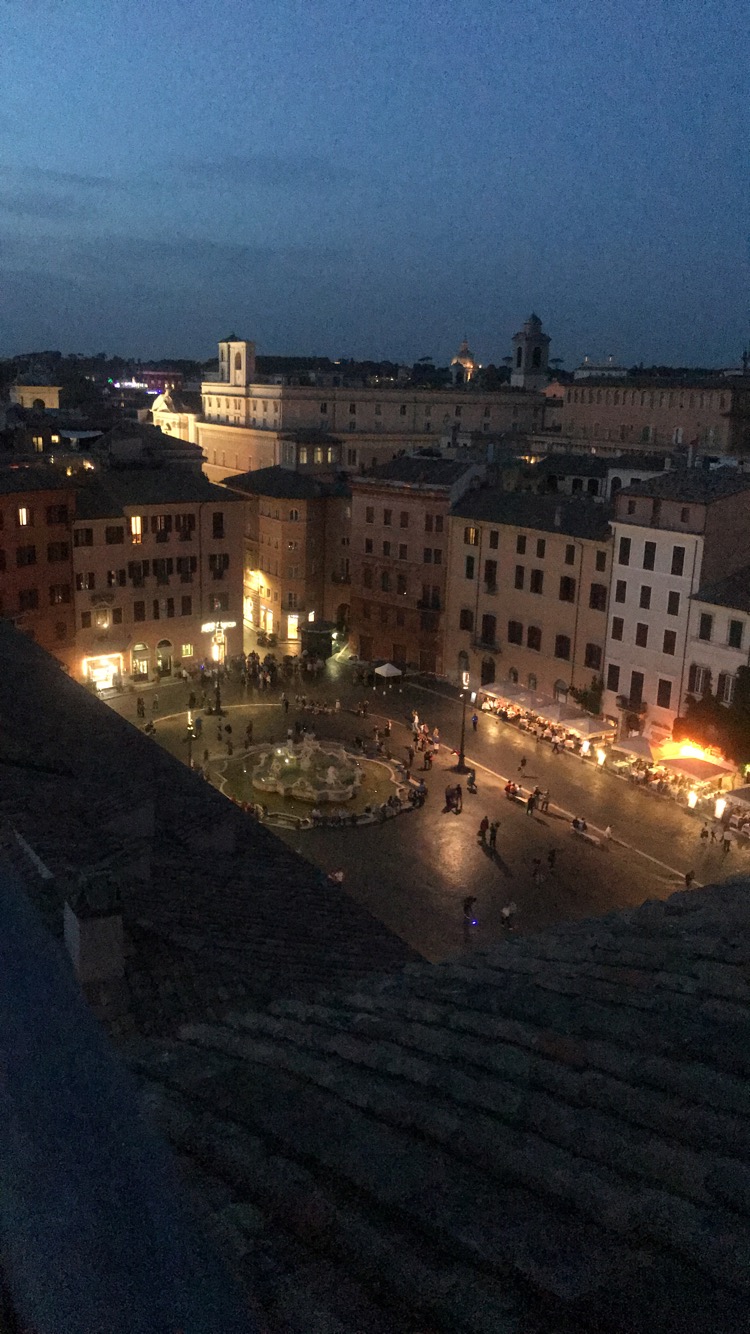 Looking down on Piazza Navona at night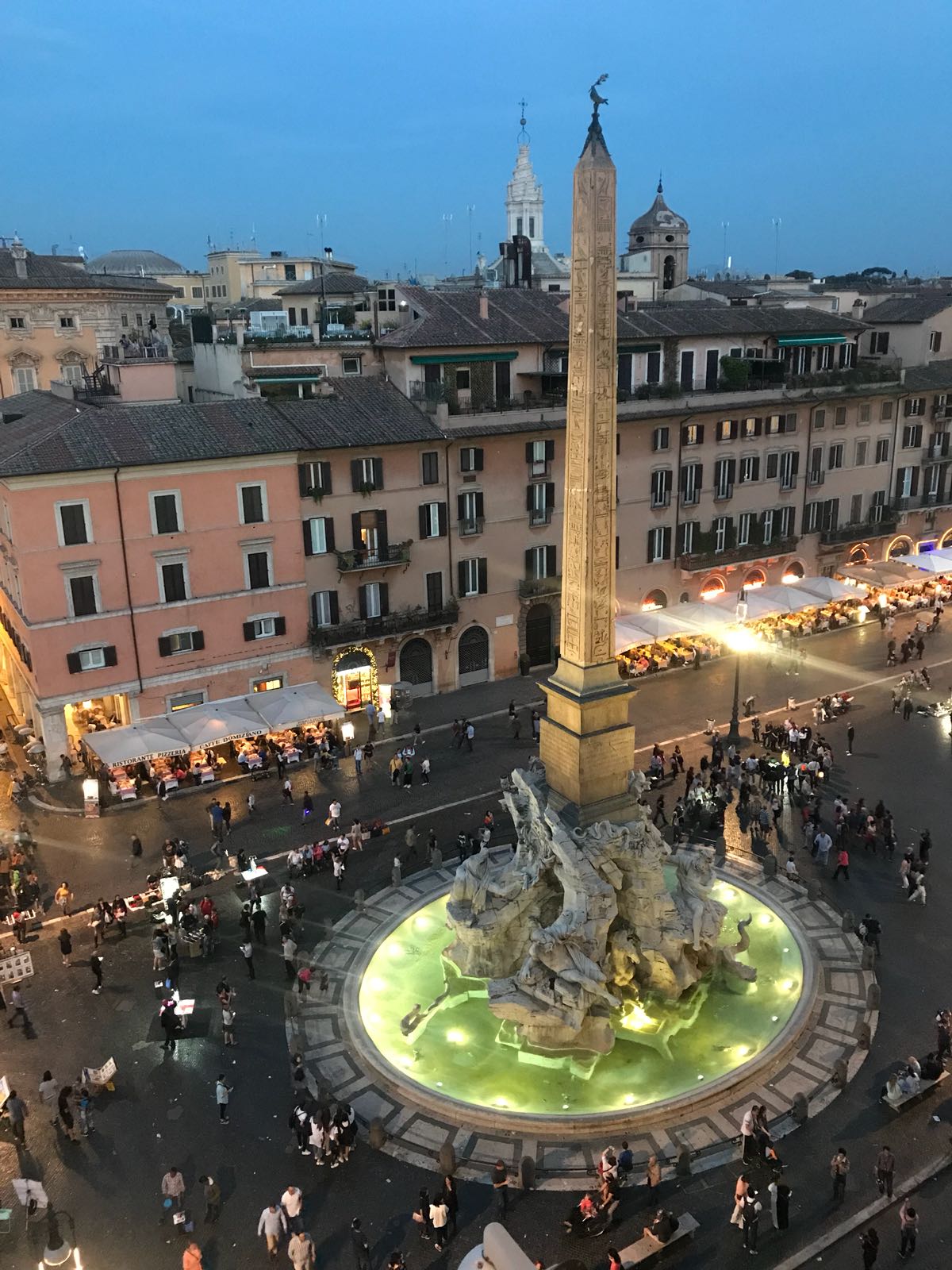 The level underneath the terrace provided us with a more direct view of the Fountain of the Four Rivers in Piazza Navona.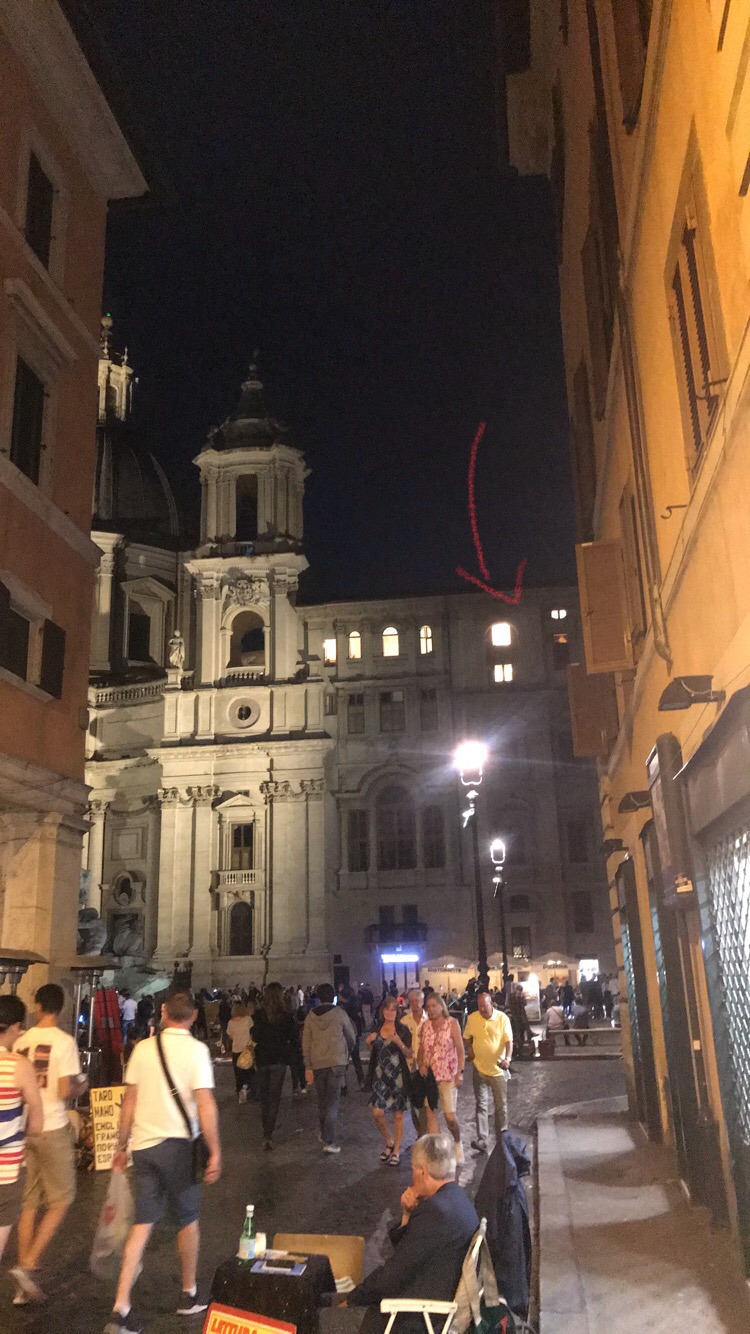 I took the previous photo from this window!

On Saturday we had a fun and relaxing day at the beach in Anzio!

My last Pastificio dinner in Rome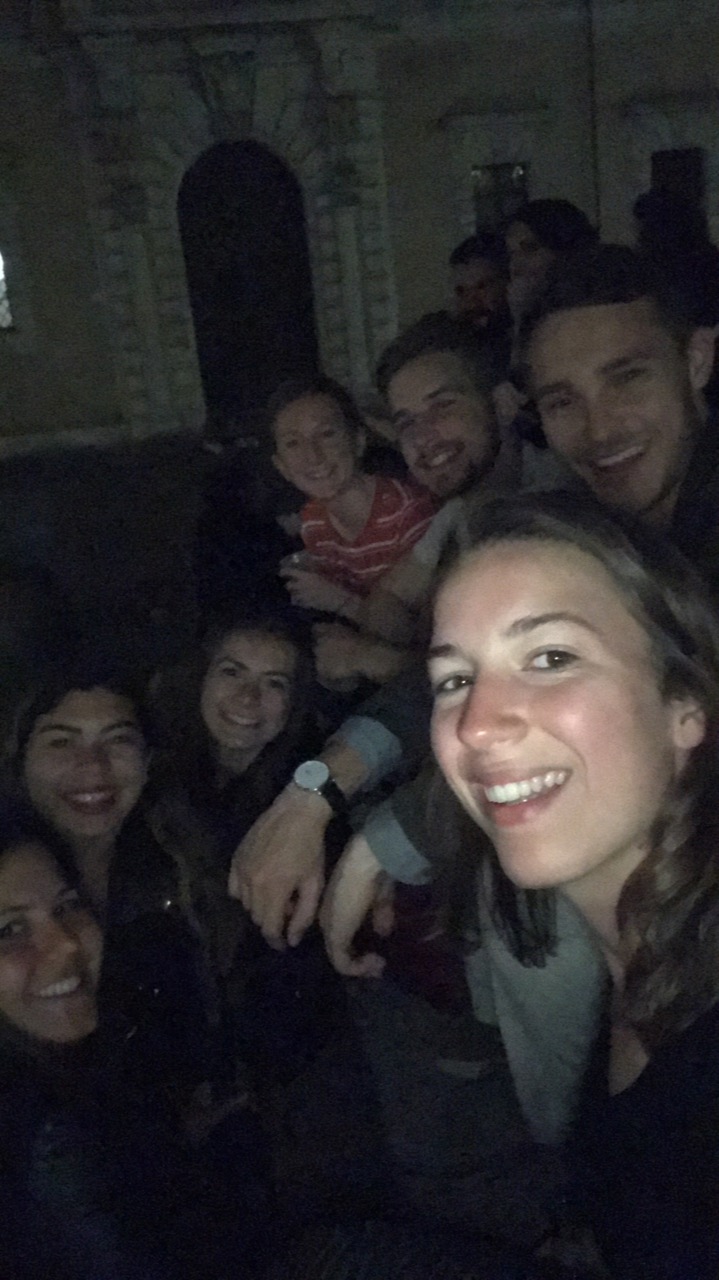 Just chilling in Piazza di Santa Maria in Trastevere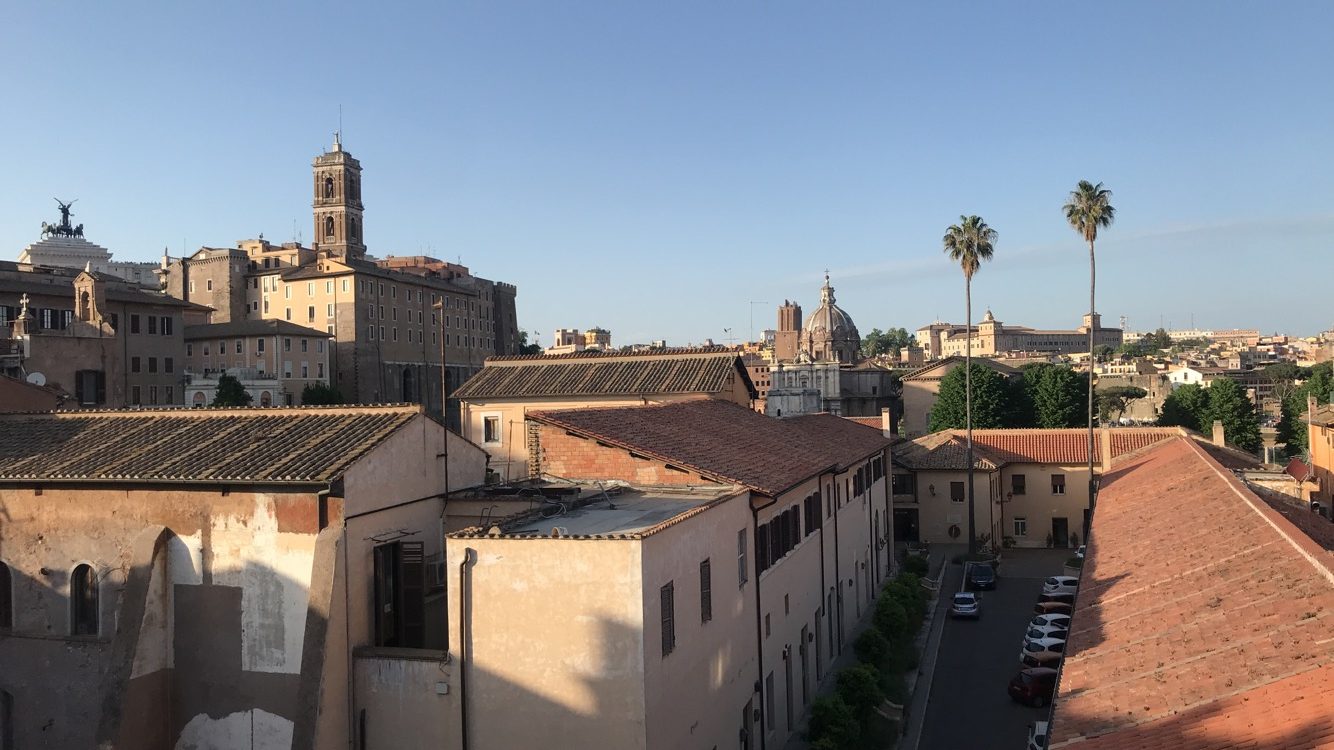 Prof. DiMaio invited us to her apartment for a cocktail party on her rooftop terrace. Here is a view of the Capitoline Hill and part of the Forum.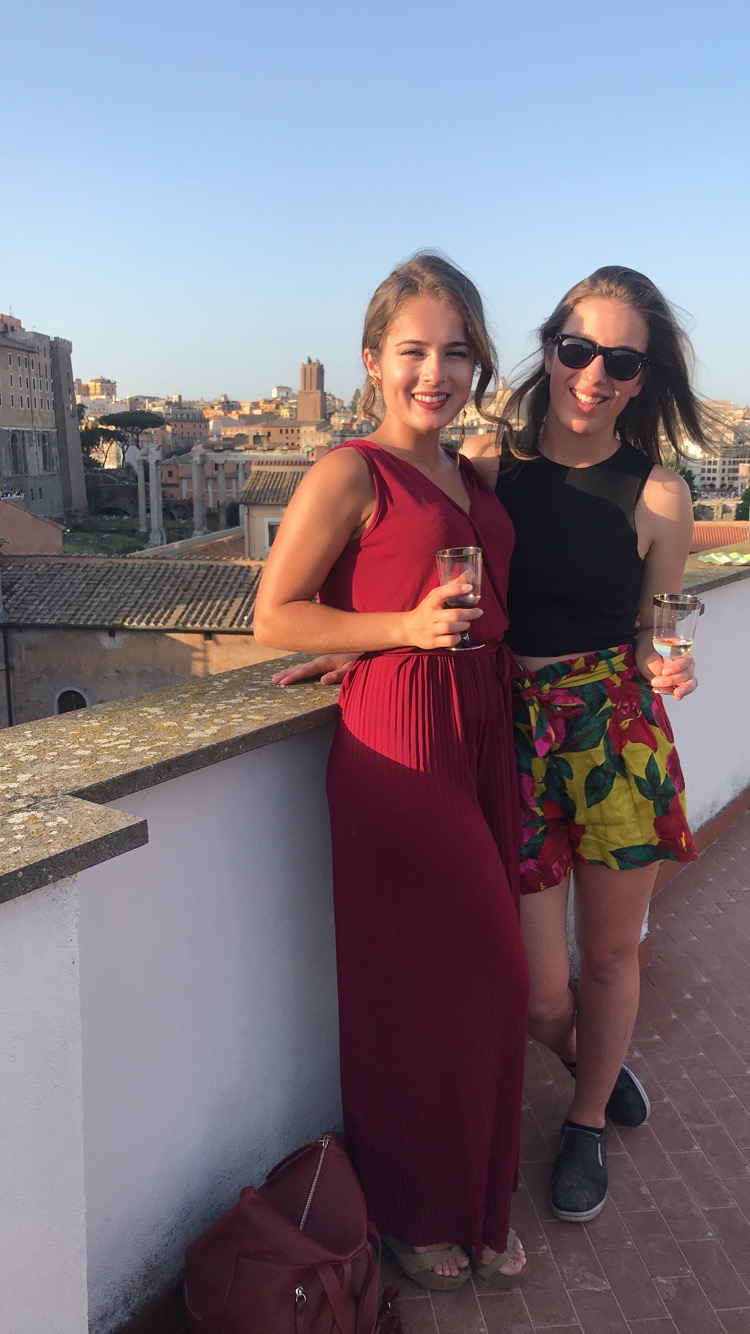 Here is my friend Cal and I enjoying the weather and the views.

On Monday I made my final trip of the year to St. Peter's. I took some time to reflect on the incredible year I had.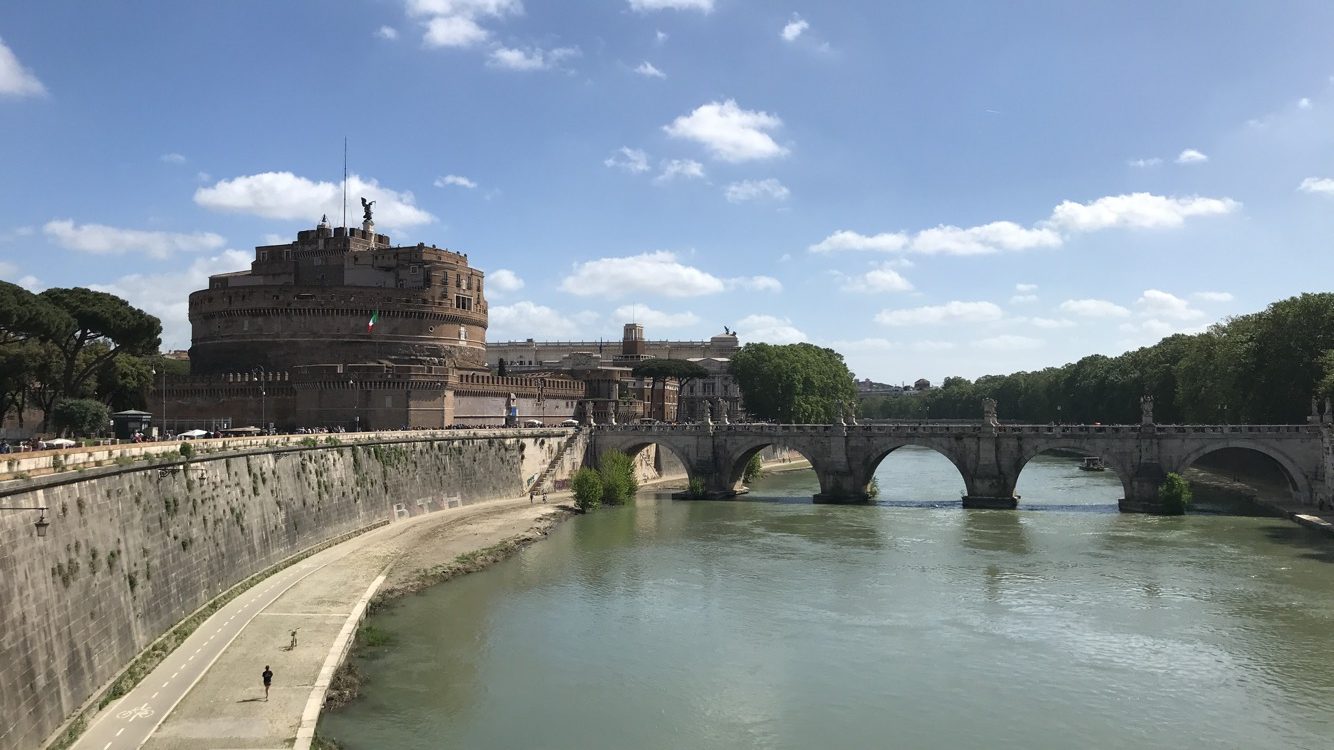 After St. Peter's, I said goodbye to Castel Sant'Angelo and Ponte Sant'Angelo.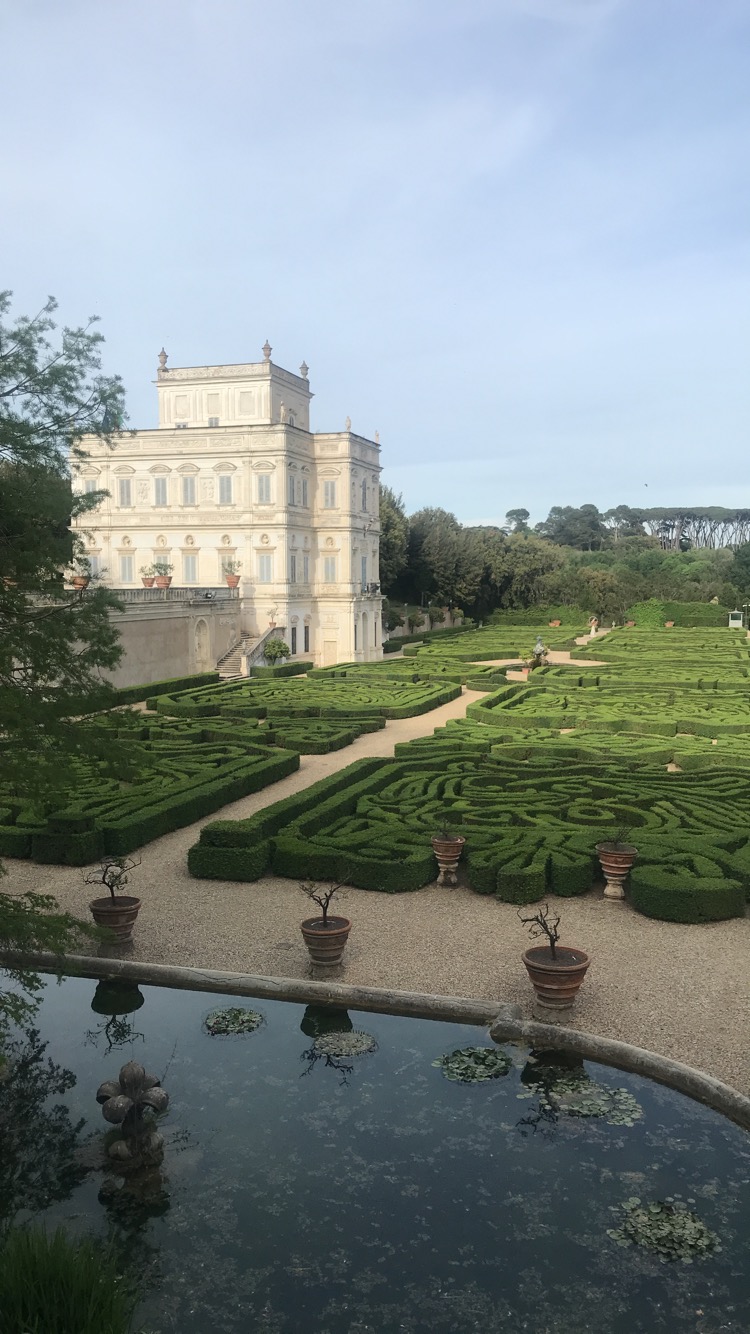 Monday afternoon some of us went to Villa Doria 
Pamphili.  It was bittersweet that two days before I left, I was still exploring new places. It is great that Rome has so much to offer but disappointing that there was still so much that I wanted to do.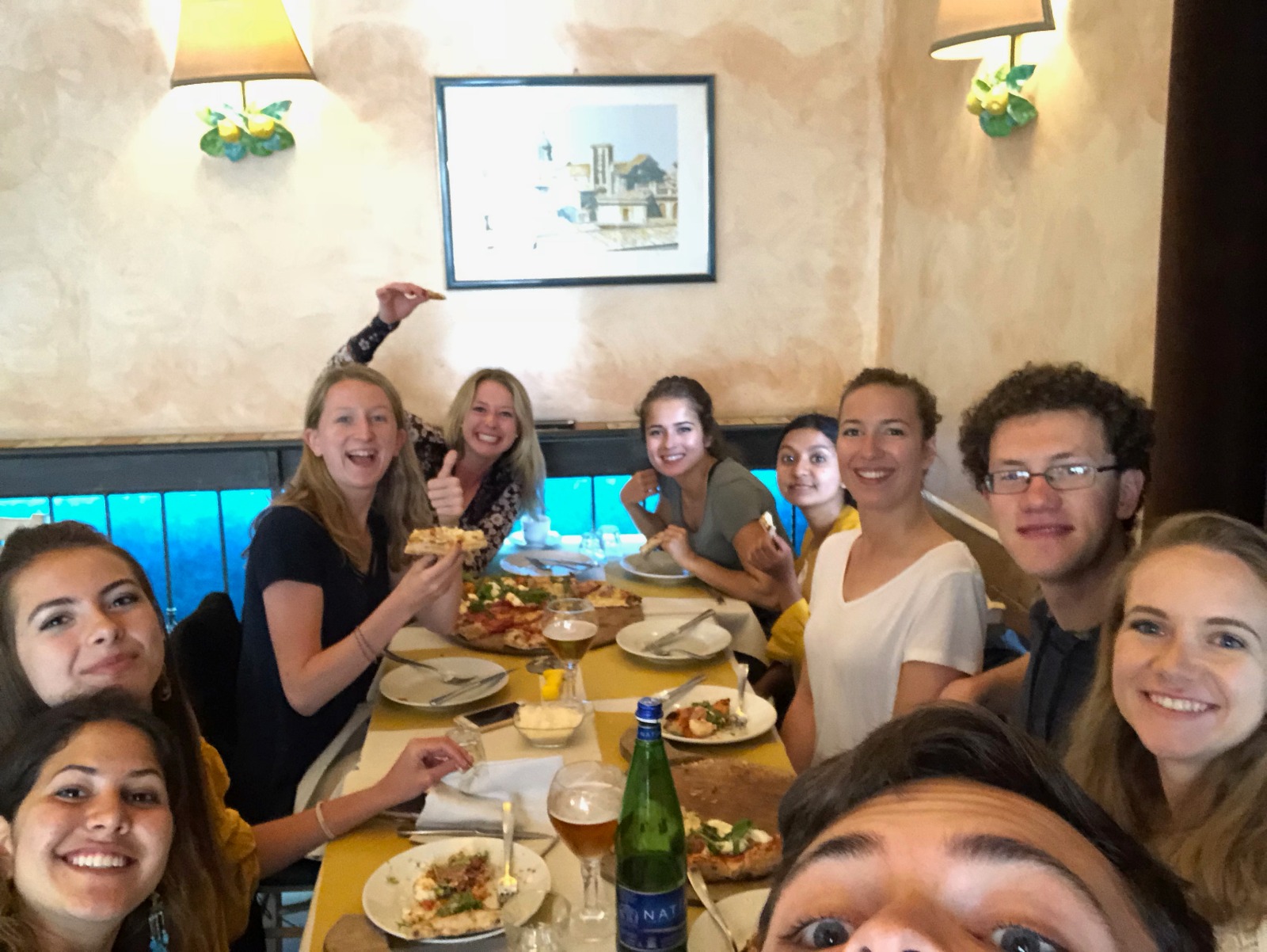 On our last day in Rome we went for a pizza lunch to celebrate Henry's (cut off at the bottom of the photo) birthday.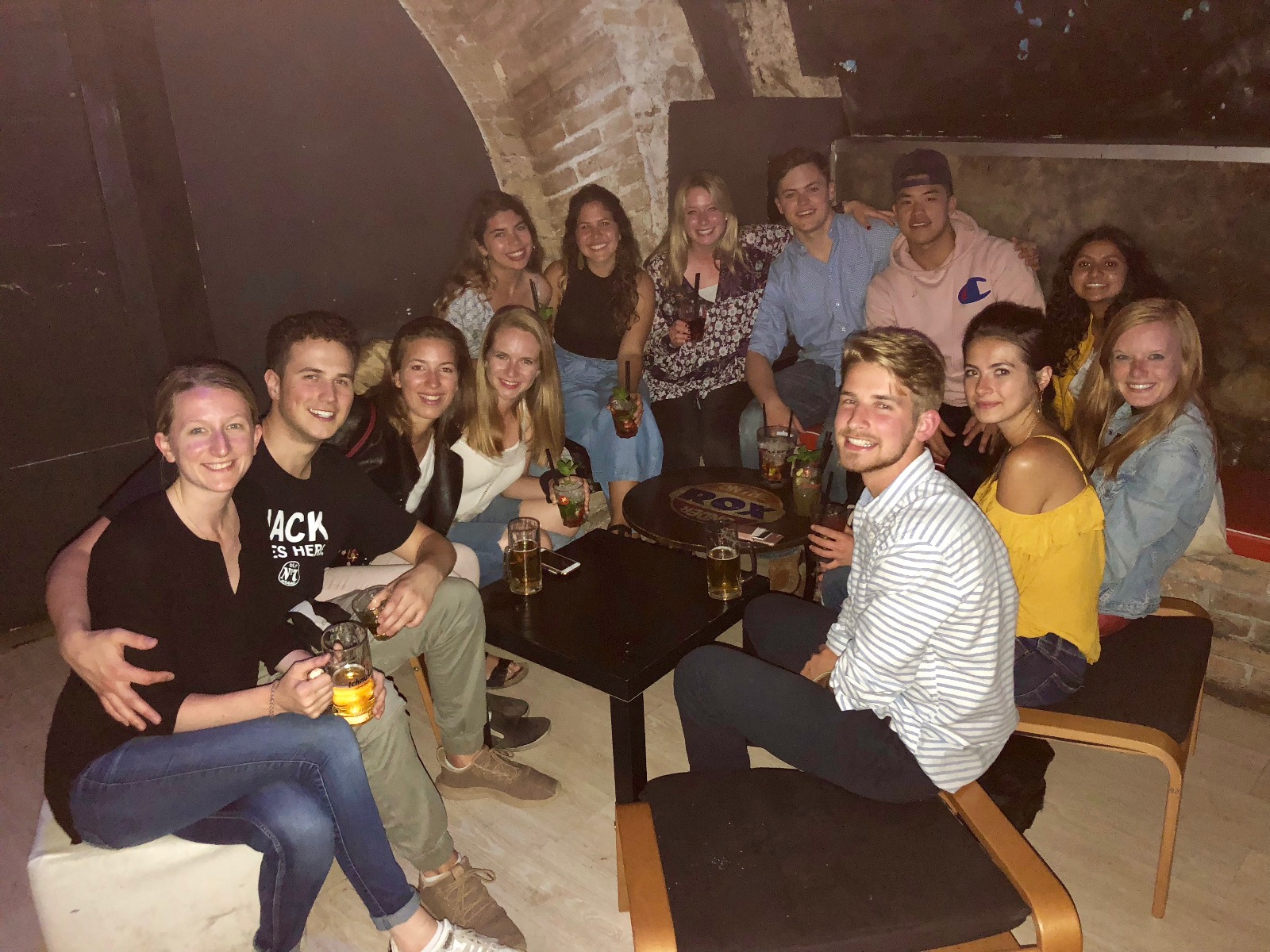 On our last night, most of us stayed out late walking the streets of Rome, clinging to every second we could. Thank you to my professors, family, and friends for a life-changing year. Thank you, Rome.
Wednesday was full of chores like cleaning studio and packing. In the afternoon I met up with my relatives from Northern Italy, Carlo and Mario, who came to visit for our end of the year exhibition. First we stopped at St. John the Lateran and the Scala Sancta, then I showed them the villa, and finally the RGG where we enjoyed the reception. We even managed to briefly Facetime with my grandma. That evening I joined them for dinner. I was fortunate and grateful that they were able to visit, and I was incredibly happy to share my work with them and what the past year of my life has been like.
Thursday was the last day we officially had school programming. In the morning we had a final review for our Roman Construction class and in the afternoon we had an informal review of our Watercolor course. After we wrapped up our final class some of us ran to get gelato, and then I met some other friends to enjoy our last gnocchi Thursday in Rome, followed by more gelato.
On Friday morning I had to mail my large drawings from my design projects home, and my afternoon was consumed with gift shopping. That evening Bri, MG, Olga, Diana, and I decided to treat ourselves by getting dinner on a fancy rooftop terrace that was directly next to the dome of Sant'Agnese overlooking Piazza Navona. We could see all of Rome at sunset while drinking fantastic wine and eating appetizing food. We ended our marvelous night by getting gelato from Giolitti.
Saturday was fun and relaxing day. I slept in a little and then a group of six of us went to the beach in Anzio where we spent most of the day. Whenever we got back to Rome, I ate my last dinner at Pastificio. After washing the sand away, a big group of us hung out in Piazza di Santa Maria in Trastevere.
I began Sunday by attending Mass at my favorite Roman church, Saint Paul's Outside of the Walls. Afterward Bri, Olga, and I got lunch in Trastevere and then went back to the villa, grabbing gelato at Gelateria del Teatro on my way. Shortly after getting home, I left for an end-of-the-year soccer tournament that our assistant rector organized. The tournament was tons of fun but exhausting because it was unbearably hot. That evening we were invited to our guest professor's apartment where we had a cocktail hour on her roof terrace overlooking the Forum. It was a lovely evening, and we enjoyed sharing kind parting words with a professor we got to know very well. After the party some of us went to Trastevere where we had another tasty dinner at a restaurant called Grazia and Graziella.
Monday morning I woke up pretty early to get to St. Peter's before the line to enter was ridiculously long. Once inside I said goodbye to the most important church in Catholicism and spent some time reflecting on the year. After I swung by Old Bridge gelateria, which may or may not have been my breakfast. From there I walked through the city, not only finishing my gift shopping but also taking in every single street. For lunch I tried a pasta-to-go place in Monti, followed by gelato from Fatamorgana. That afternoon some of us went the Villa Doria Pamphili, which we studied, and explored its surrounding gardens that are now a public park. I loved the fact that two days before I left, I was still experiencing new things, which just goes to show how rich Rome is. That night we went to Hostaria Costanza, a restaurant built in the ruins of the Theater of Pompey, for a delicious dinner.  
Tuesday was my last full day in Rome. Unfortunately it was rather rainy. My professor joked that the city was crying for us. A small group of us met with my studio professor to get coffee and say goodbye. Afterward, Olga, Diana, and I ran to Monti to say goodbye one of our favorite neighborhoods and get brunch. Then we went back to the villa and finished packing before heading out to grab a pizza lunch for my friend Henry's birthday. Then we got gelato and then walked back to the villa stopping at the Spanish Steps and the Trevi Fountain. After resting a little bit a large group of us went to dinner at La Carbonara for Henry's birthday, where I, of course, got my final carbonara. After dinner we went to Trastevere to celebrate and eventually a group of four of us split off to do our final walkthrough of the city. We went past Campo de' Fiori, Piazza Navona, the Pantheon, the Trevi fountain, the Altare della Patria, the Forum, and the Colosseum. Since it was so late we had these major monuments to ourselves, allowing for a private goodbye. We made it back to the villa in time for a nap before we needed to wake up the next morning for our flight to New York.
Wednesday morning we woke up to discover our flight to New York had been delayed six hours. After the chaos of getting to the airport, sorting out flights, rerouting some people, and not being able to say goodbye to some of my friends, we finally got everything sorted out and departed for the States. Despite all of the confusion I actually got home almost an hour earlier than the original schedule!