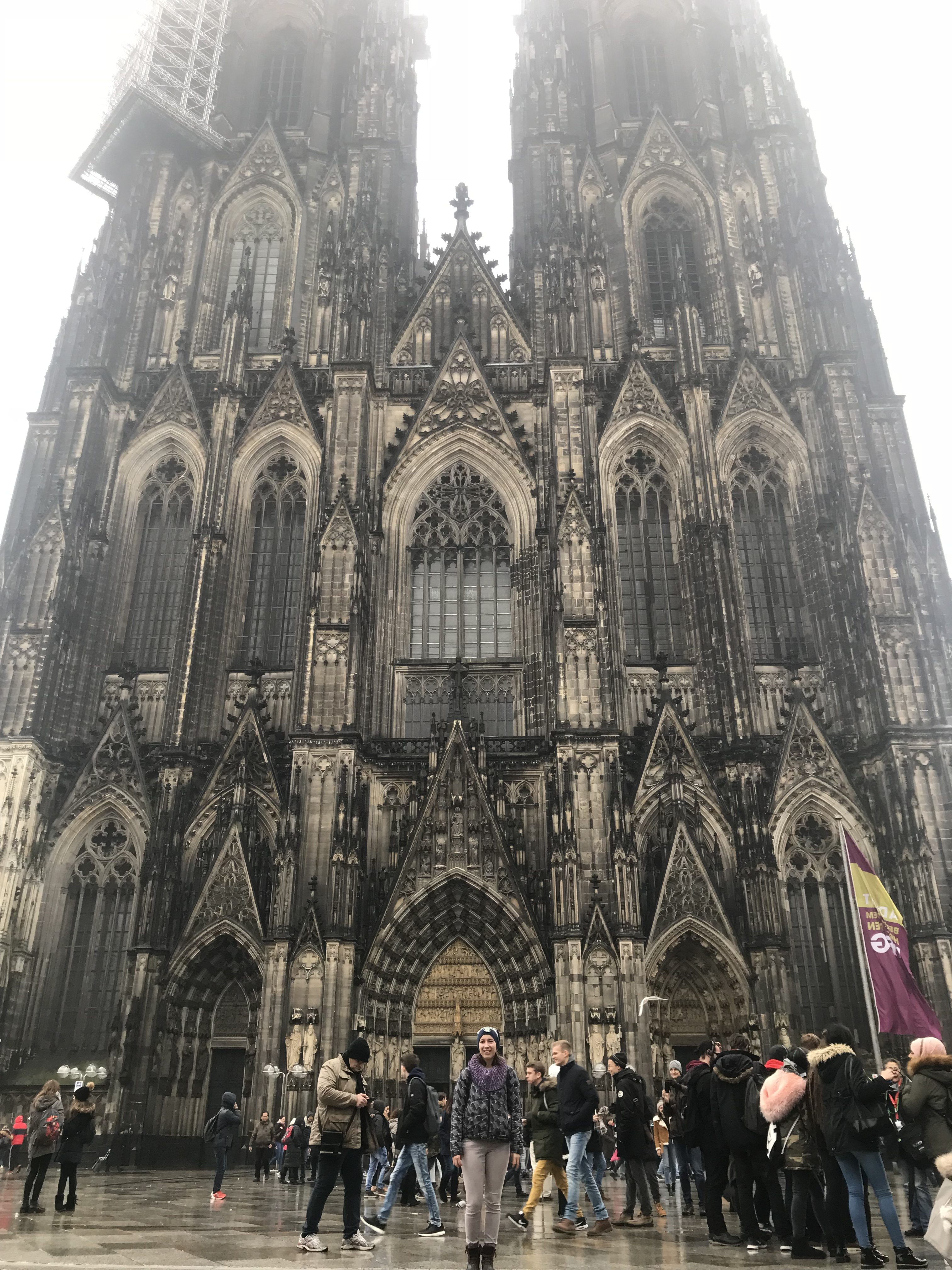 The facade of Köln's Cathedral was the epitome of "towering!"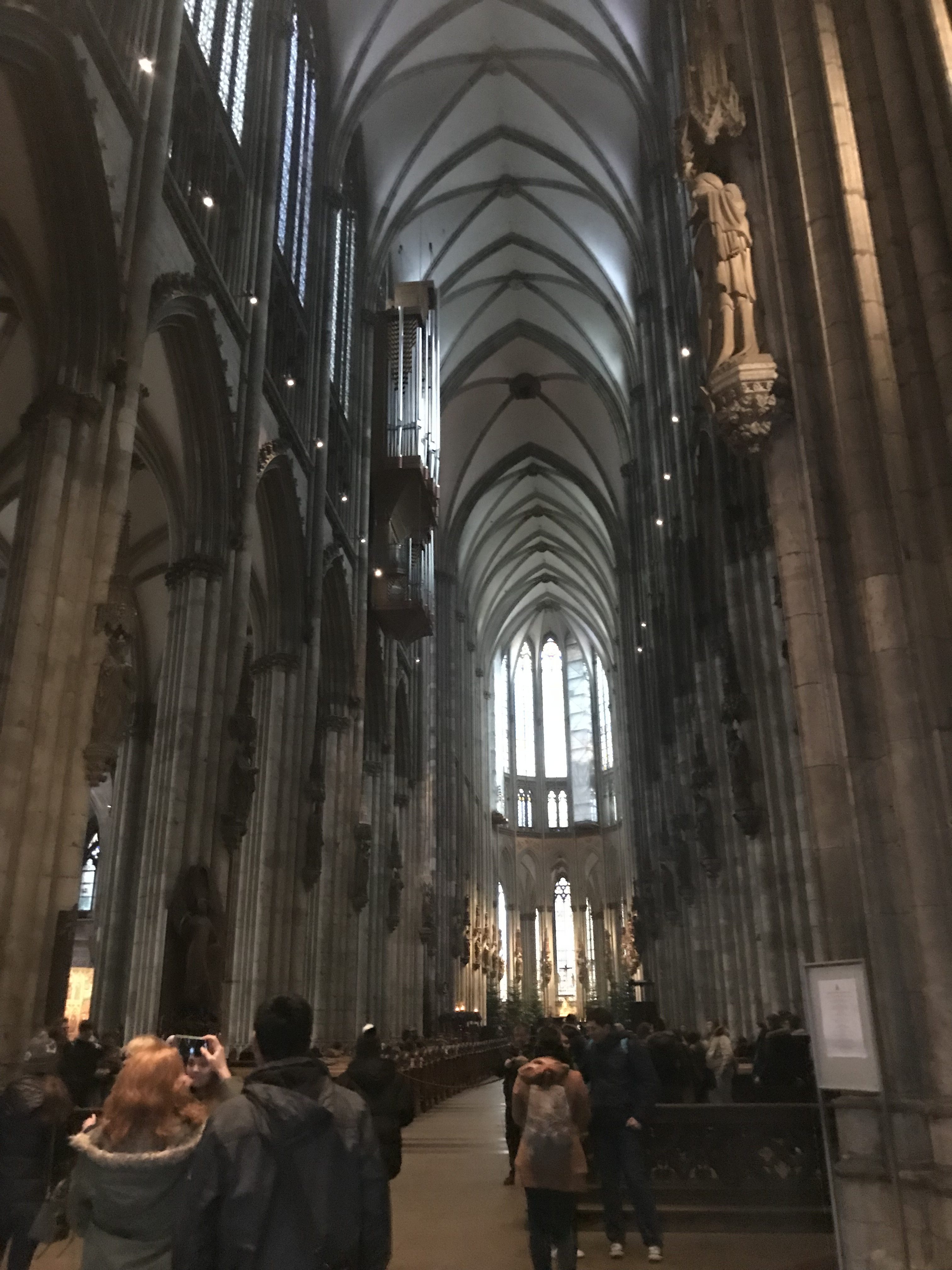 The interior of Köln's Cathedral

This is the supposed tomb of the Three Kings. Köln's Coat of Arms contains three crowns representing the Kings.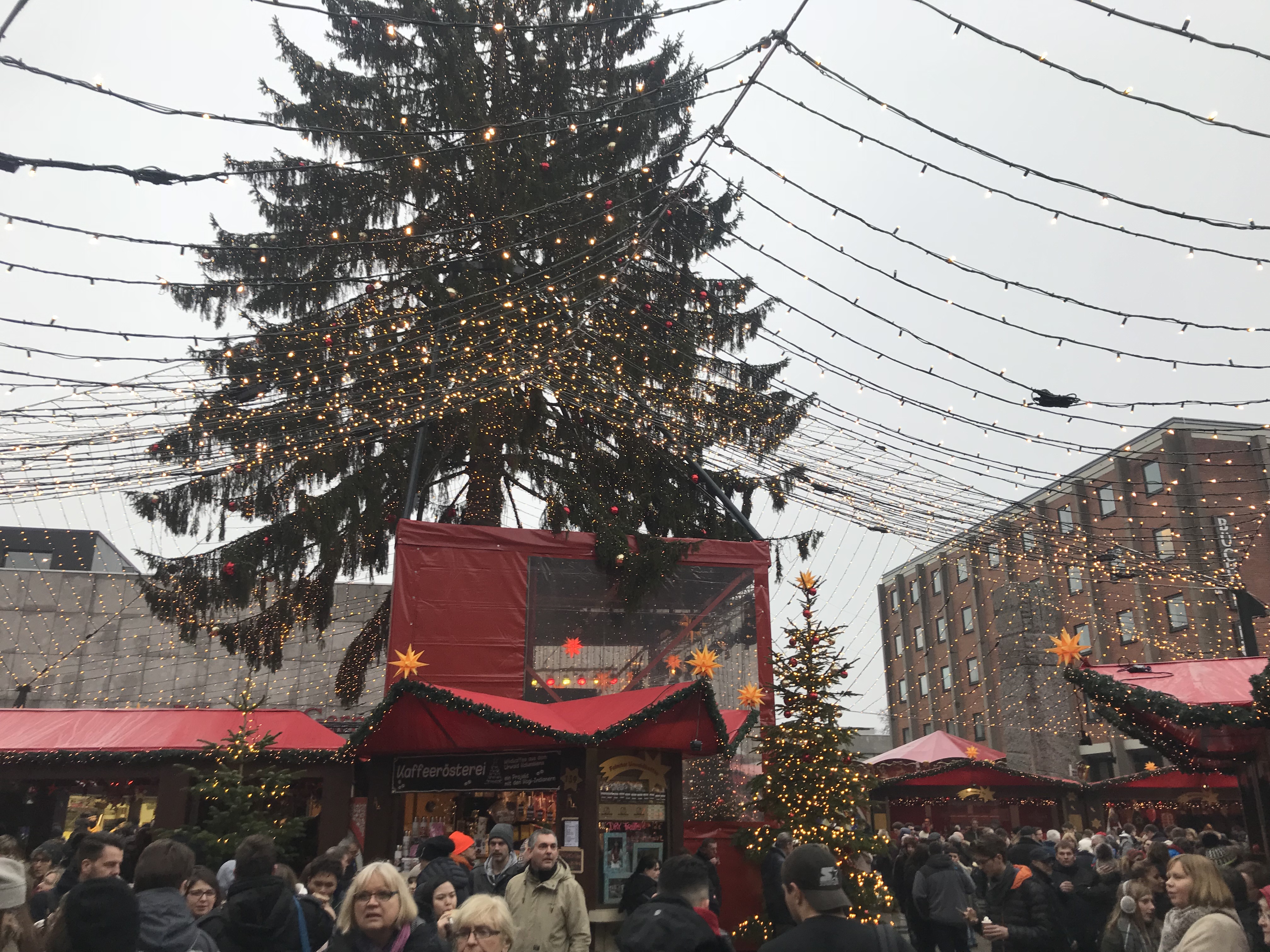 Köln is known for having some of the best Christmas Markets in the world! This market was scenically placed right next to the Cathedral!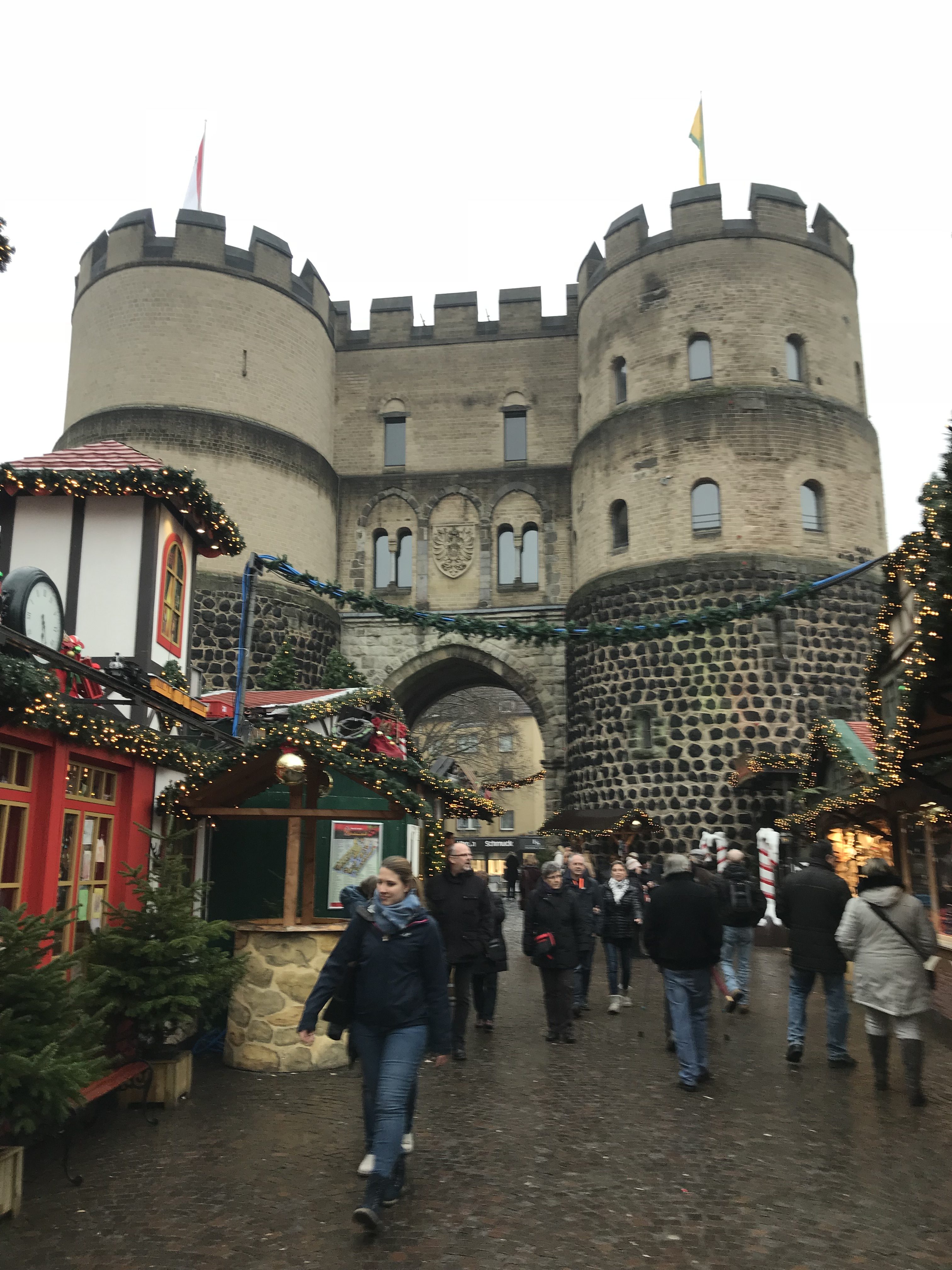 The Christmas Markets appropriately located in Rudolfplatz stand near the Hahnentorburg, a medieval city gate that used to be connected to the city walls.

A couple museums are located behind the Cathedral. Nearly every angle provides an astounding view of the towering structure.

The Cathedral and Christmas Market were even more beautiful at night.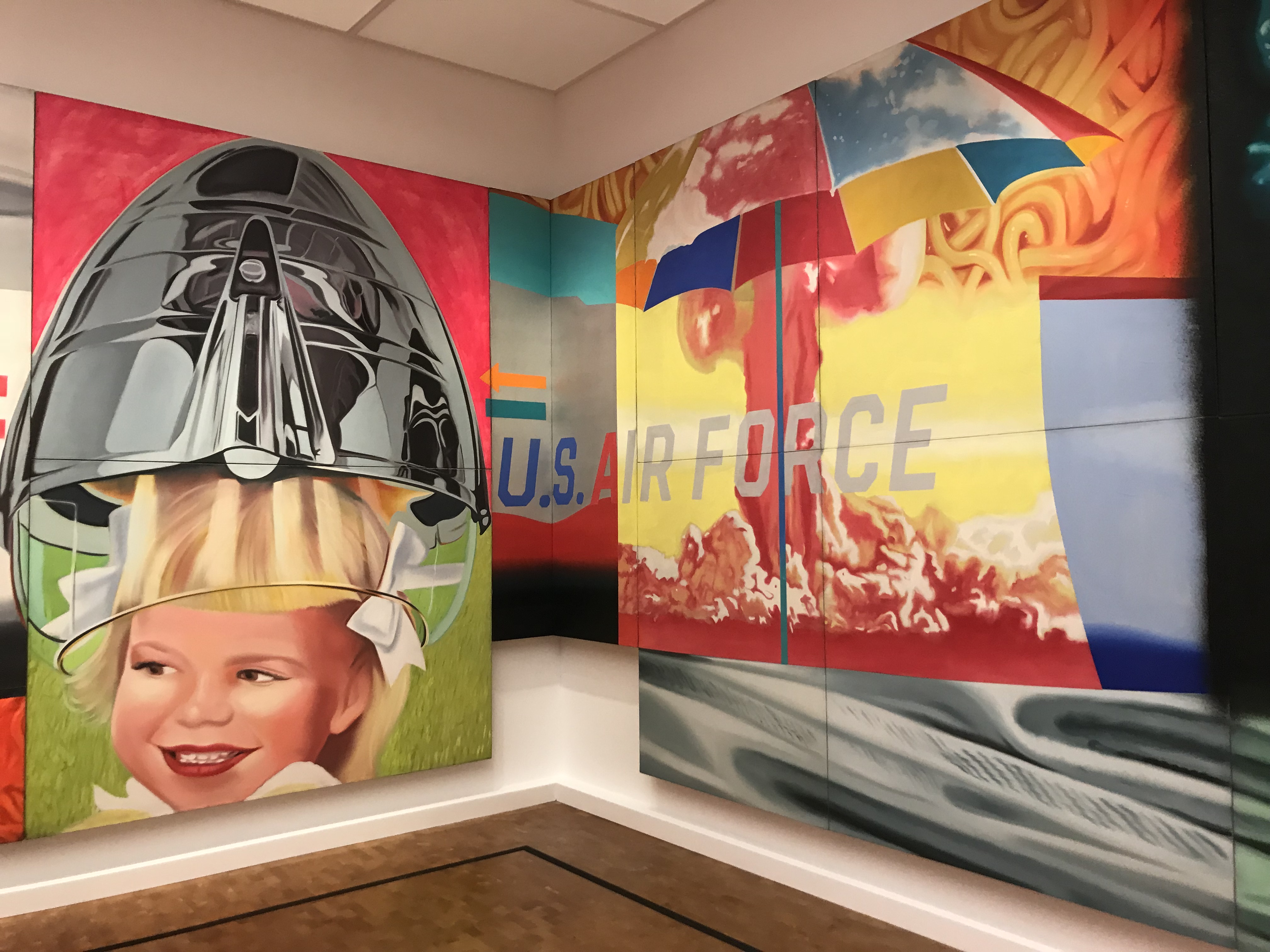 The Museum Ludwig had a special exhibition on pop artist James Rosenquist. This a segment of one of his most famous pieces, "F-111." It, like many of his pieces, occupies an entire room and contrasts American consumerism with the Cold War atomic anxiety of the 1960s.

We were able to go ice skating in the Altstadt, old town, Christmas Markets. It was one of my favorite moments of our entire German adventure!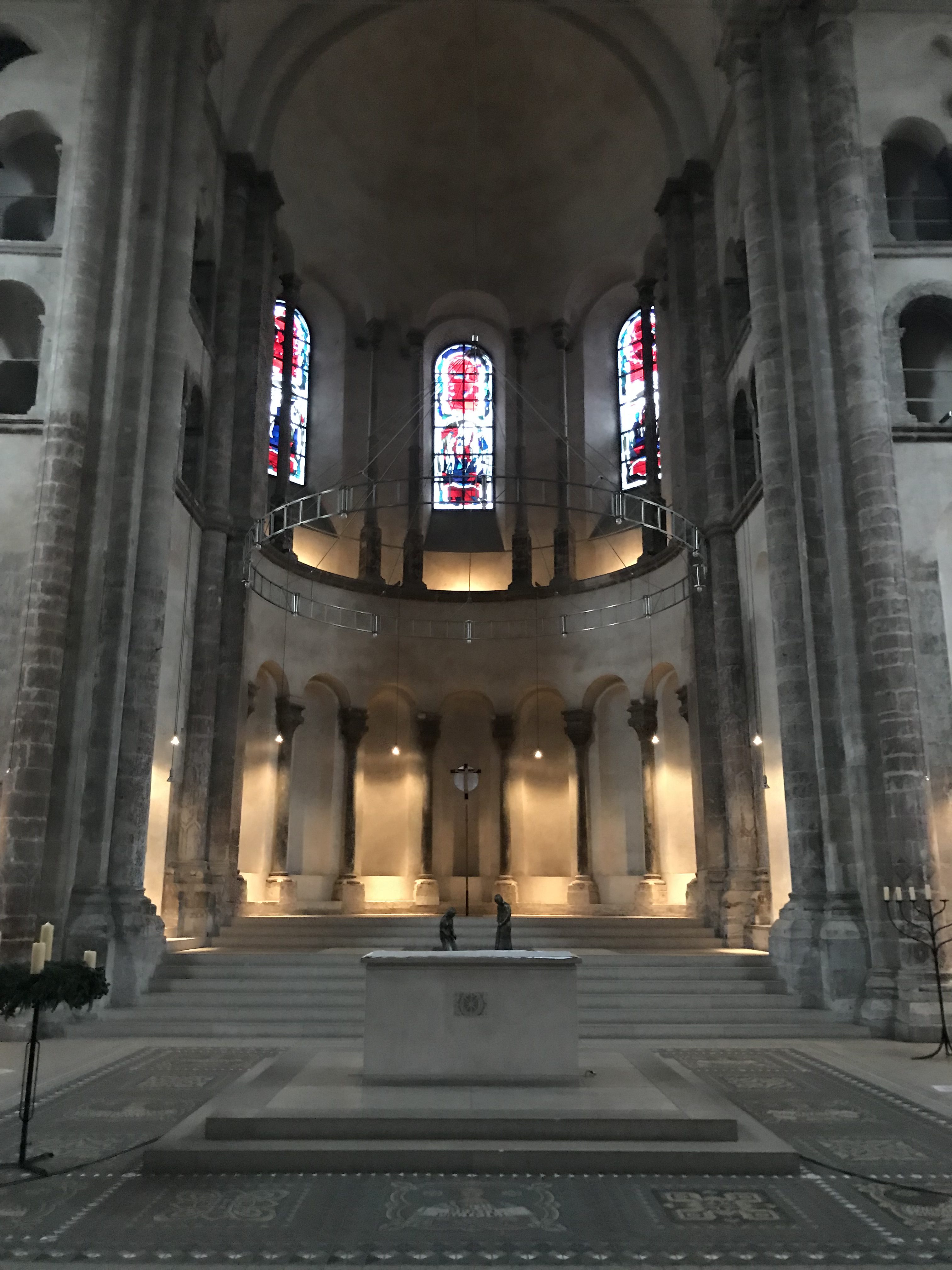 Groß St. Martin, the Great St. Martin was a simple, yet beautiful, Romanesque church. When I took a closer look at some details, I was able to see a hint of its pre-war grandeur.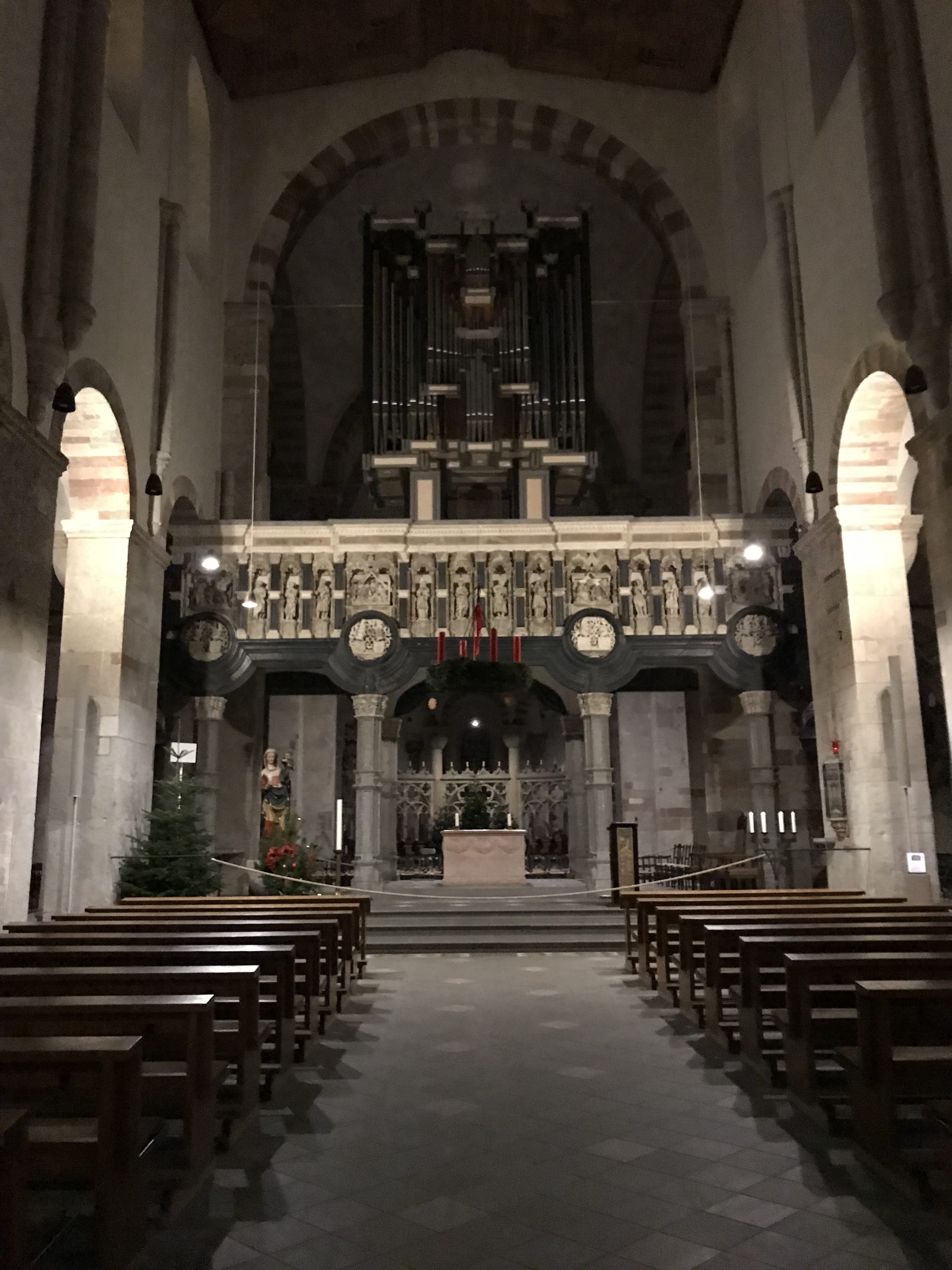 This altar is in St. Maria im Kapitol, a more complex and intricate Romanesque church, especially with its three apses.

St. Gereon was the most unique of the Romanesque churches I was able to visit because it consists of many individualistic parts coming together to form a whole. This was a small chapel off of the entry chamber.

The main space of St. Gereon is an oblong decagon topped with a dome. The large centralized space is very different from the rest of the churches I have been in so far this year.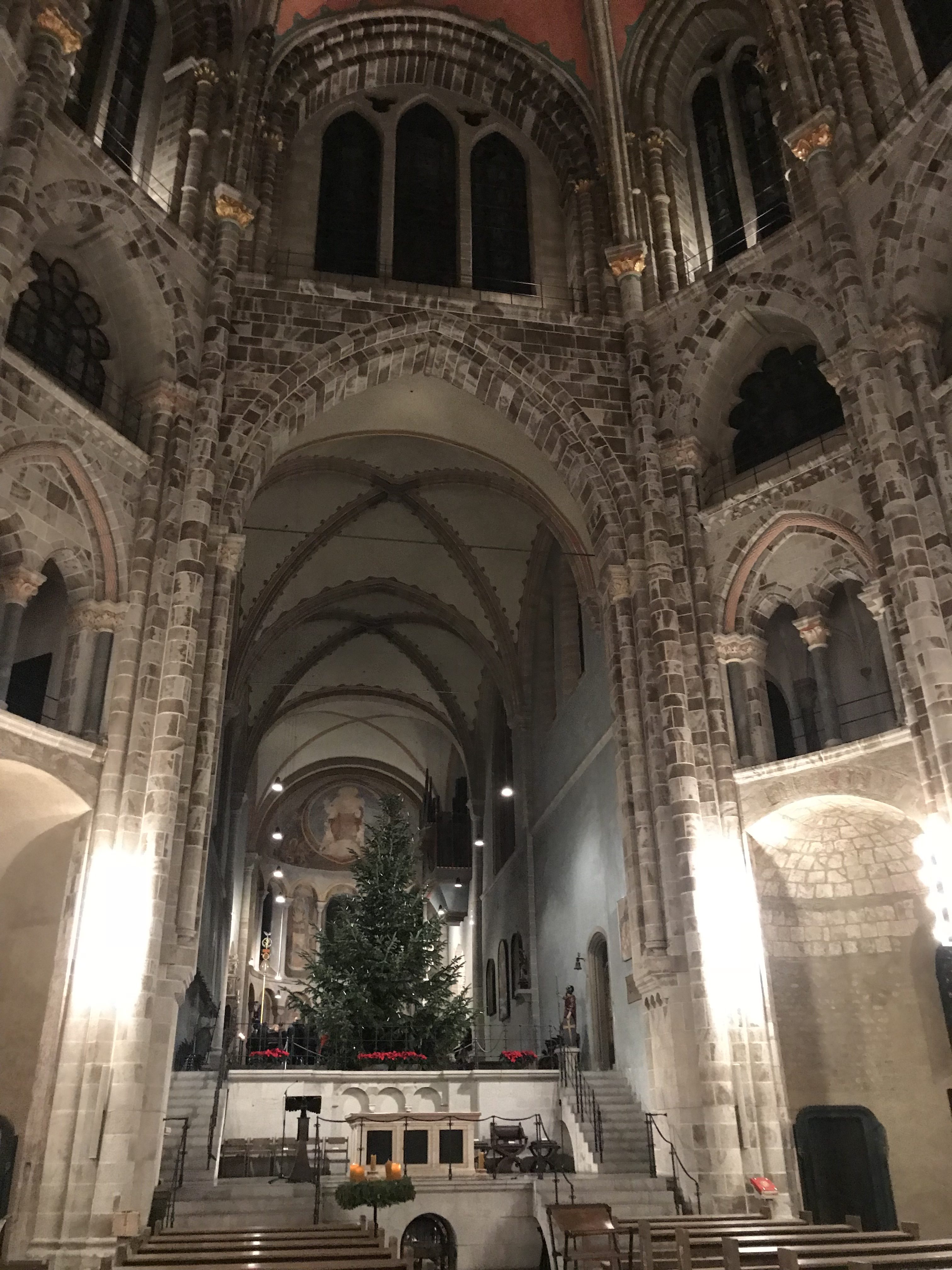 A raised nave, with a crypt underneath, is attached to the centralized mass.

We thought is was fitting to end our great German adventure by spending our last evening in a Christmas Market!
We woke up early on Wednesday and caught our train to Köln, Cologne in English, arriving around noon. After dropping our bags off at the hostel (interesting sidenote: every room in the hostel had a different exciting theme—ours was circus themed! You can check out this link to their website to see pictures!), we returned to the city center and visited the Cathedral. The Roman Catholic church is a towering Gothic structure with two iconic spires on the facade. Inside the Cathedral, we saw the casket of the Three Kings who visited Jesus upon his birth. I prefer Gothic religious architecture to Renaissance or Baroque, which are heavily used in Rome, so it was an exciting visit for me! After we were done exploring the Cathedral, we grabbed a quick, but tasty, lunch in the Christmas Markets and looked around. We then hopped from market to market through different neighborhoods of the town until we found ourselves strolling along the Rhein River, ending at the Christmas Markets in the Altstadt, old town. After stopping at a few of the stands, we grabbed dinner at a charming cafe. In the evening we returned to the Altstadt Christmas Market to go ice skating! We had such a blast, and seeing the Cathedral in the distance made it even more exciting! That night, Vicki and I said goodbye to Jenna who had to leave early the next morning.
After grabbing a quick breakfast Thursday morning, we went to the Museum Ludwig, a modern art museum. It includes many of the biggest names: Andy Warhol, Roy Lichtenstein, Jasper Johns, Robert Rauschenberg. The museum also has a very large collection of Pablo Picasso's work and an extensive exhibit on James Rosenquist's art. I was super enthusiastic during the entire visit because every time I turned a corner, I saw a piece of art about which I had previously learned. During my freshman spring semester, I took a class called "Off the Wall," which was a mixture of an art history, history, and literature focused on America after the 1920's. Knowing the background of the paintings and sculptures I was seeing made the visit much more meaningful. When we wrapped up there, we went to back to the Altstadt Christmas Markets to eat delicious cheese and pork stuffed bread! While eating, we watched people play a game on ice similar to curling, but with rules closer to those of bocce.
After, we decided to visit some of Köln's other fantastic churches. The city, specifically the Old Town, is known for its twelve Romanesque churches. Our first stop was at Groß St. Martin, the Great St. Martin. We were drawn to this large Romanesque church by its commanding tower. Unsurprisingly, this building was heavily damaged during the air raids of World War II. After the reconstruction, the interior is not as vivid as it once was, but remnants of paint provide clues to its original beauty. I found it to be a calming and reflective space. The next church we found was St. Maria im Kapitol. This is the largest of Köln's Romanesque churches and dates back to the mid 11th century. Not only was it larger than St. Martin, but it also had a more complex plan and more intricate details. The third and final church we were able to visit was St. Gereon's. Dating back to at least 612, the church saw many additions and changes over time, which lead to its irregular appearance. I thought the conglomeration of different types of worshiping spaces was exceedingly interesting.
We may have been a little tired of German food so we spiced it up and ate at a South African restaurant and it was pretty tasty! But don't worry, we did spend our last night in Germany at the Rudolfplatz Christmas Market, treating ourselves to some chocolate goodies! It was a lovely send-off before going to bed early to fly out to meet up with our families the next day! Danke schön Deutschland!