Ice cream is hands down my favorite food so I've been looking forward to a year's worth of gelato since I first learned I'd be going abroad! I'm creating this gallery to share and document my simple joy of every gelato I get throughout the year!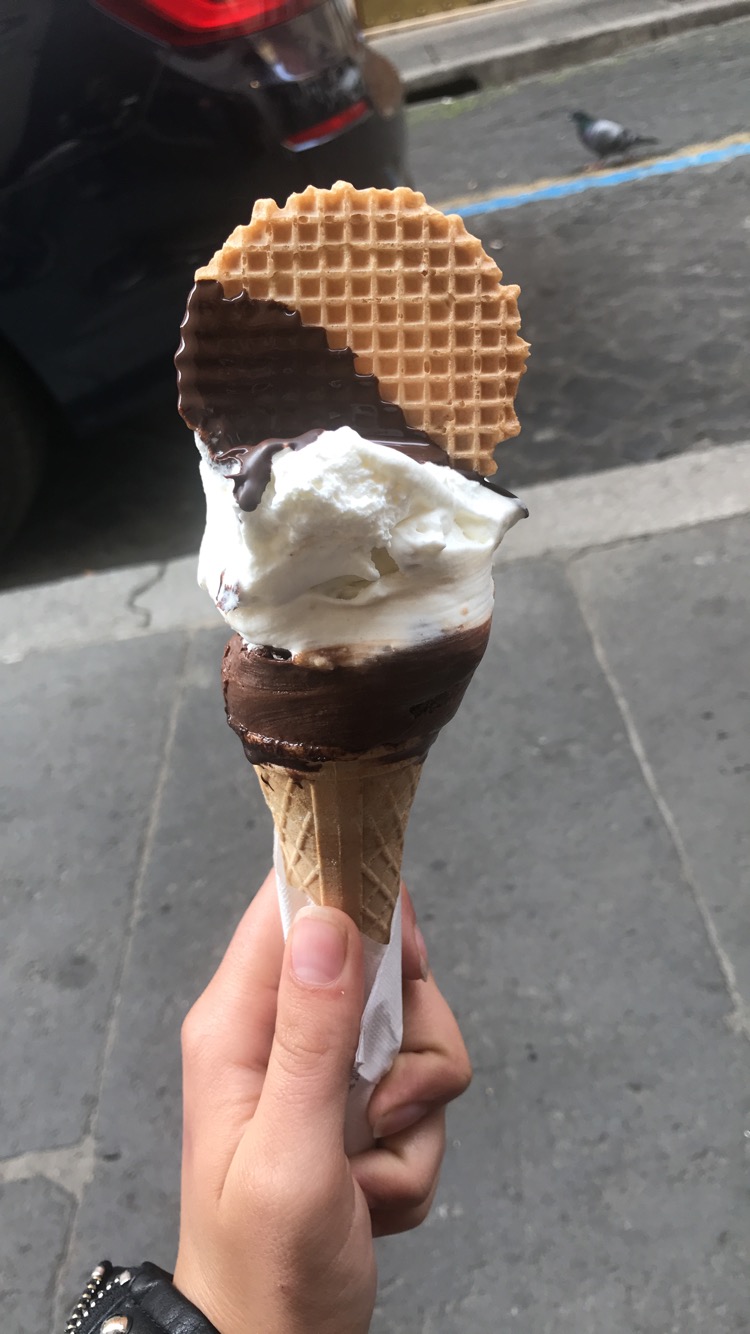 My final gelato of the year was actually my first time at Come il Latte. Rome always has something new to offer! I'll miss the Eternal City and its eternal gelato options.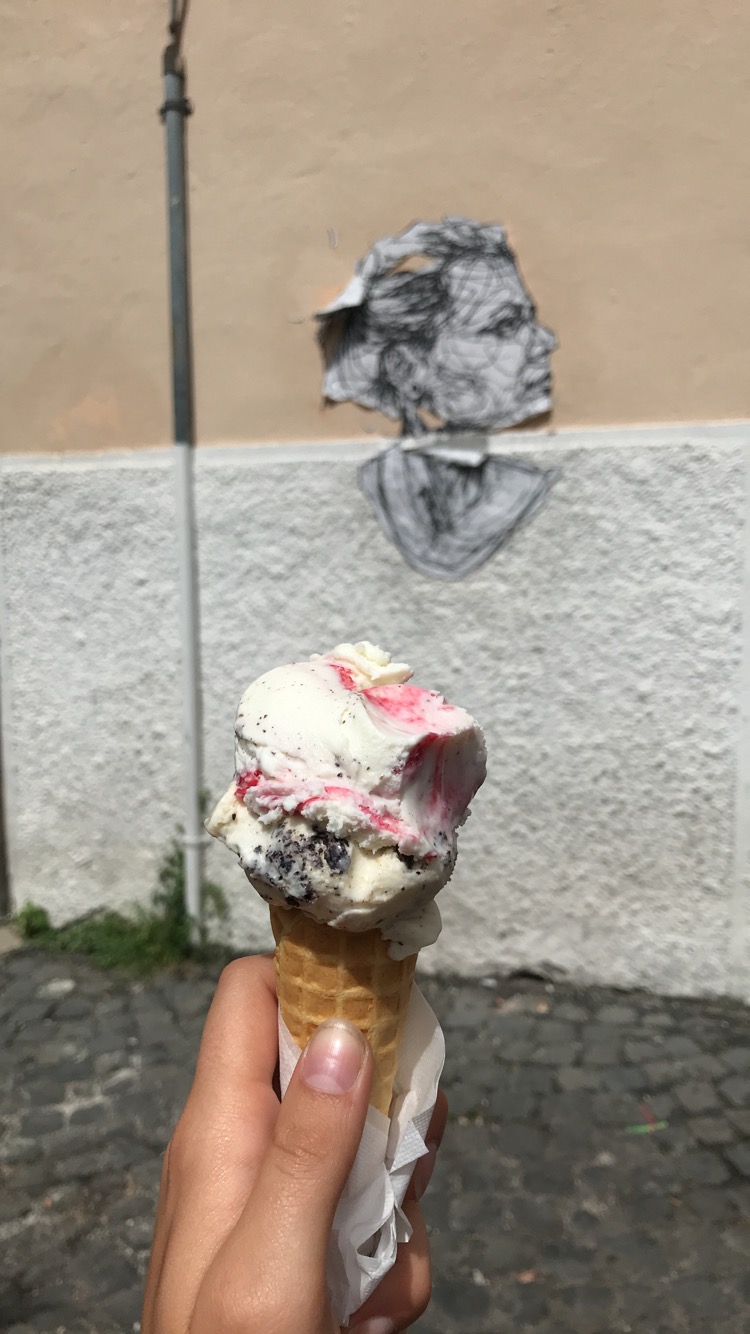 On my last trip to Fatamorgana, I got my usual SnowWhite (vanilla gelato with apple chunks and raspberry sauce) and a new flavor that was a vanilla base with chunks of chocolate and pear.

After my final trip to St. Peter's, I got my last Old Bridge gelato.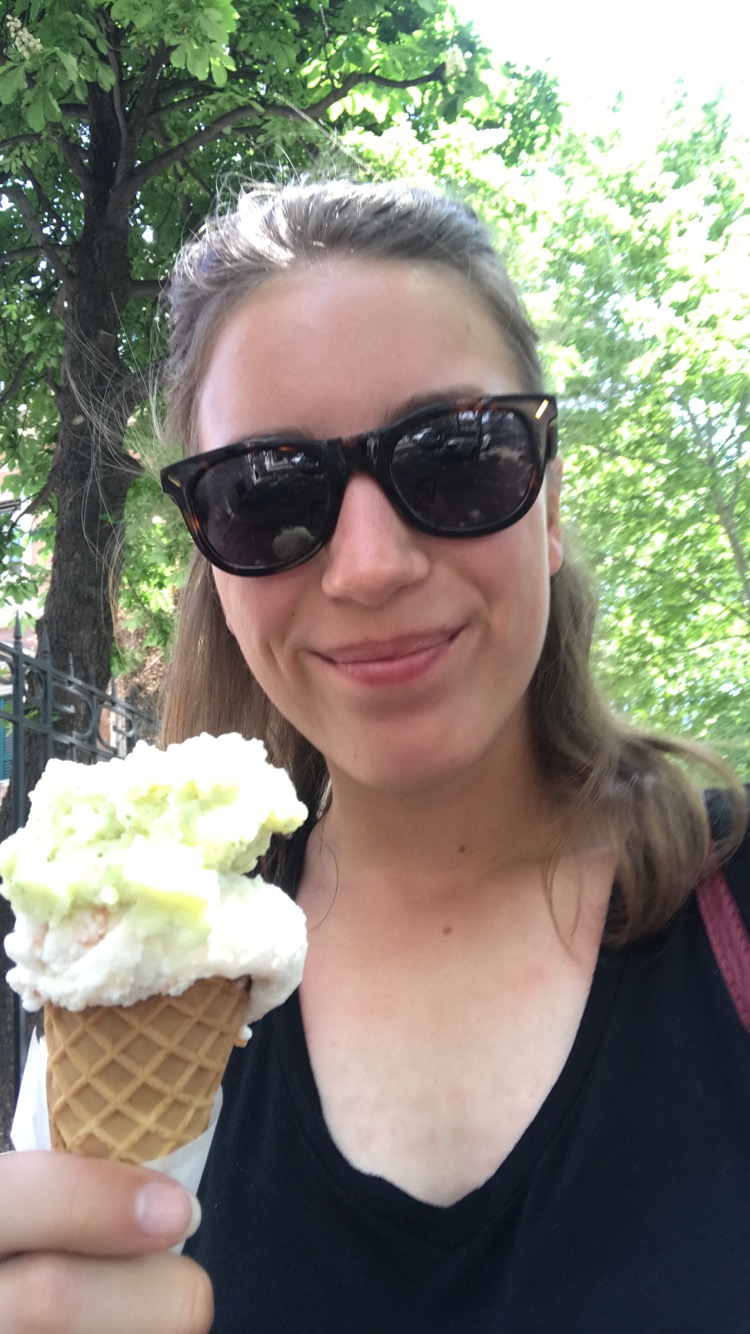 I had my last gelato by the Tiber on Sunday.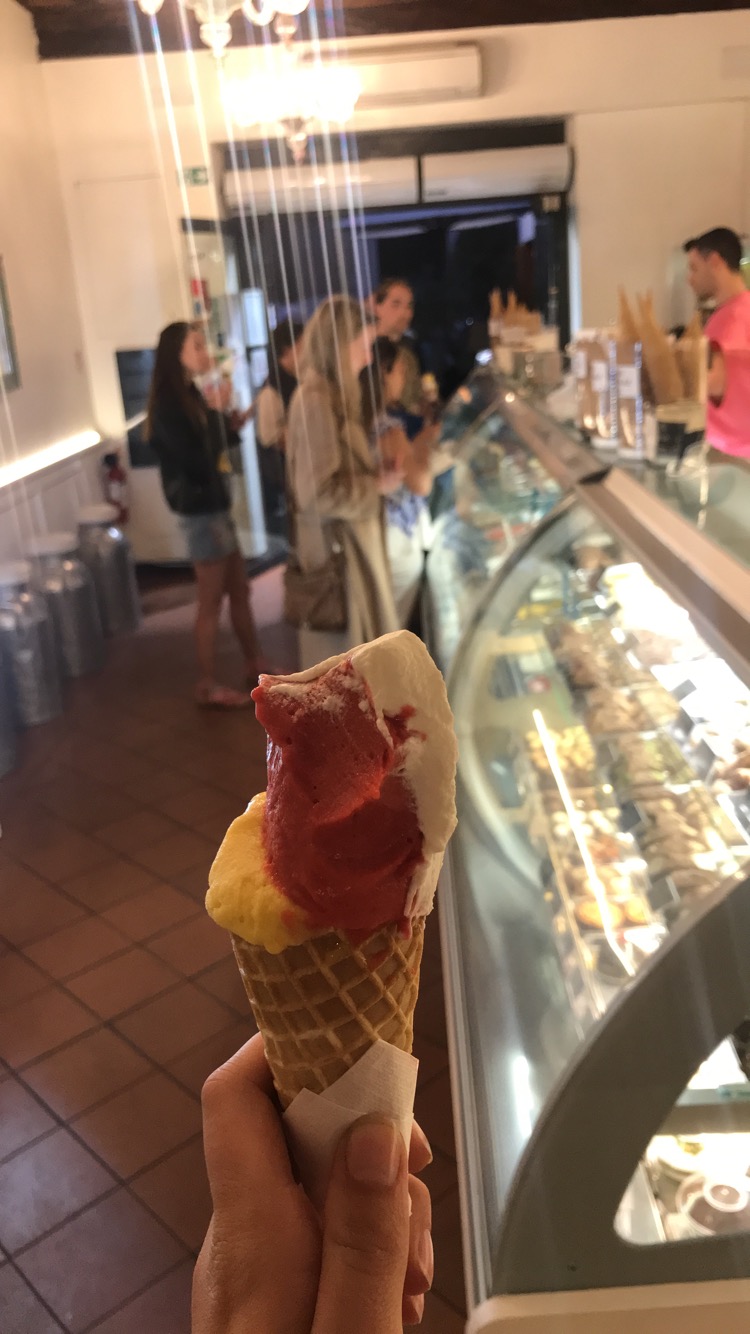 The passion fruit flavor at Gelateria del Teatro is incredible!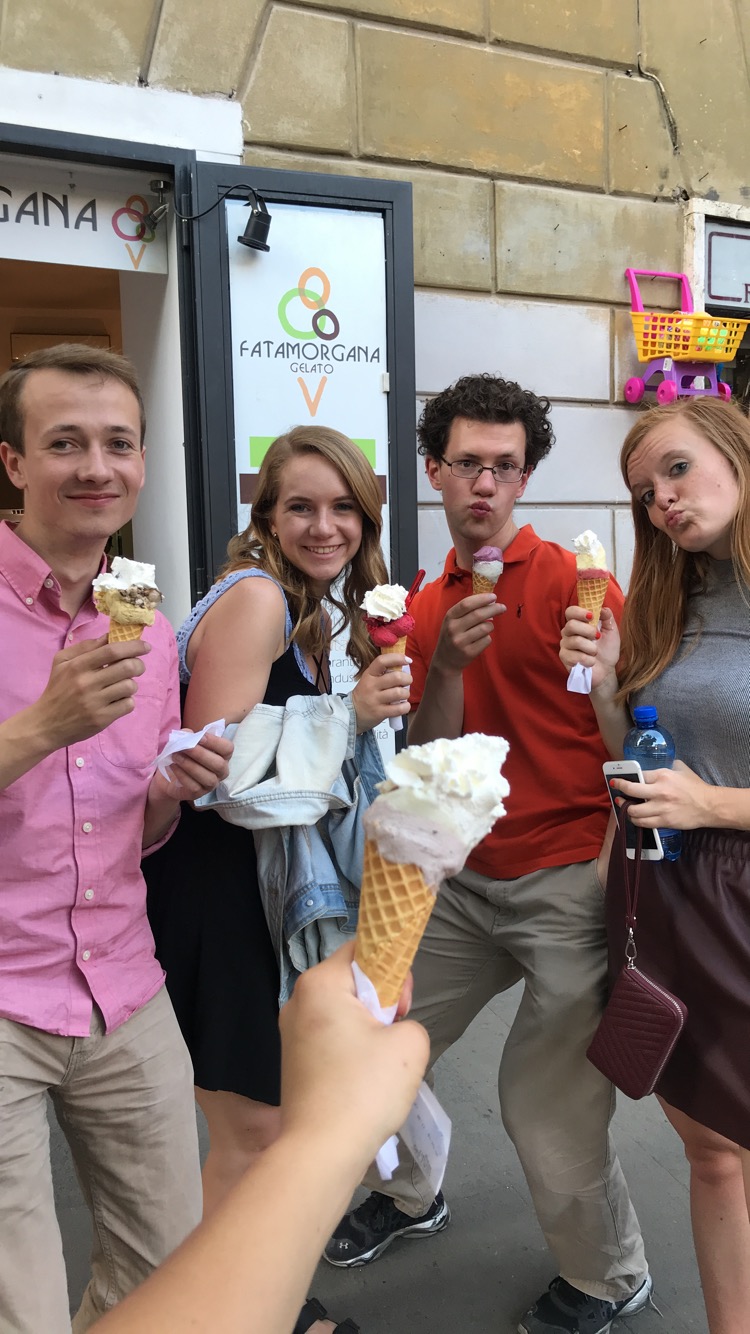 This gelato was our first after we were officially assignment free! We went to the Fatamorgana in Trastevere, which many people think is even better than the one in Monti!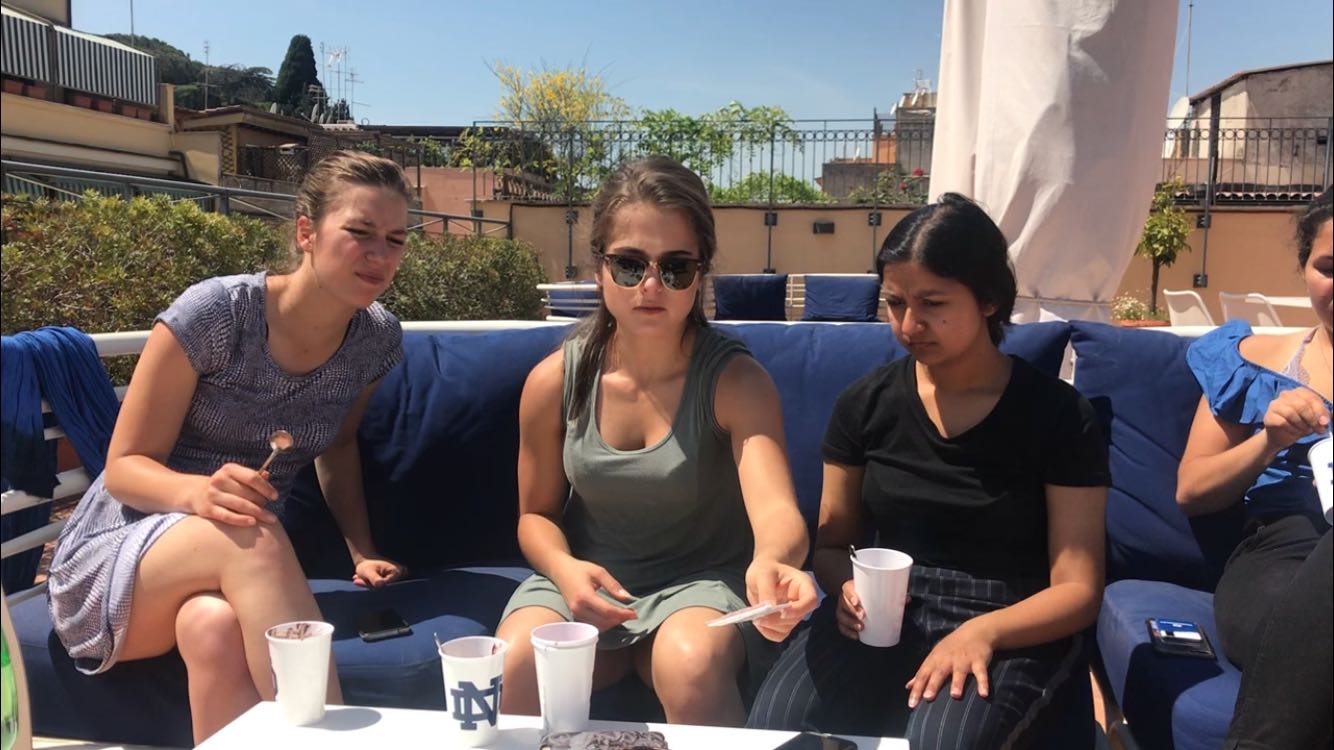 We ordered some gelato to surprise Amali during our lunch break on her birthday.
Pro: Enjoying gelato on the roof with the Colosseum in view.
Con: Making funny squinting faces and trying not the bake in the sun.

Obviously, we went to Giolitti at the end of the first day of reviews.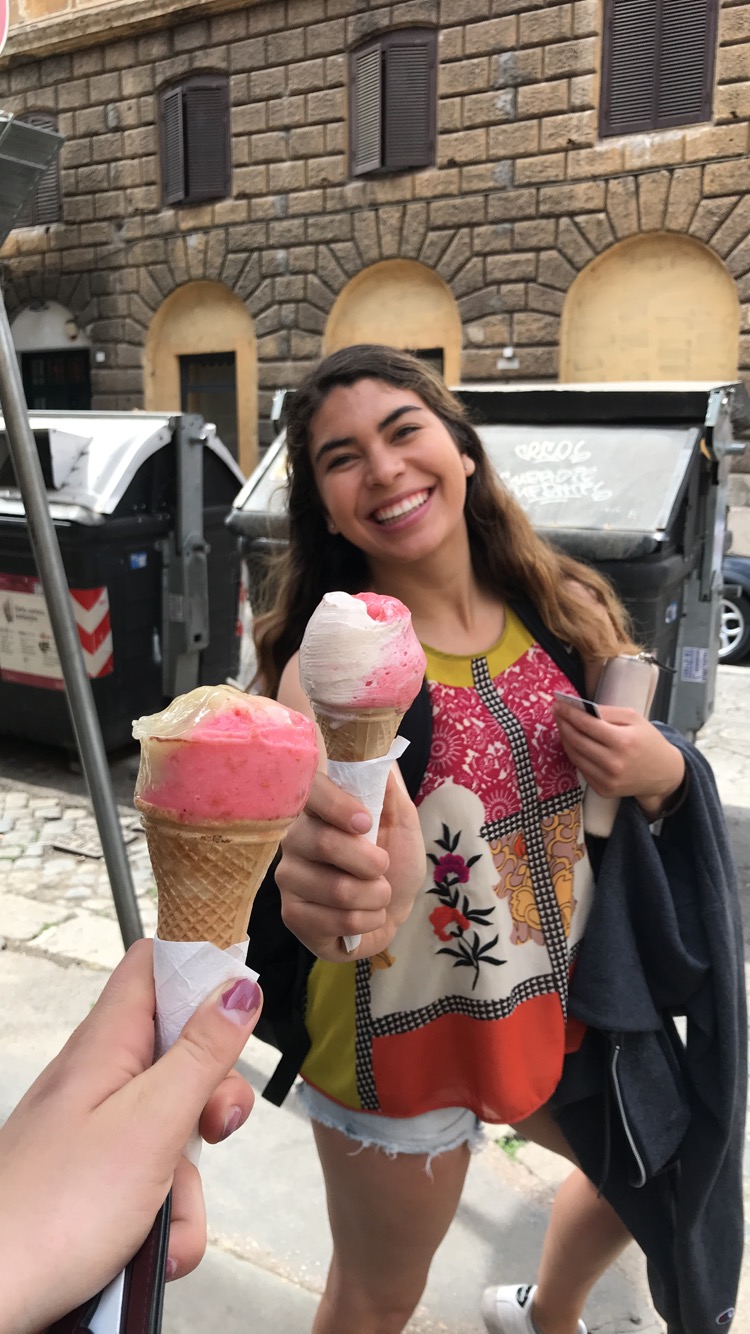 We seem pretty happy even though we were in the middle of deadline week!

This was round two of gelato with Bart, Juliette, and Jarod. Don't worry. I had biked 14 miles that morning, so I think I earned it.

Juliette and Bart came to Rome and, of course, gelato was on the itinerary! I made it back to La Romana.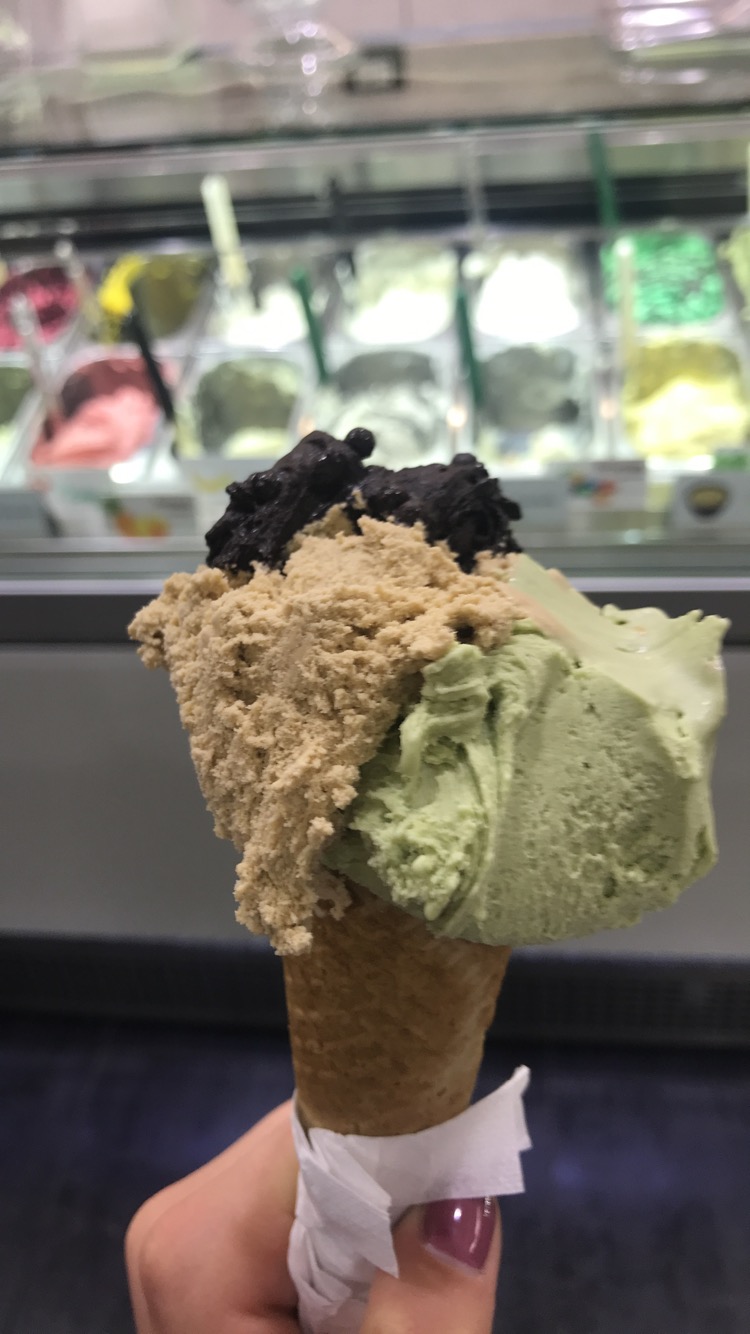 This one was to help combat the approaching deadline blues.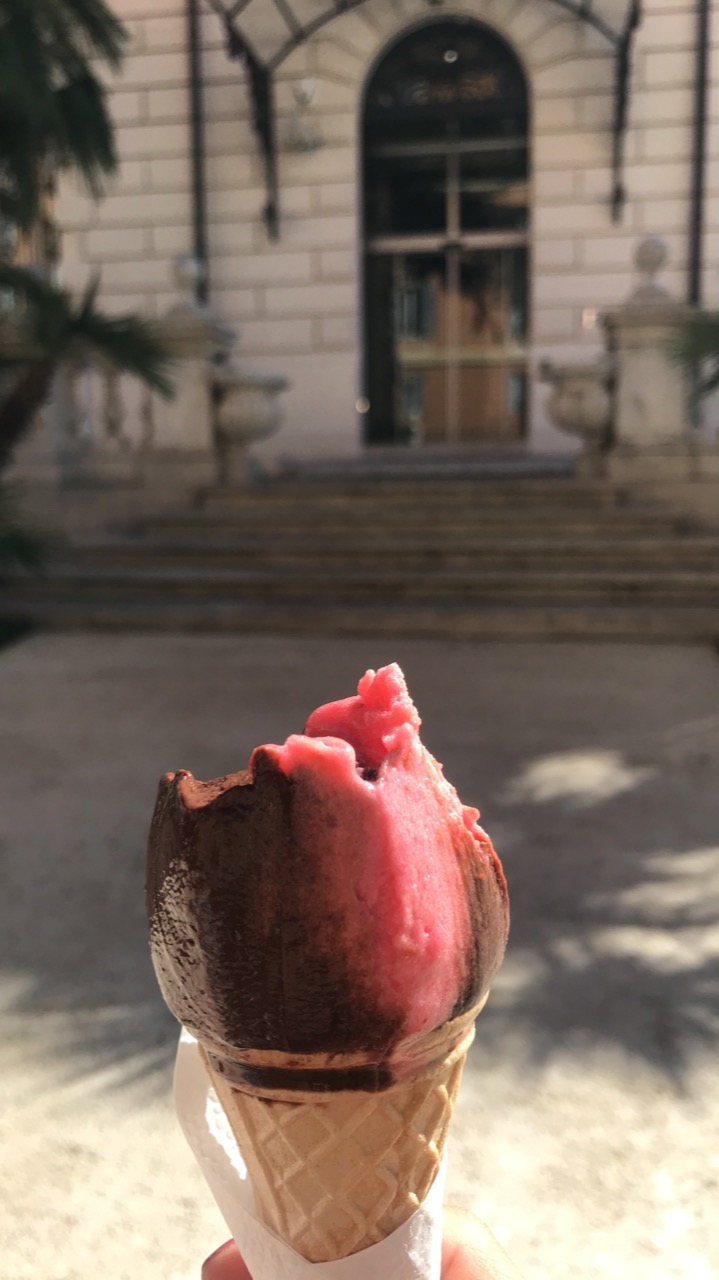 Giuseppe's gelato, across the street from the villa, may not have the renowned reputation like Giolitti, but his gelato was very tasty and was always served with a smile!


As we got closer to leaving Rome, it became much harder to pass up gelato.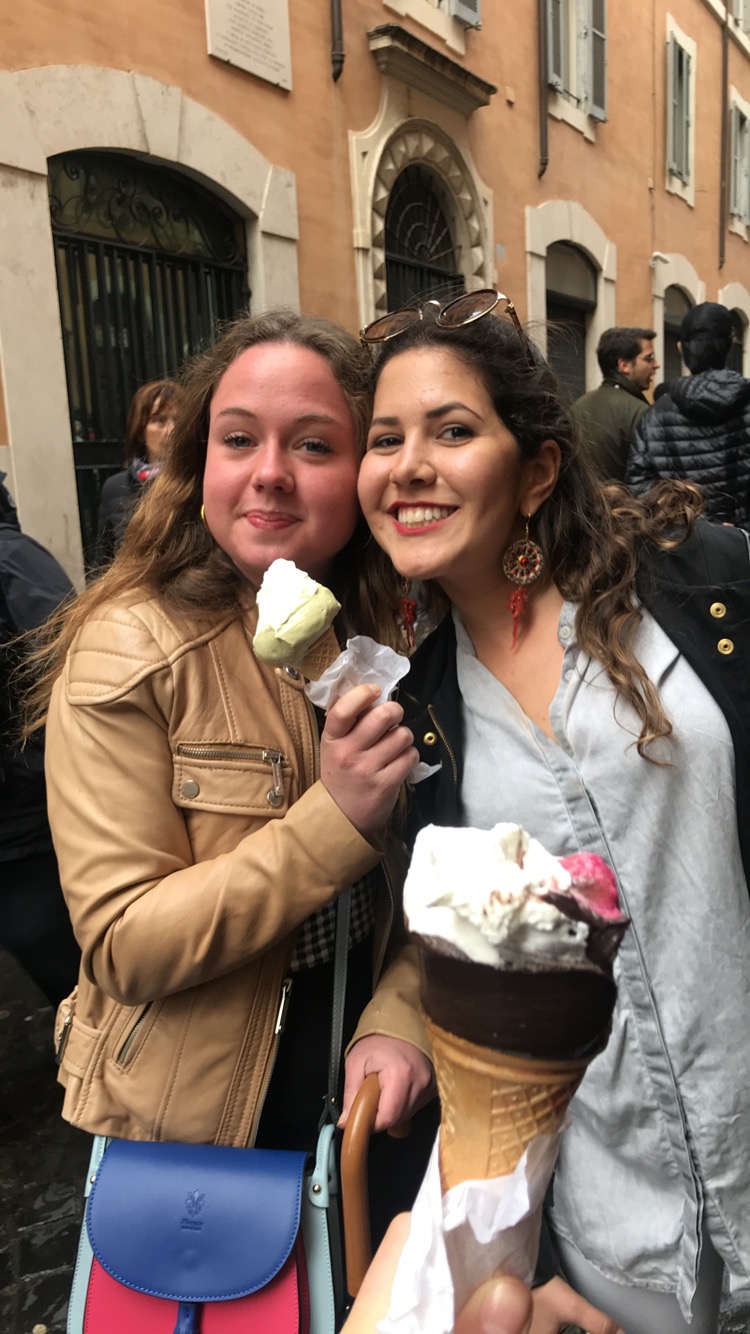 This was our second gelato of the day, this time from Giolitti!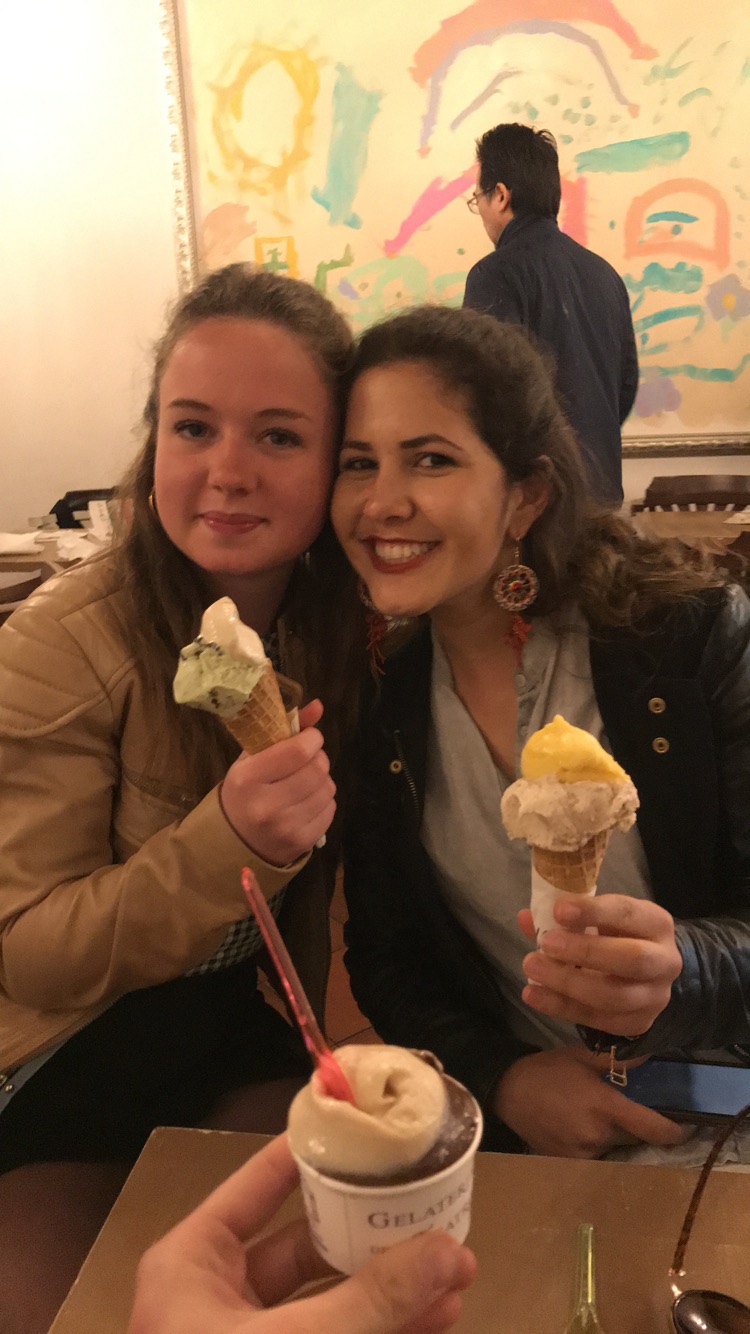 Molly is my and Olga's friend from our South Bend dorm. She is studying in Toledo this semester and came to Rome for Easter. Of course, she was eager to try our favorite gelaterias! Here we are at Gelateria del Teatro!

I couldn't pass up the opportunity on our Florence day trip to stop by a gelateria that was highly recommended by some friends. It definitely lived up to the hype! I got passion fruit, chocolate and pear, and chocolate mousse. YUM!

Of course I would get a birthday gelato! I went to the original Gelateria del Teatro for the first time and they had many more flavors than the secondary location!

I got a quick gelato in Taormina, Sicily, the day before Palm Sunday.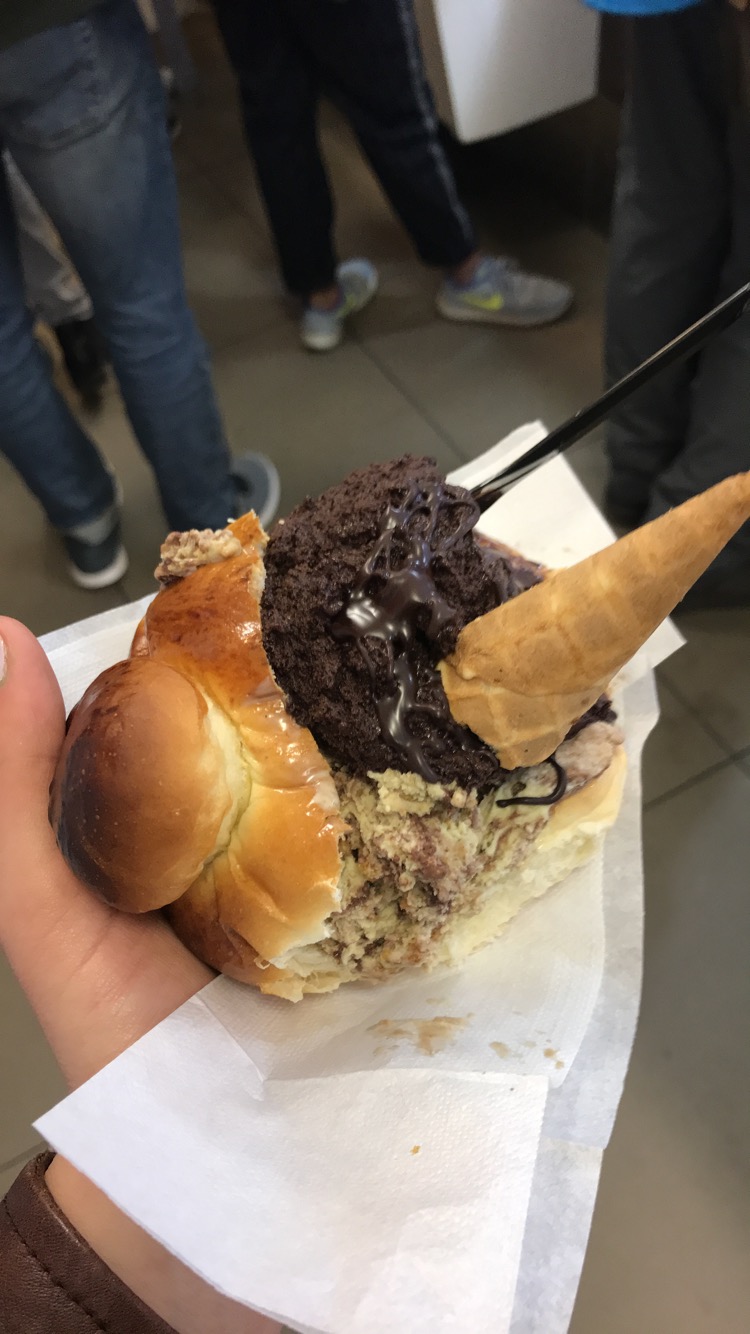 In Palermo, Sicily, a local speciality is a gelato-filled brioche bun. It was super yummy, rich, and filling.

After painting the Pantheon for class on a beautiful day, Vicki and I couldn't pass up getting Giolitti's gelato! (It was so beautiful that the sun blinded Vicki)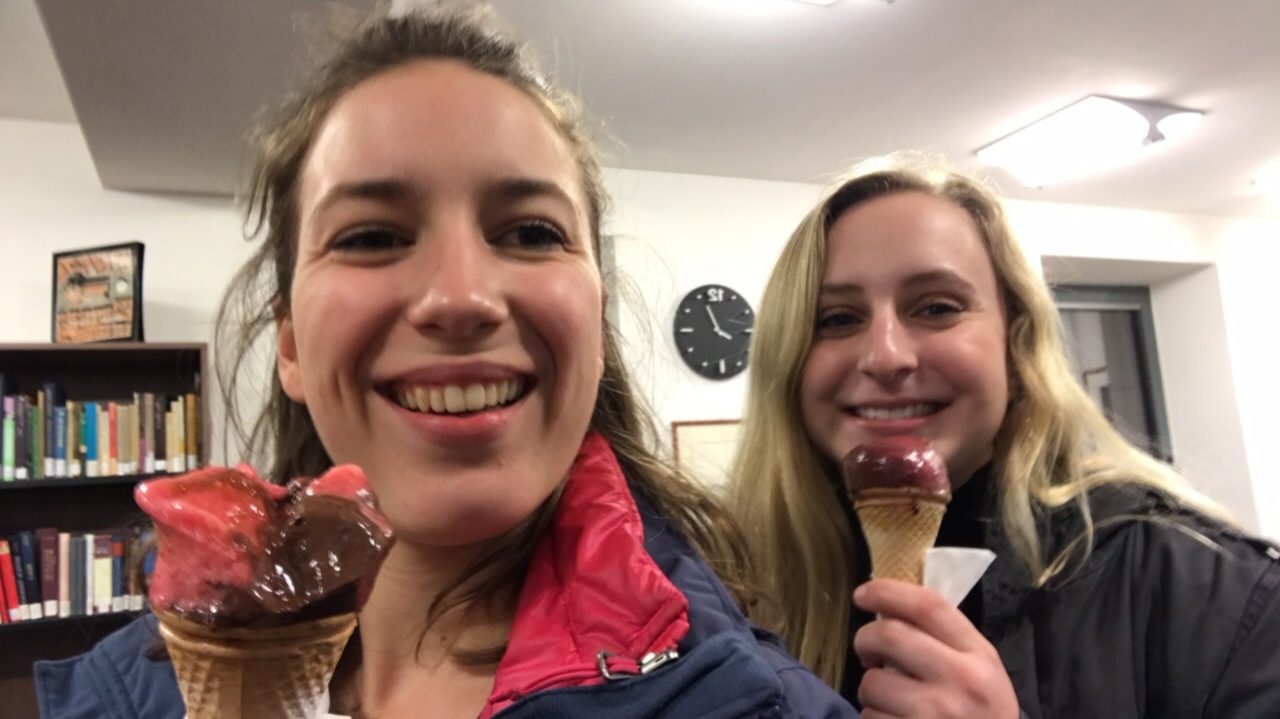 Reilly, a soccer friend from high school, is also abroad in Rome this semester and we were finally able to meet up for dinner and gelato.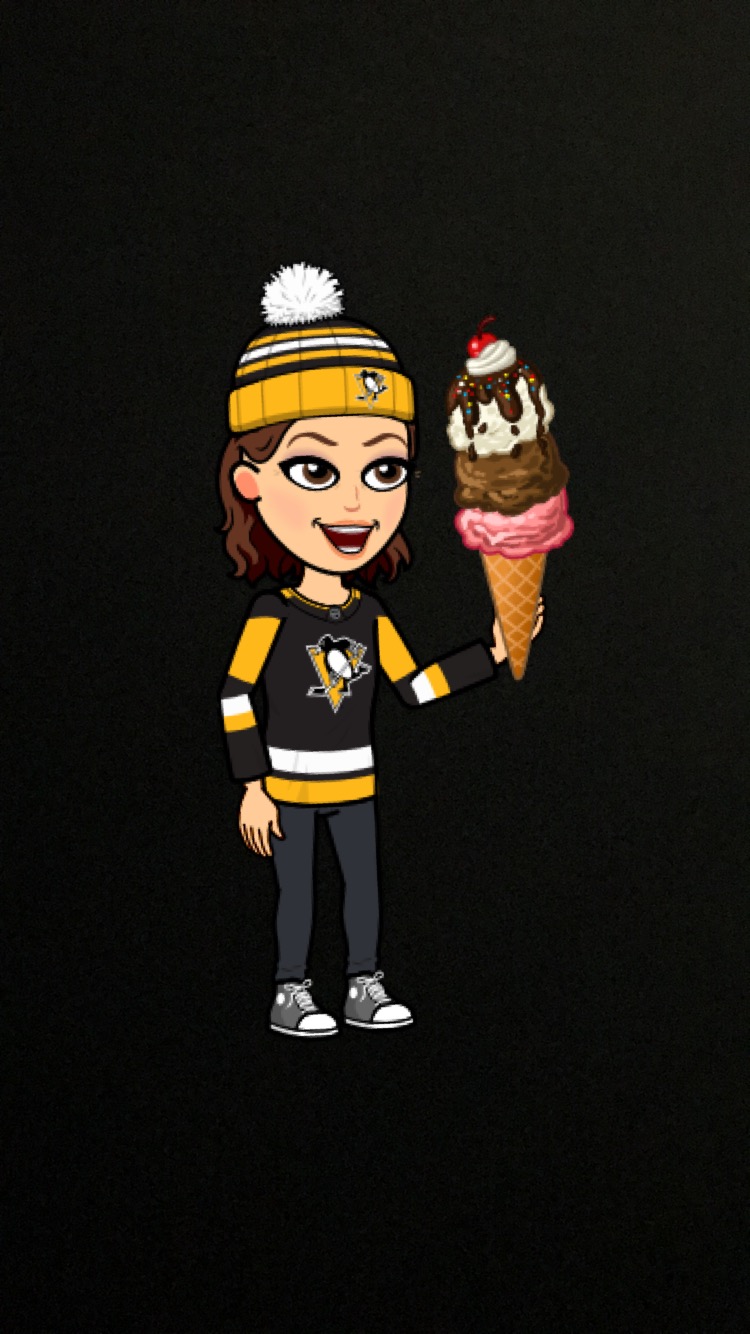 I forgot to get another photo, but it was during the craziness of deadline week. It was a trustworthy visit to Giuseppe across the street from the Villa.

Even if there is snow on the ground, I will still get gelato!

While running errands in the city on Saturday, I visited the famous Giolitti for the second time! This time I was more adventurous with my flavors; I got pomegranate (yum) and champagne (surprisingly very strong).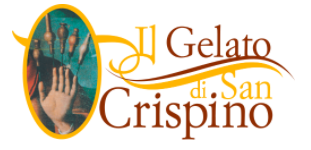 I forgot to take a picture, but luckily this place has a website! This is place with the heavenly chestnut flavor, which I got again, this time paired with a chocolate meringue flavor.

I got two fruity flavors from Fatamorgana, which is a little unusual for me. I got banana lime, which was fantastic, along with a pretty tasty mango.

Of course, we had to end our day-long Architectural History visit of the Vatican with some Old Bridge Gelato!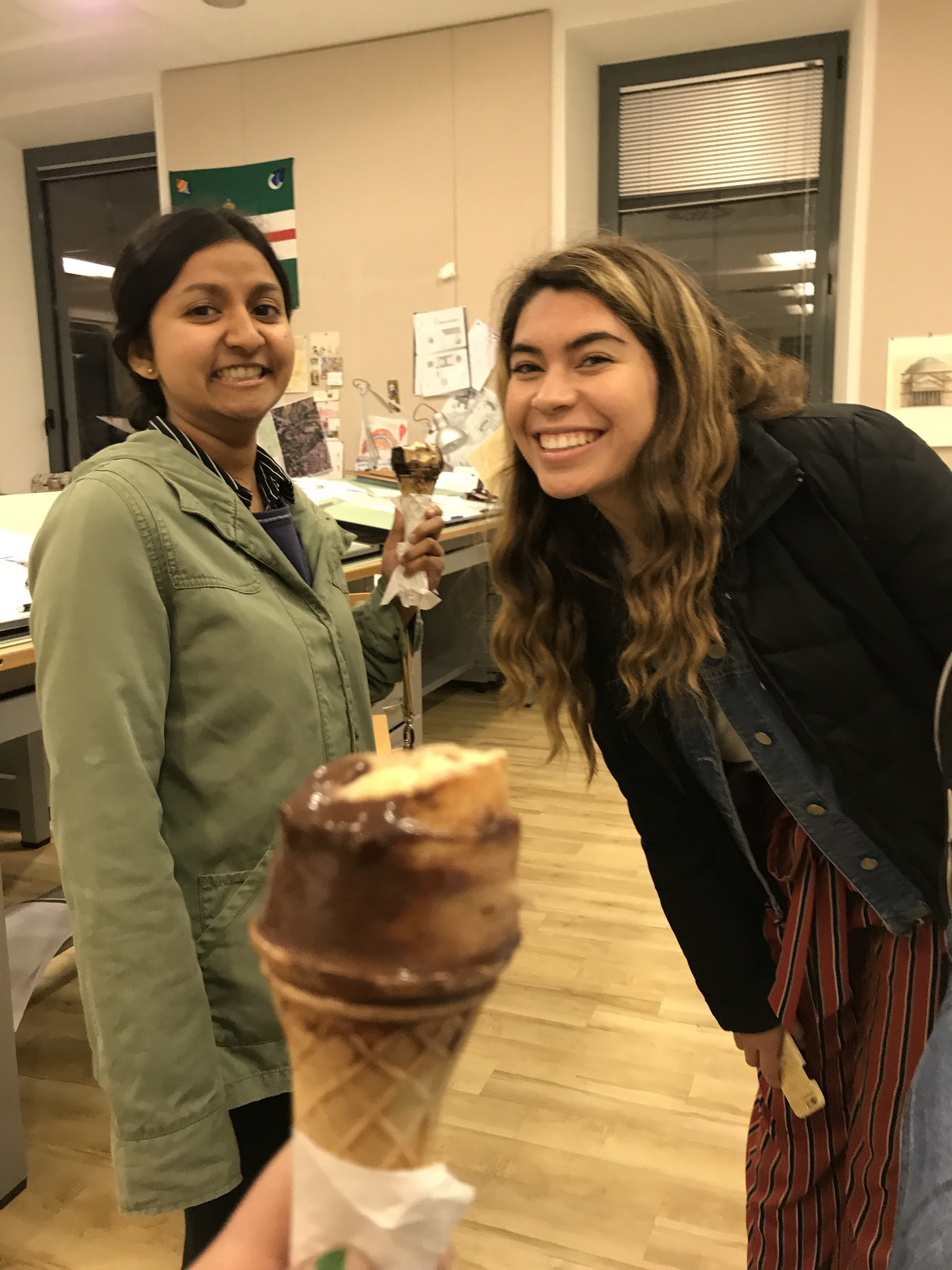 Rough night: Bri thought the peach (pesca) flavor I got was fish (pesce) because she got confused with the one letter difference and Amali made a funny face!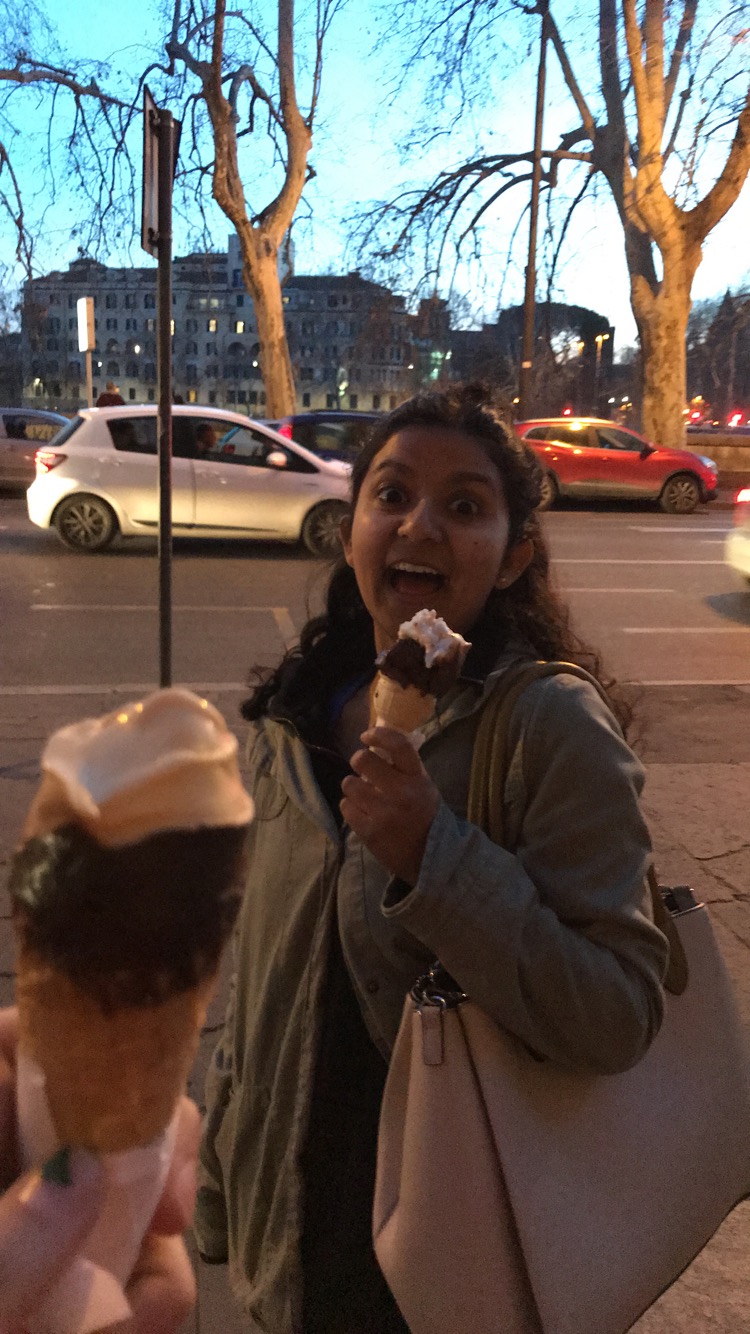 Happy gelato break with Amali! I got a chocolate and wine flavor mixed with a crème brûlée flavor!

When I returned to my family in Suno after finishing my break travels and before returning to Rome, they were sweet enough to get some gelato to share after our lunch!

I convinced my mom to try Gelateria del Teatro for its not super sweet, simple, clean, but interesting flavors. She chose one that was white peach, honey, and rosemary.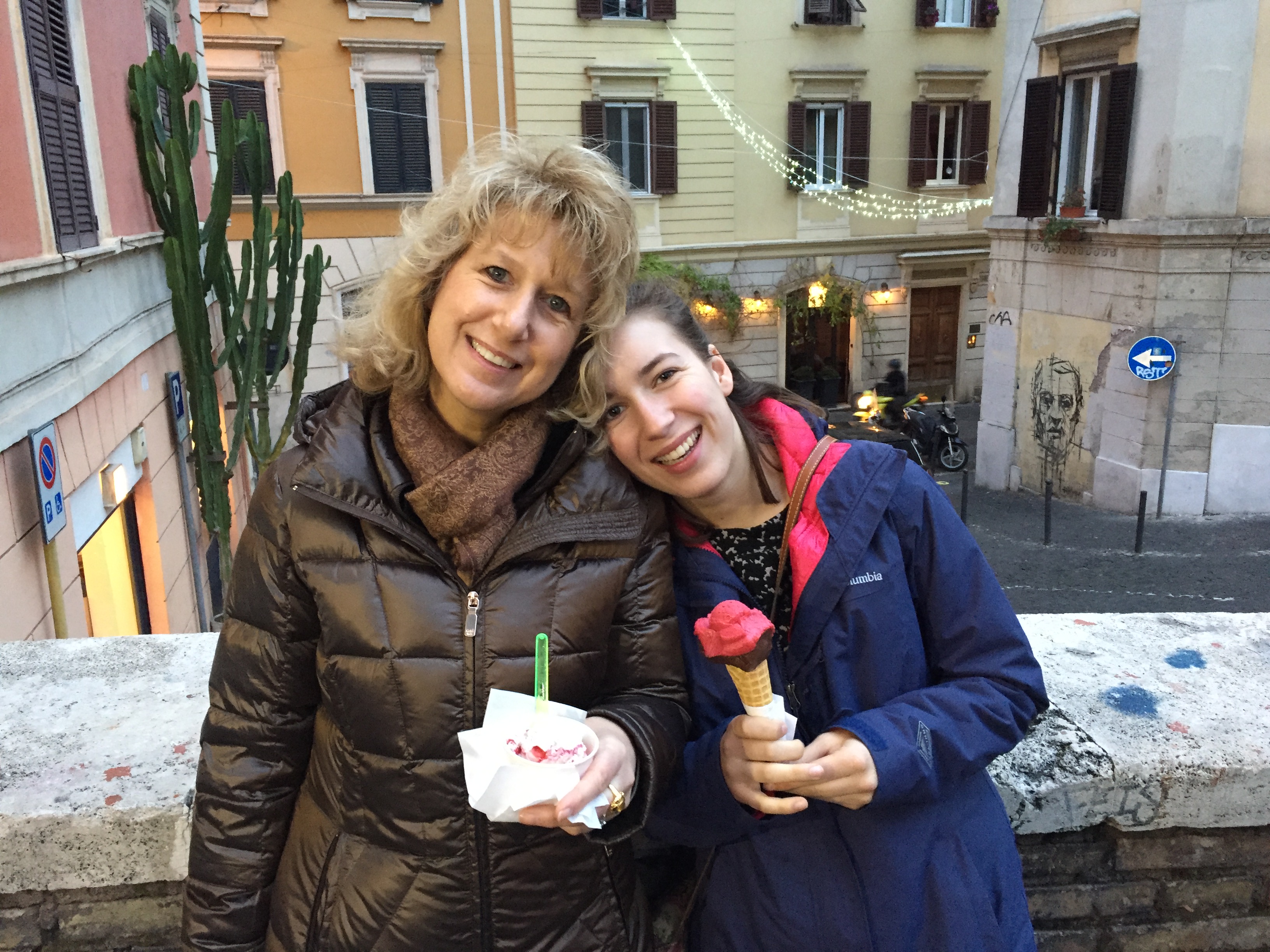 We worked up an appetite running all over Rome to see four of Rome's seven major pilgrimage churches.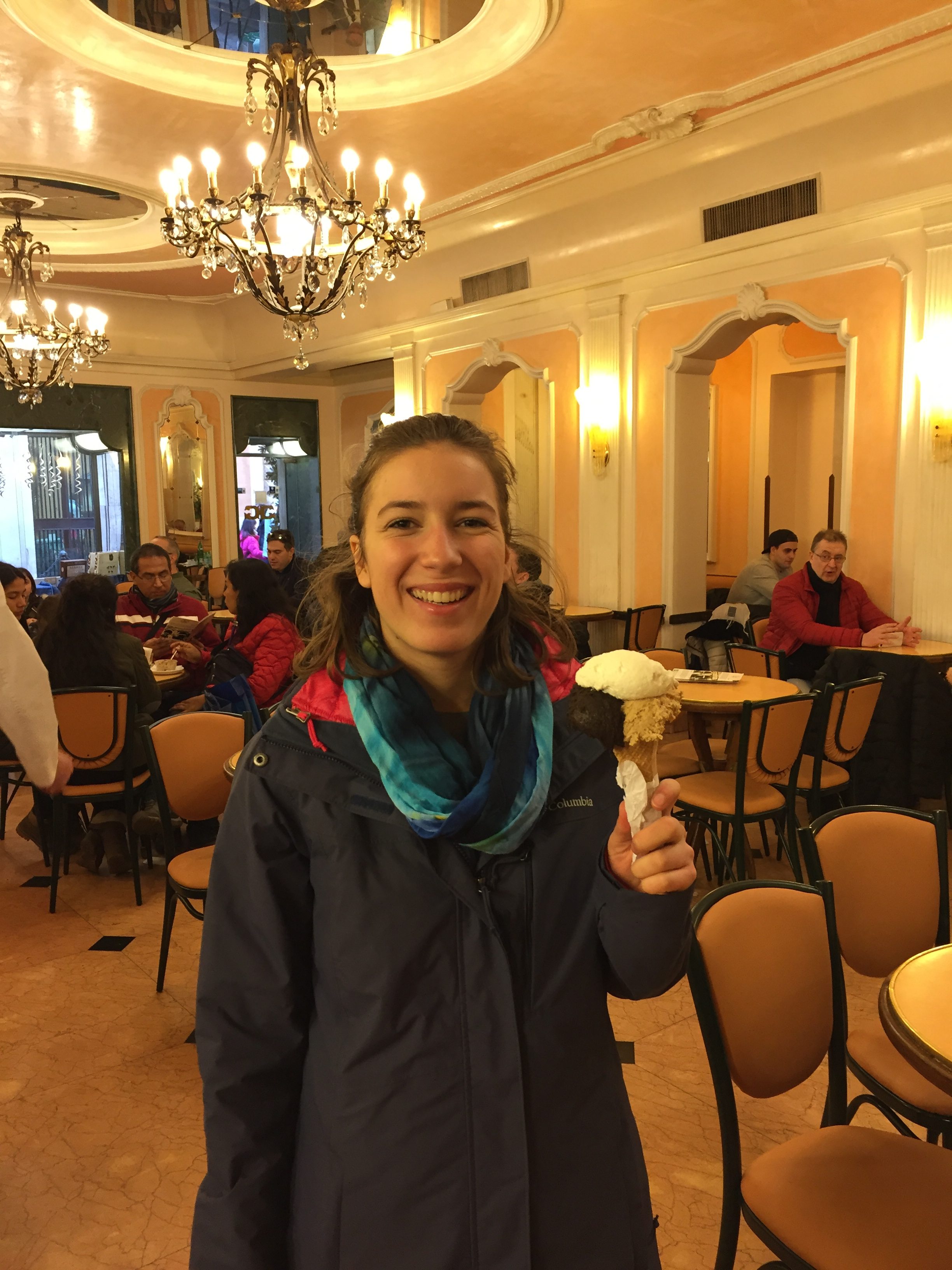 While my mom and I were walking back from the Vatican, we passed Giolitti, whose gelato has arguably the best reputation in Rome. Since I hadn't yet been there, I could not justify passing without getting some.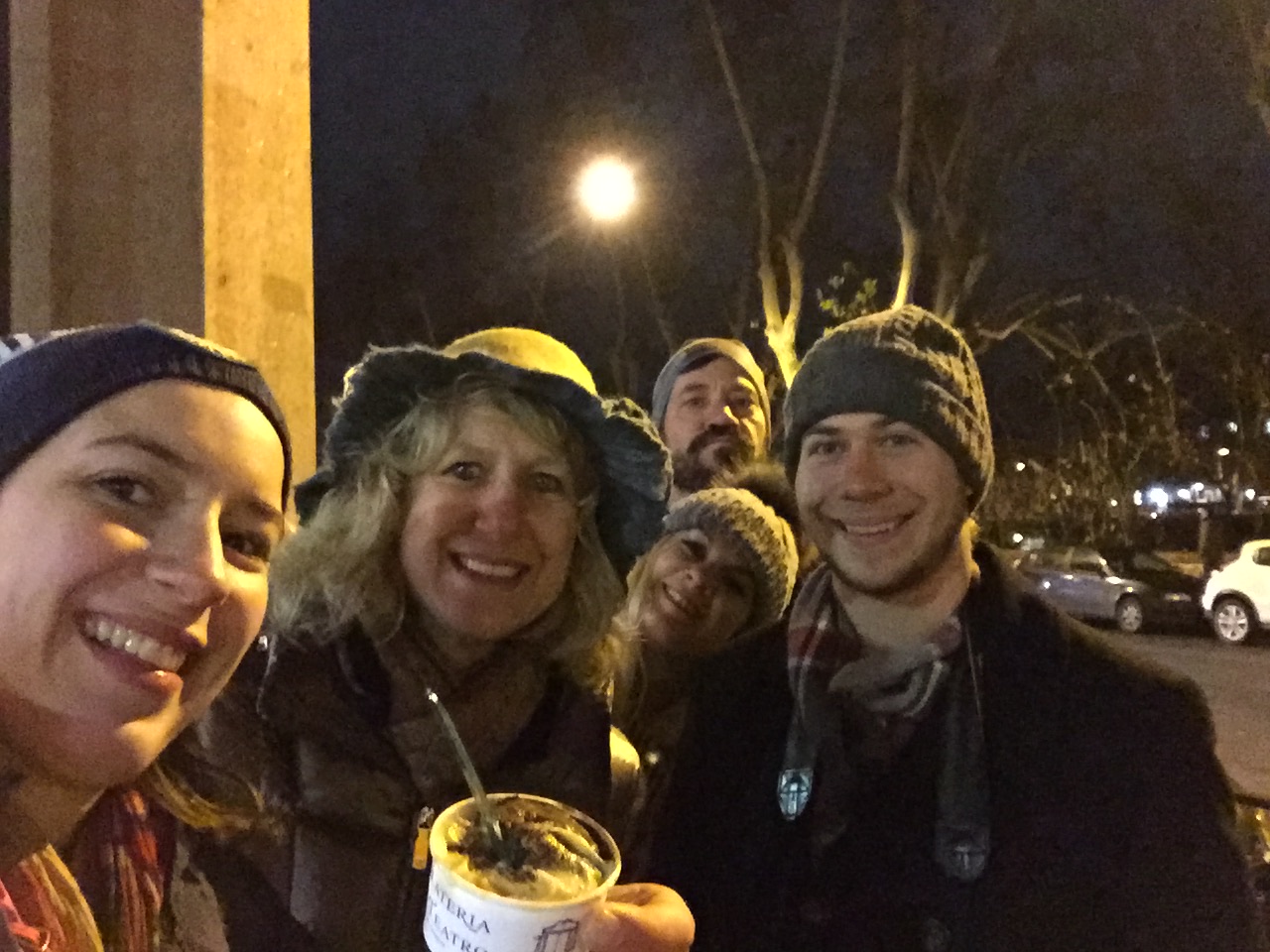 Later that same night we passed another one of my favorite places. Even though everyone else wasn't as agreeable to double up on gelato, I made them at least taste mine!

This was our first family gelato trip! We went to one of my favorite gelateria's which was not too far from our apartment in Monti. My grandma likes gelato almost as much as I do!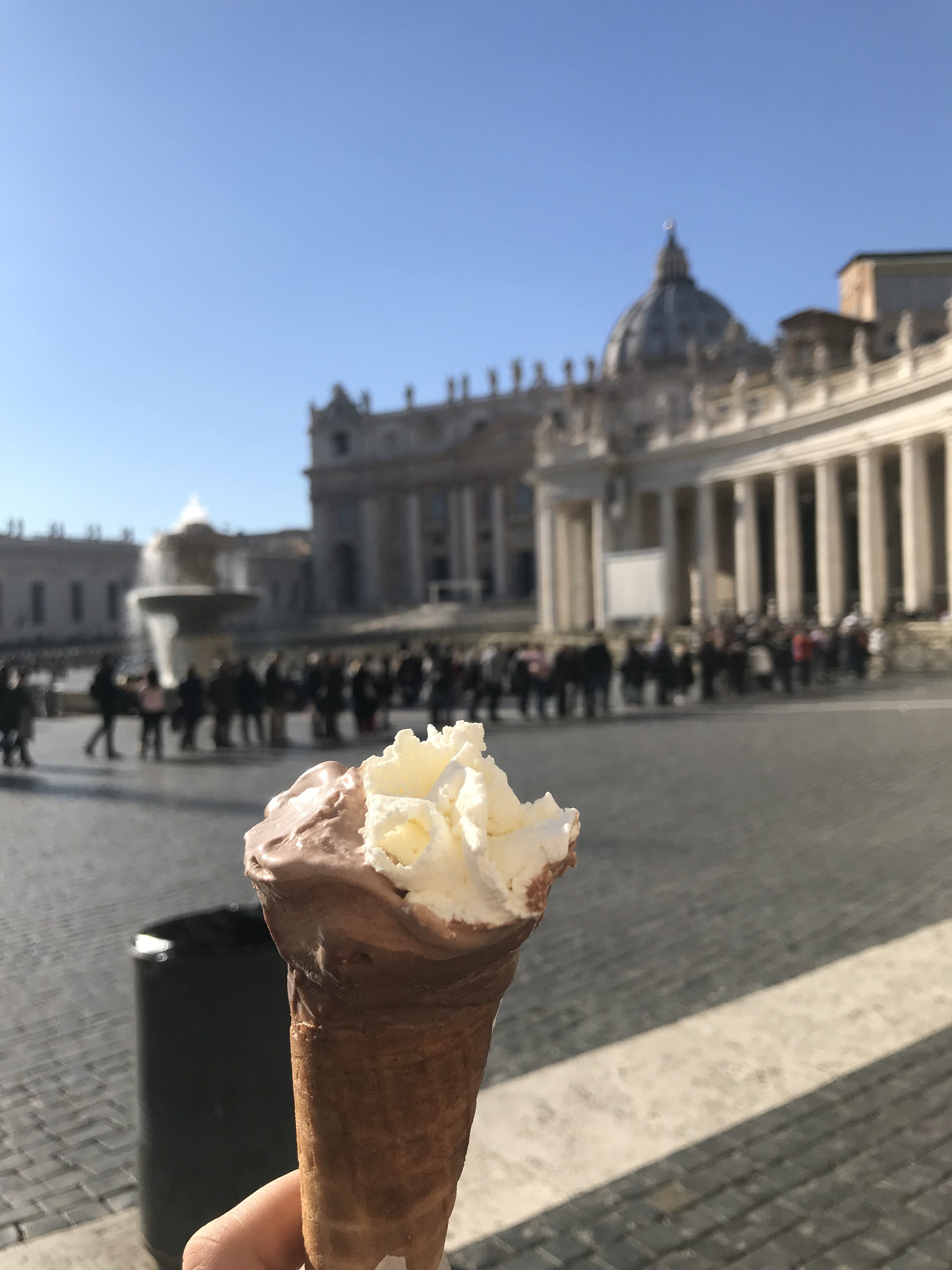 My second trip to Old Bridge! Gelato. Scavi Tour. Vatican at Christmas. Happiness!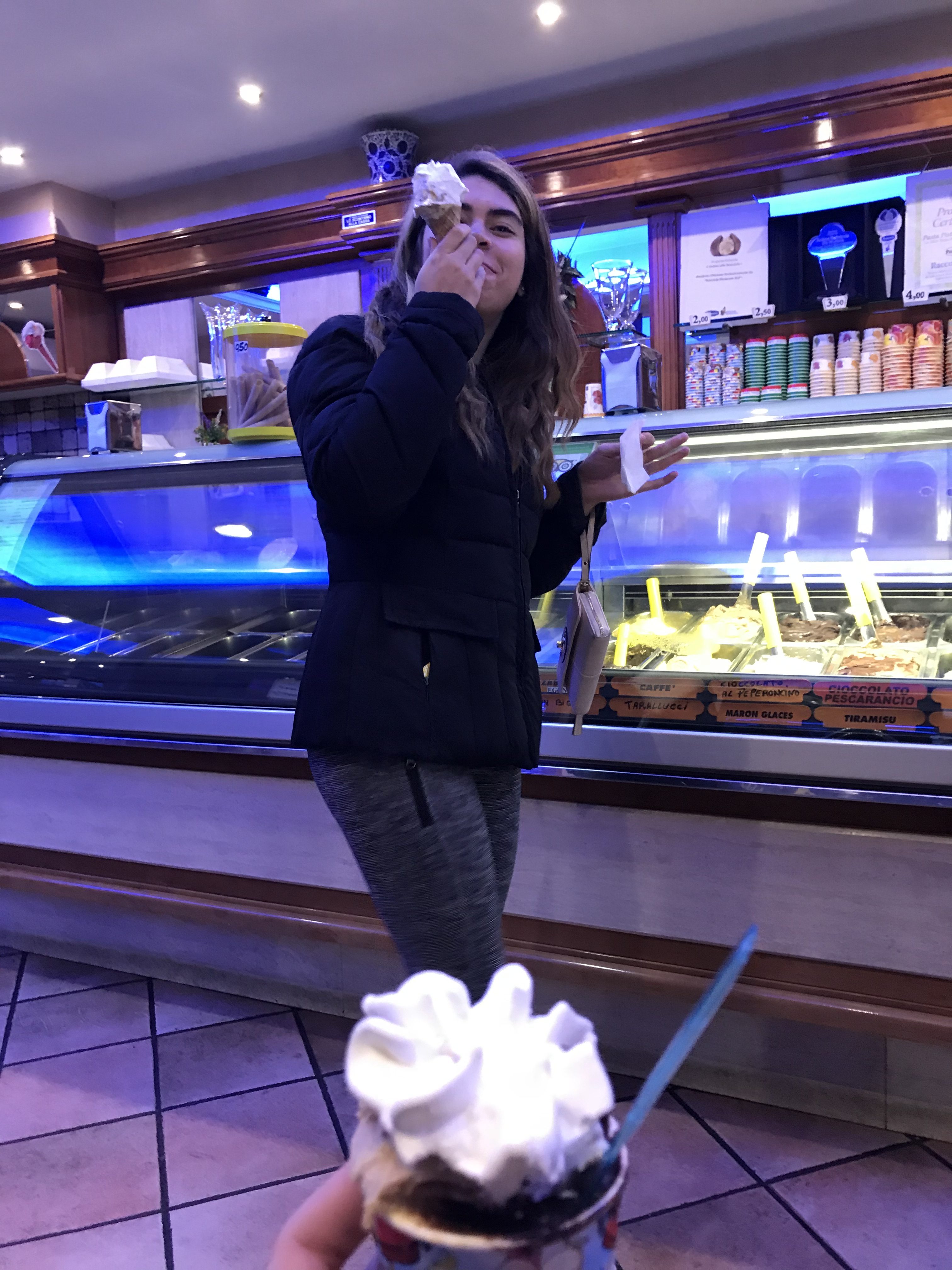 Another deadline gelato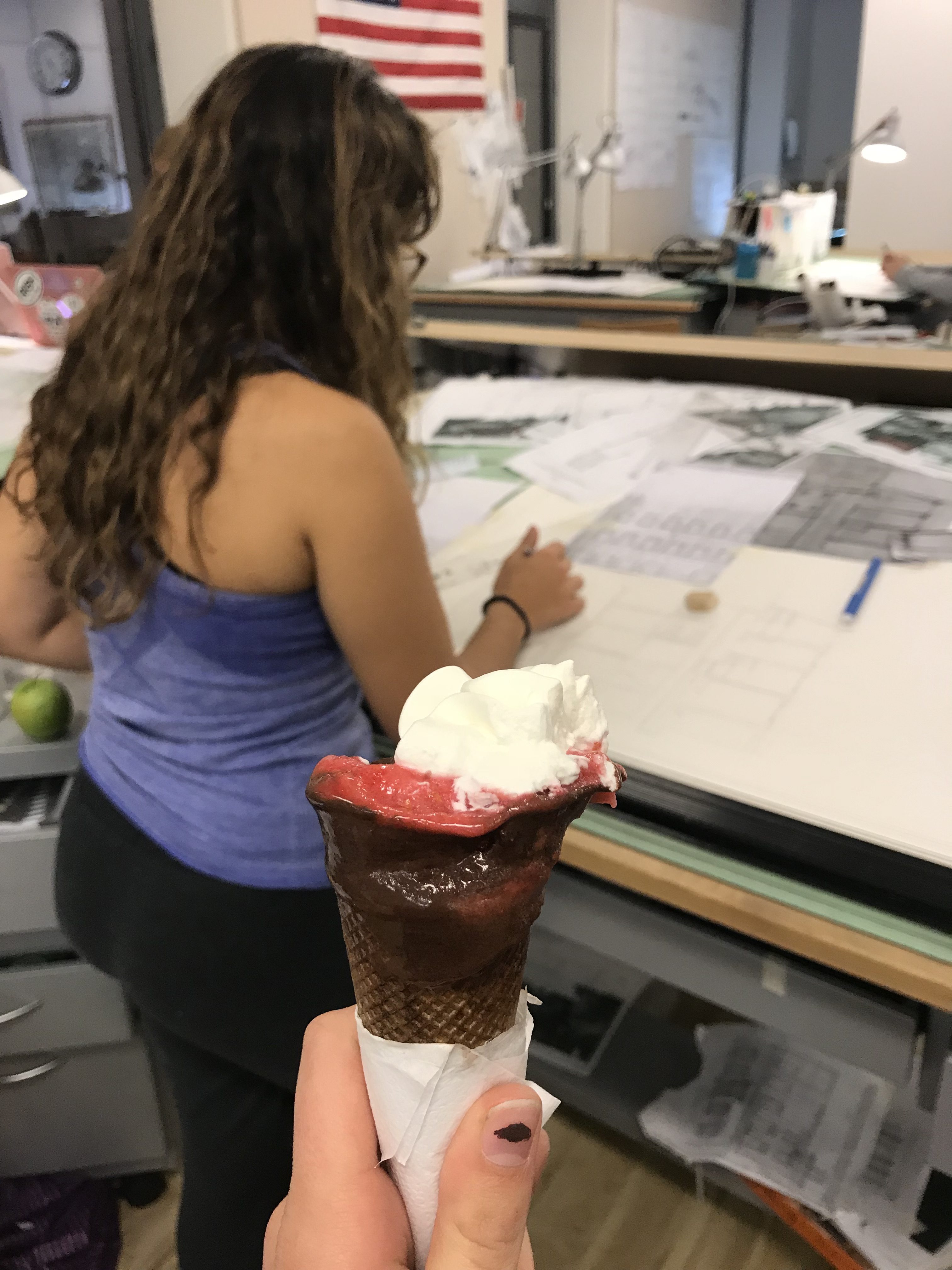 Gelato tastes a little sweeter during deadline.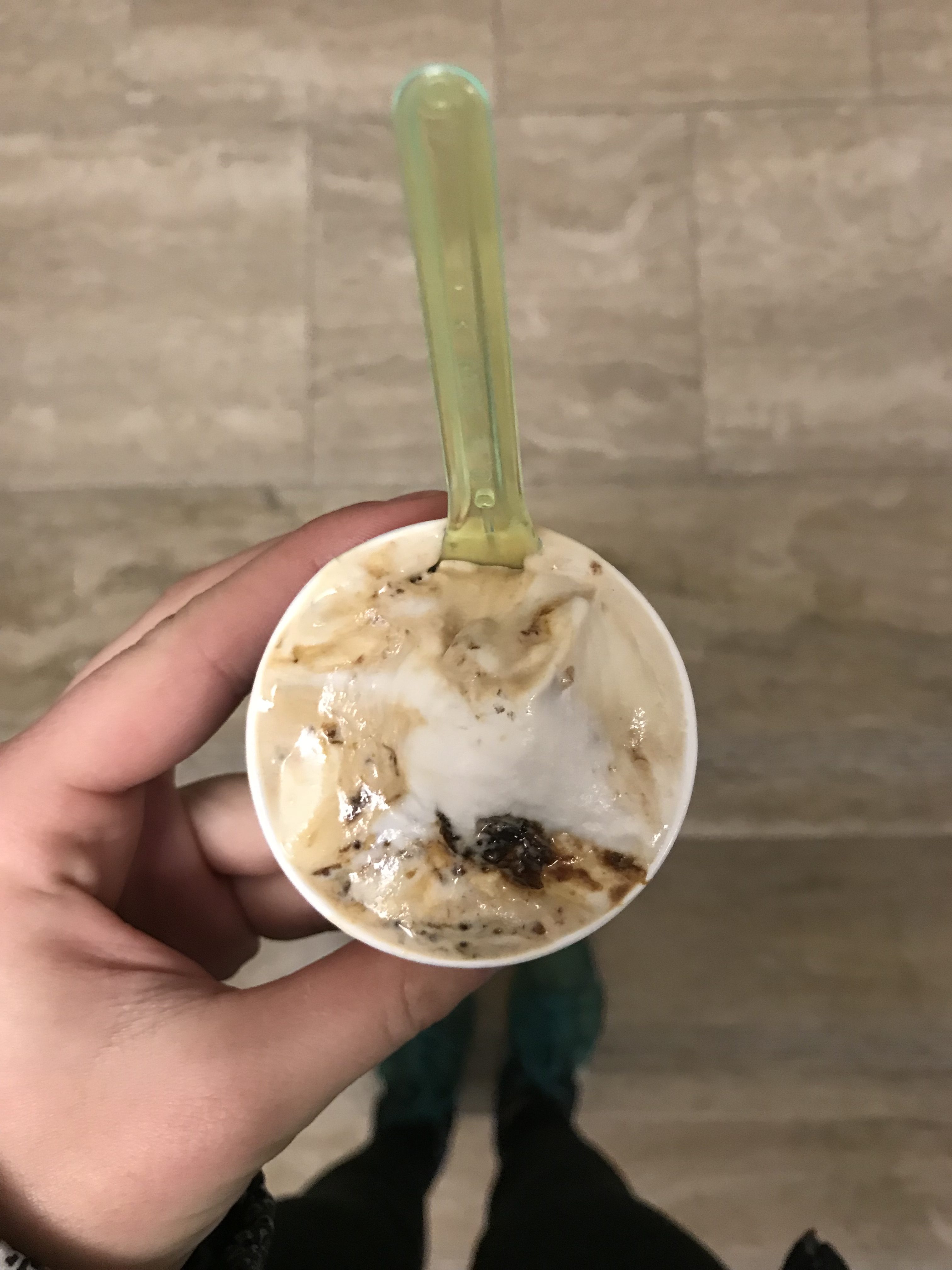 Another tactical gelato from across the street for change to do laundry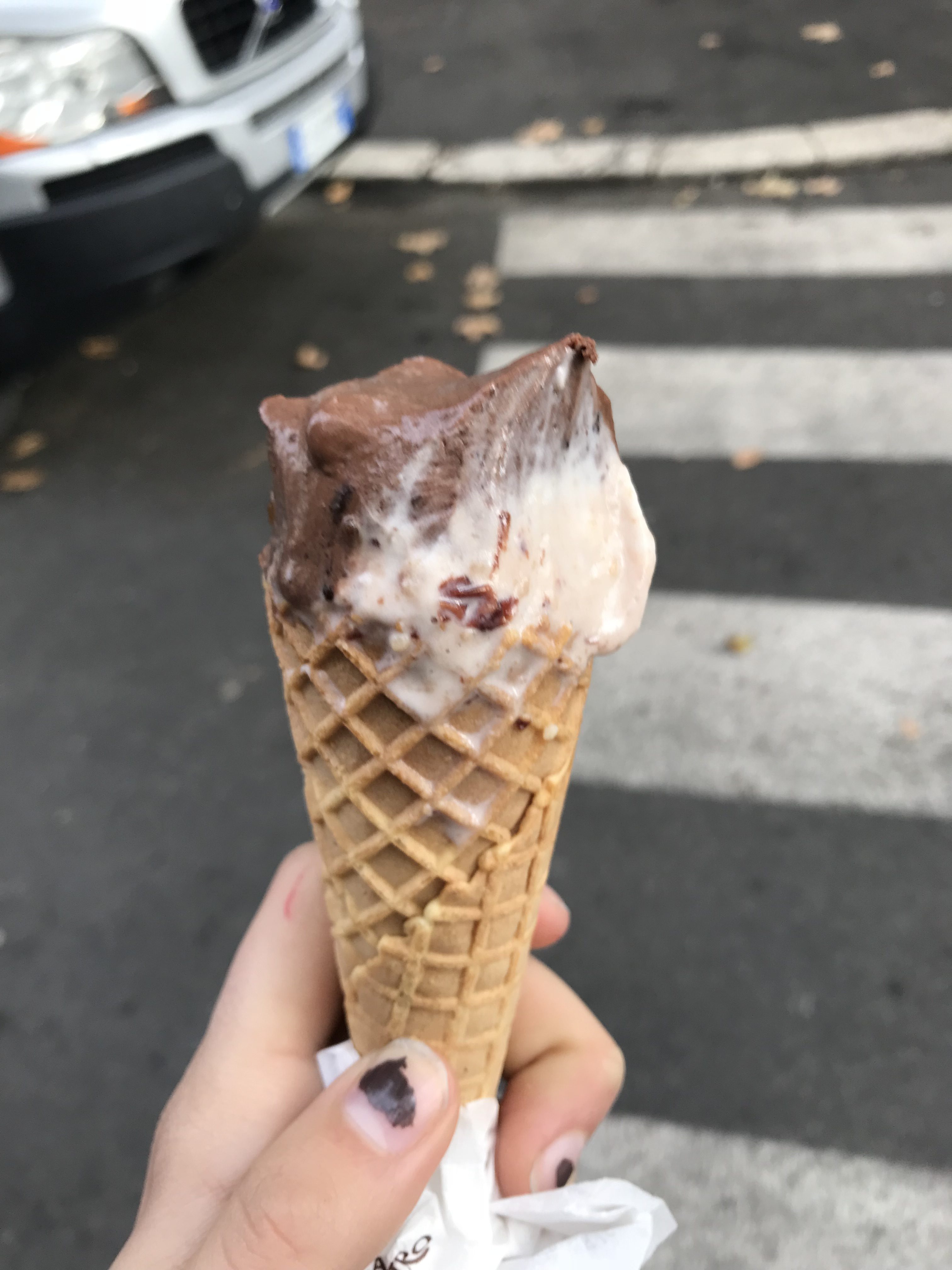 I returned to Gelateria del Teatro along the Tiber River. Their unique and artisan flavors are quickly become one of my favorites!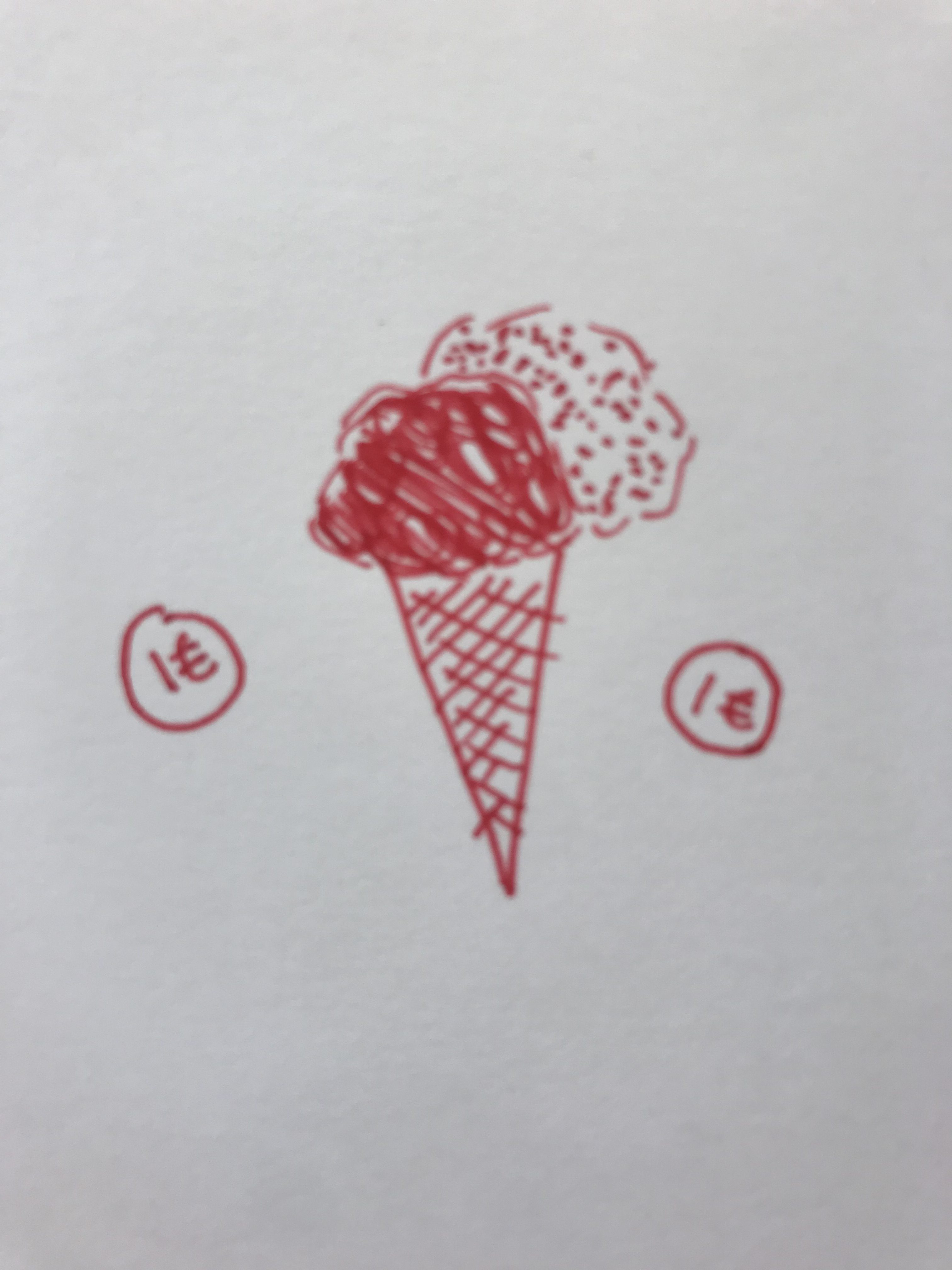 I forgot to take a picture! Although, even if I had remembered, I don't think I would have been able to because both scoops were dangerously dangling of the edge that I had to devour it pretty quickly. The funny thing is, I had to get this gelato because I need exact change to pay for my watercolor paper for this project.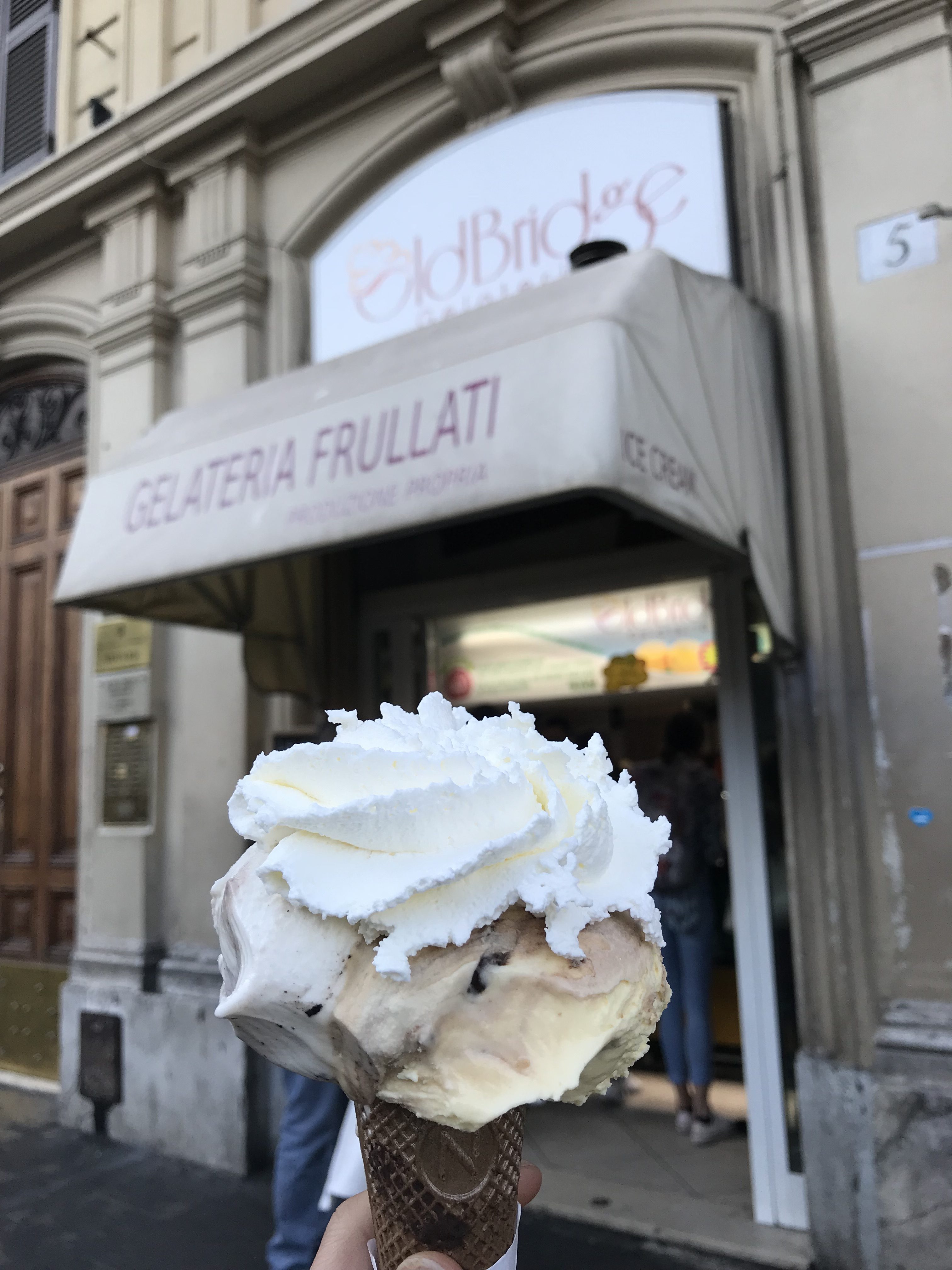 We stopped by the "Old Bridge" Gelateria near the Vatican. The cone was structurally unsound, but the ice cream was super tasty! Rumor has it that Pope Francis frequently gets gelato delivered from here!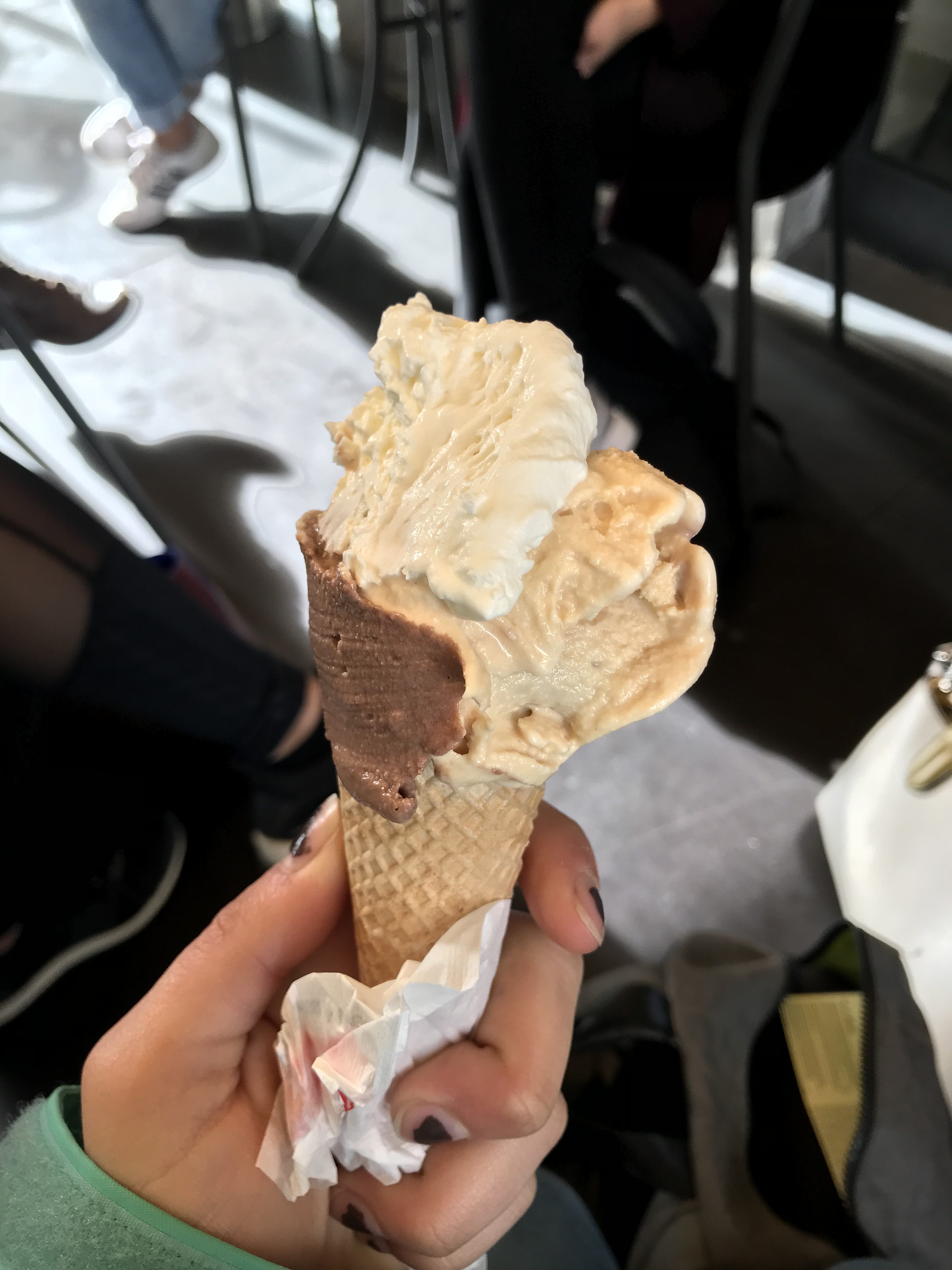 Gelato in Viterbo! The cold weather won't stop me!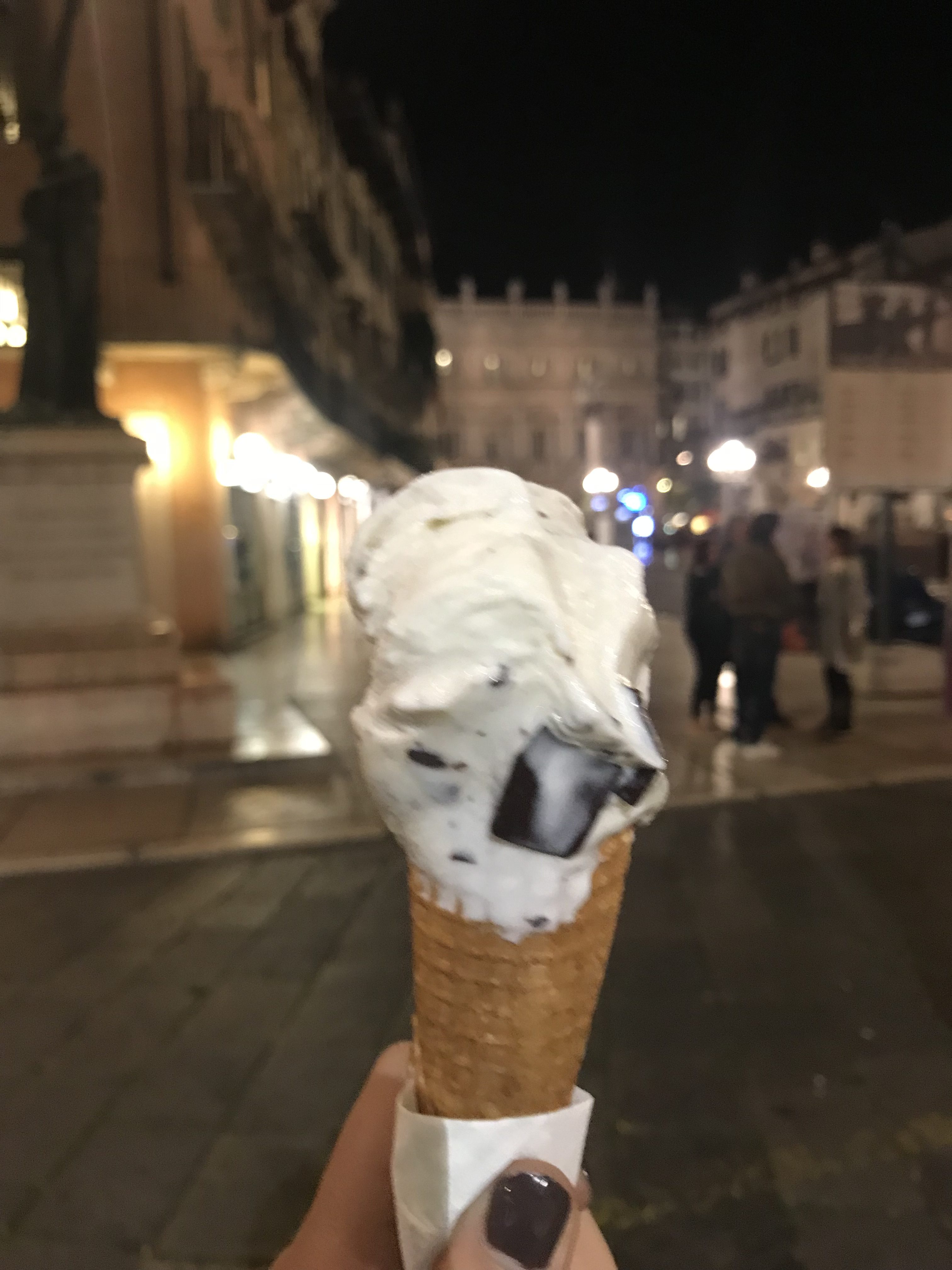 Even though it was chilly, I couldn't resist getting gelato in Verona!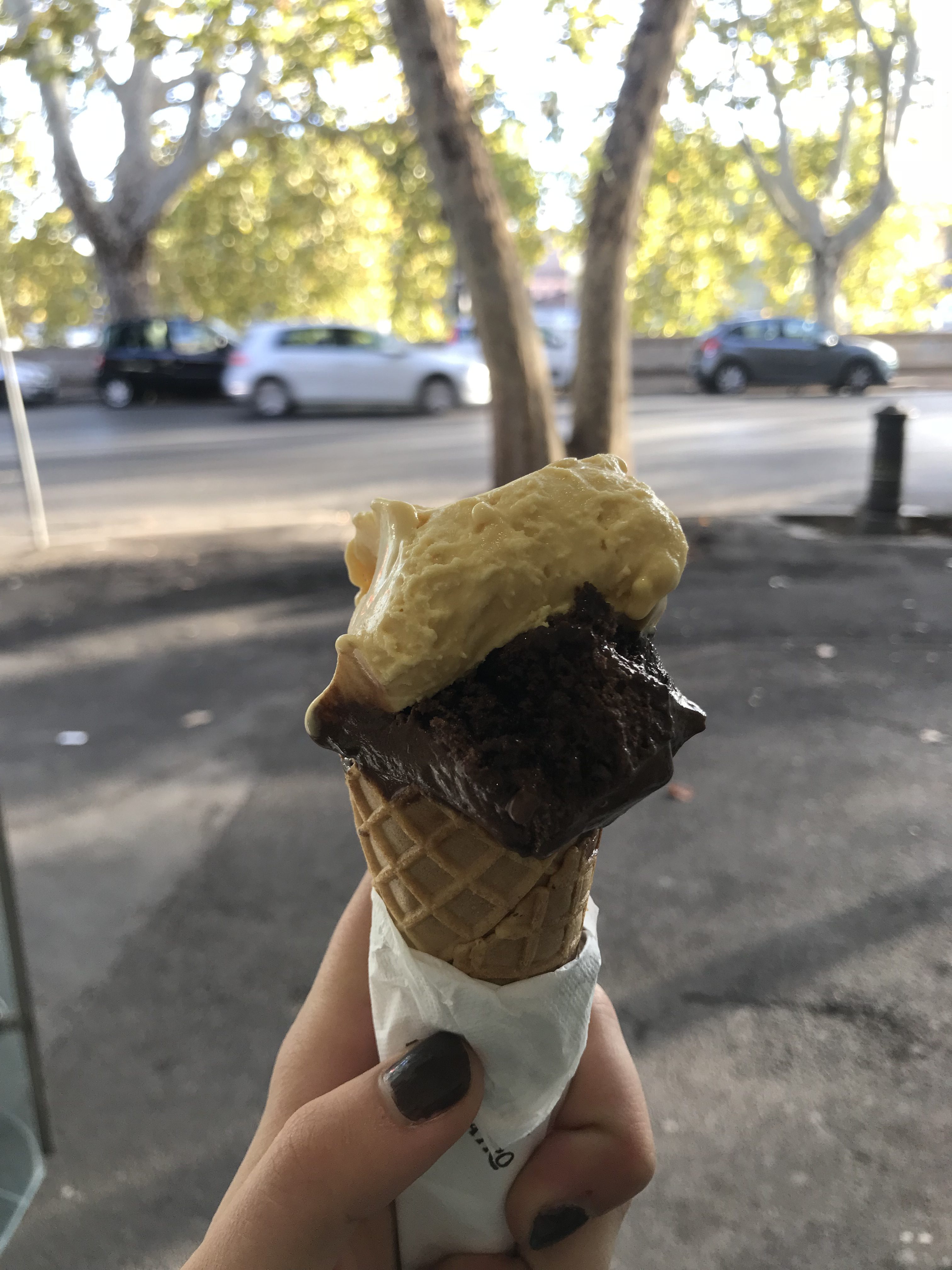 This gelateria along the Tiber River is definitely a top five! It has a large selection of specialty flavors!

We visited another super healthy, organic gelateria. This time I could tell it tasted different than traditional gelato, but like I've said before, all gelato is good gelato.

Crucial deadline gelato run, which happened to also coincide with MG's birthday!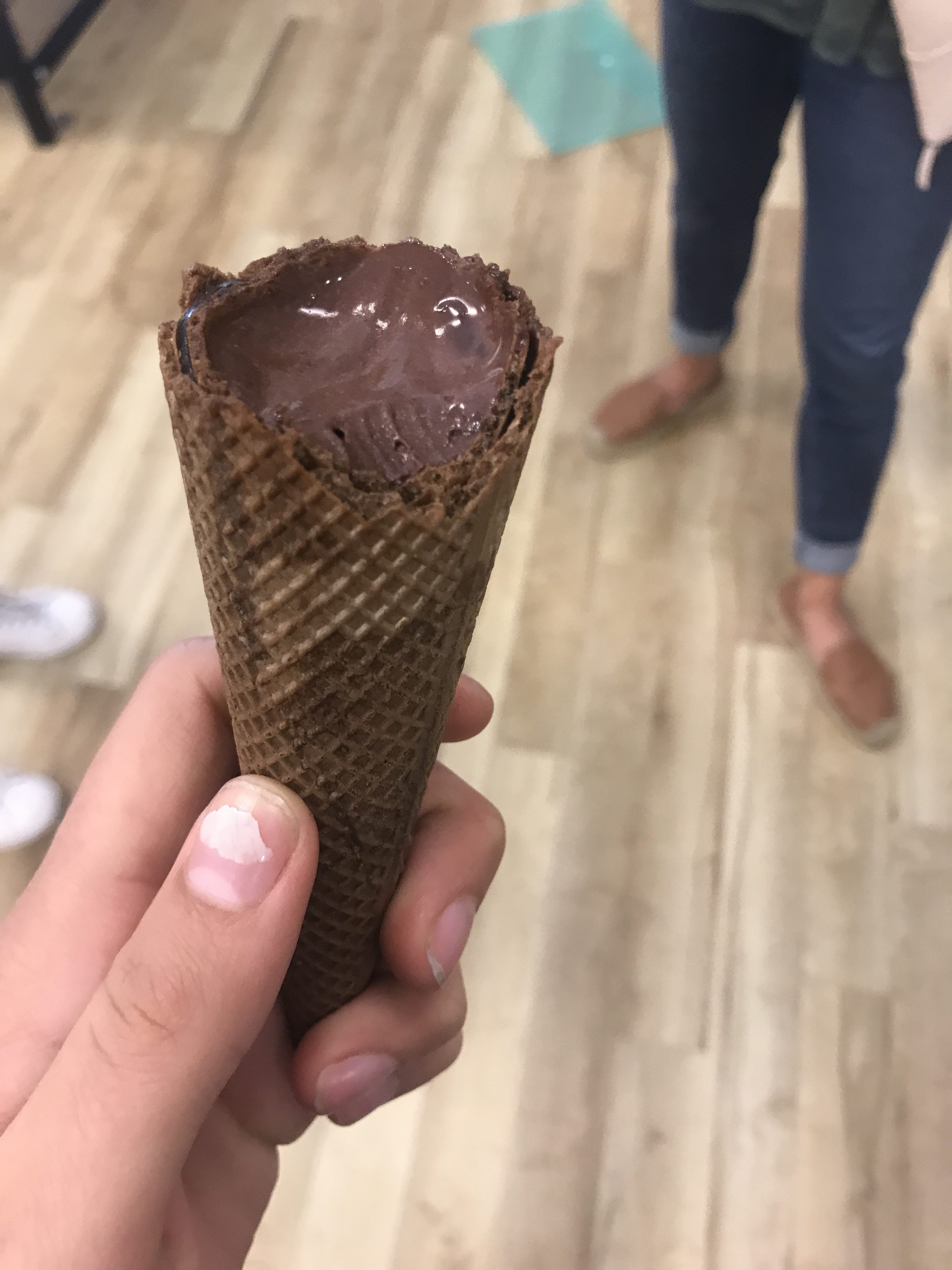 We're starting to be on a first name basis with the man who owns the gelateria!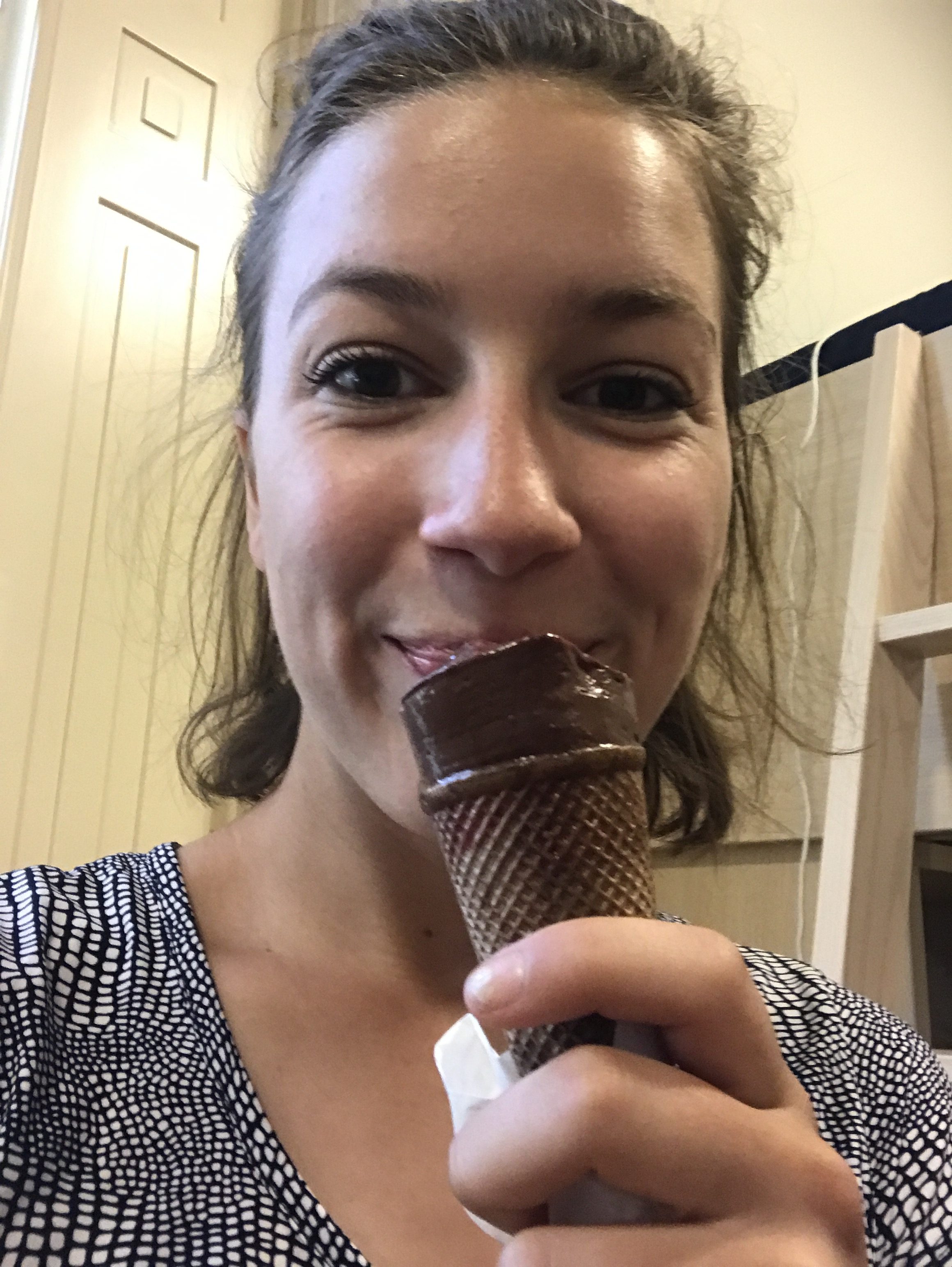 A relief from studio!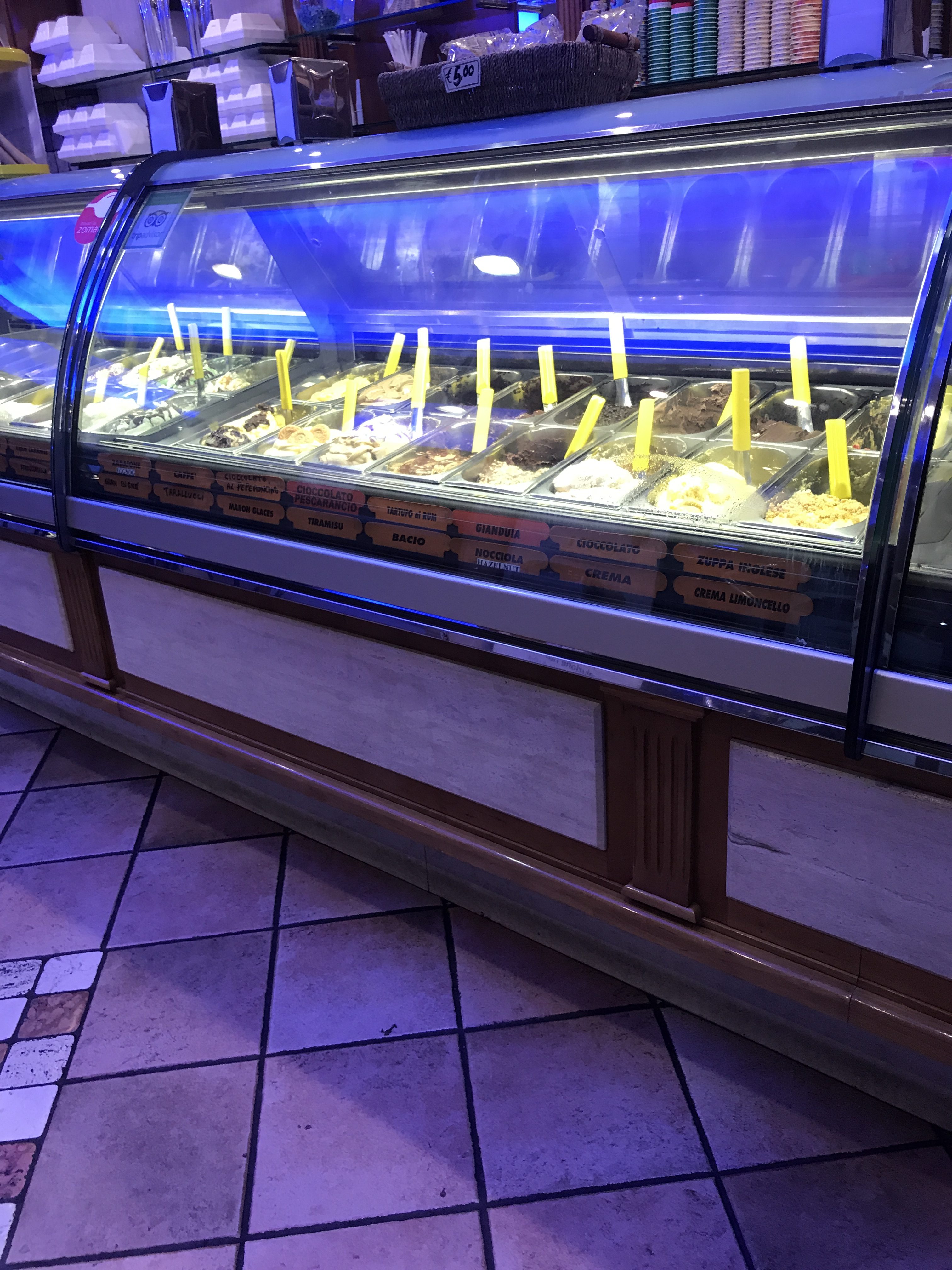 Here is the great gelateria across the street from the villa! So many flavors!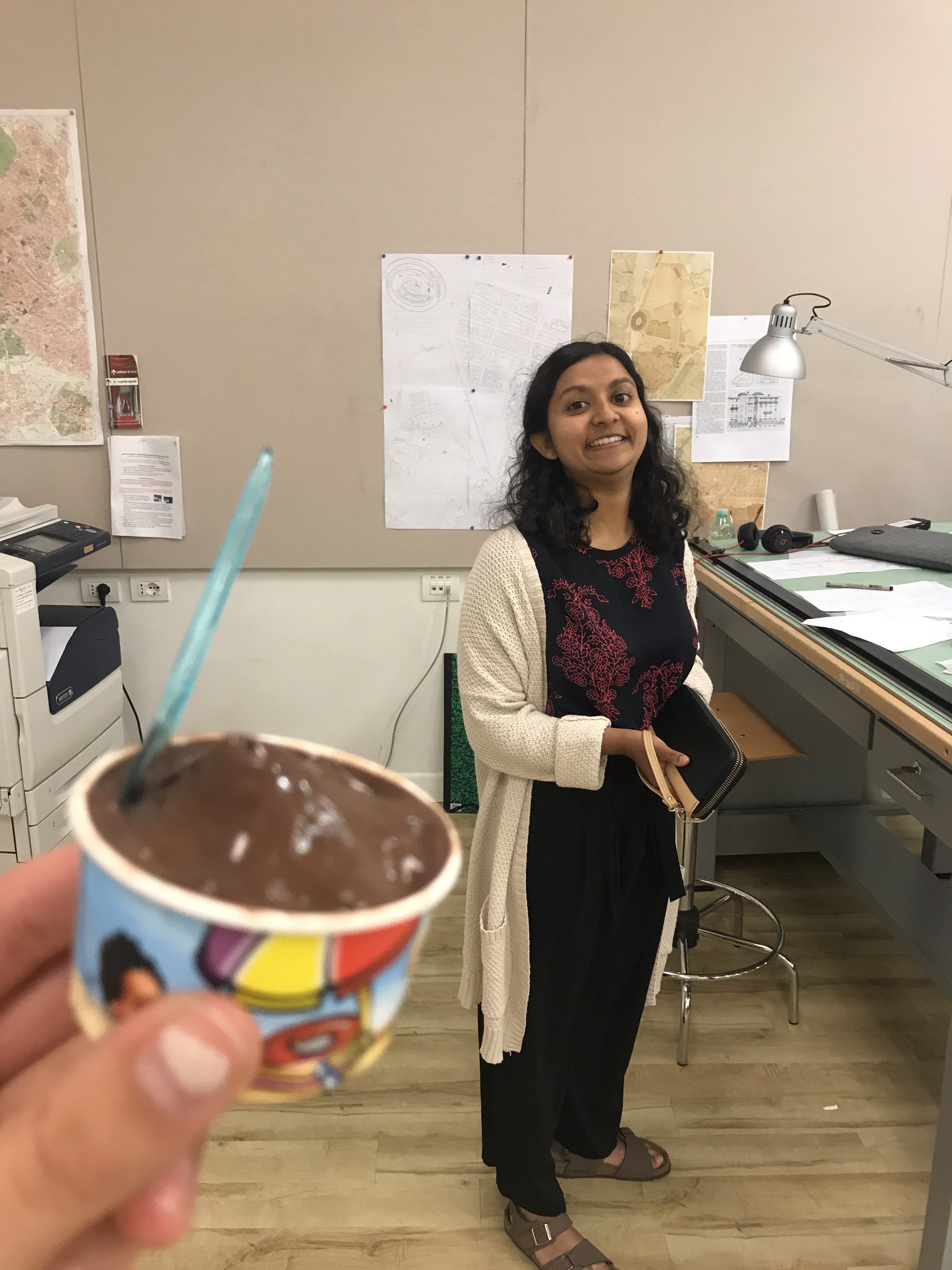 Amali and I needed a break from studio! I would also define this gelato as "tactical," since I needed the right amount of change to do laundry the next day!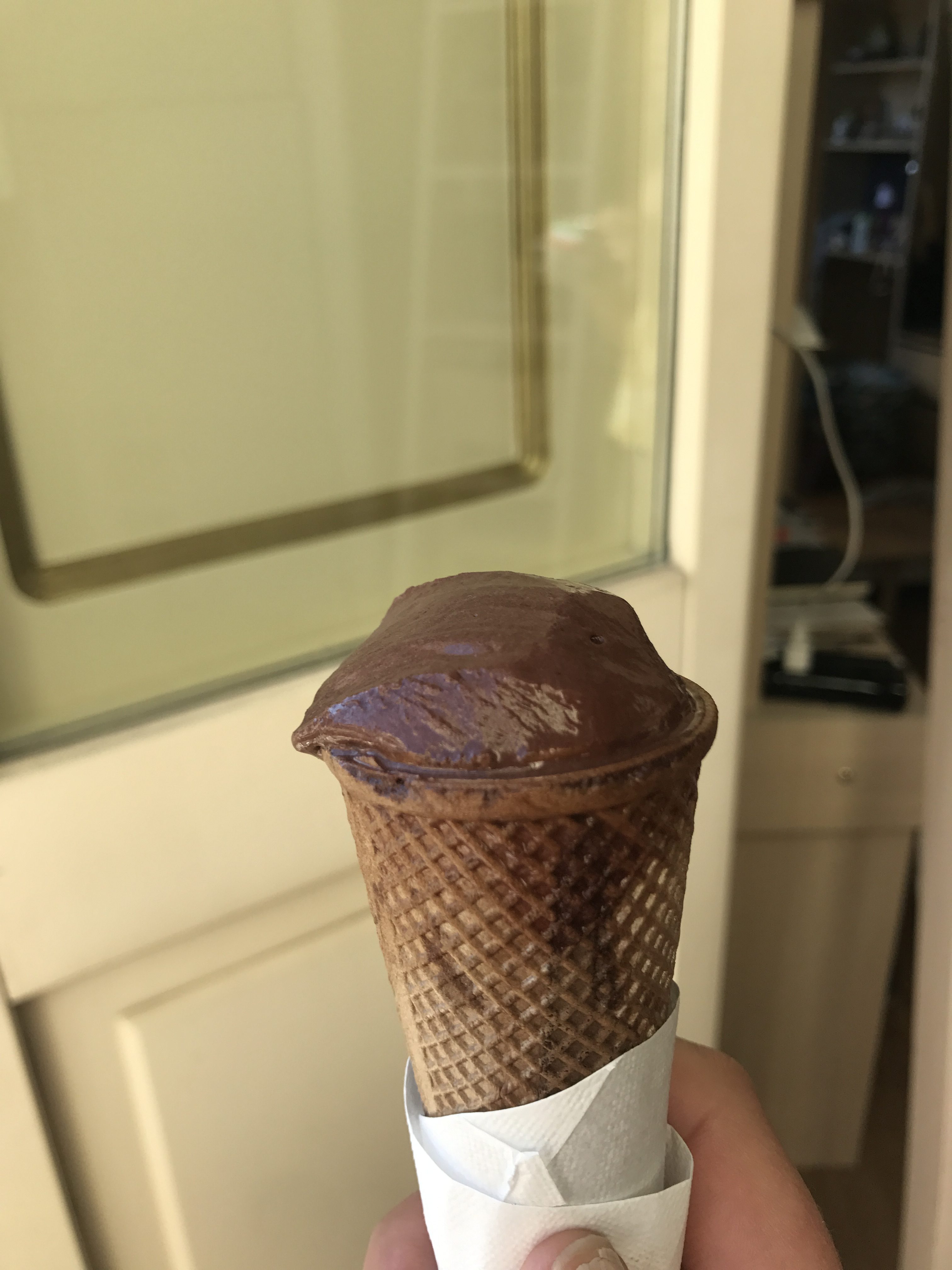 Just an average Thursday afternoon.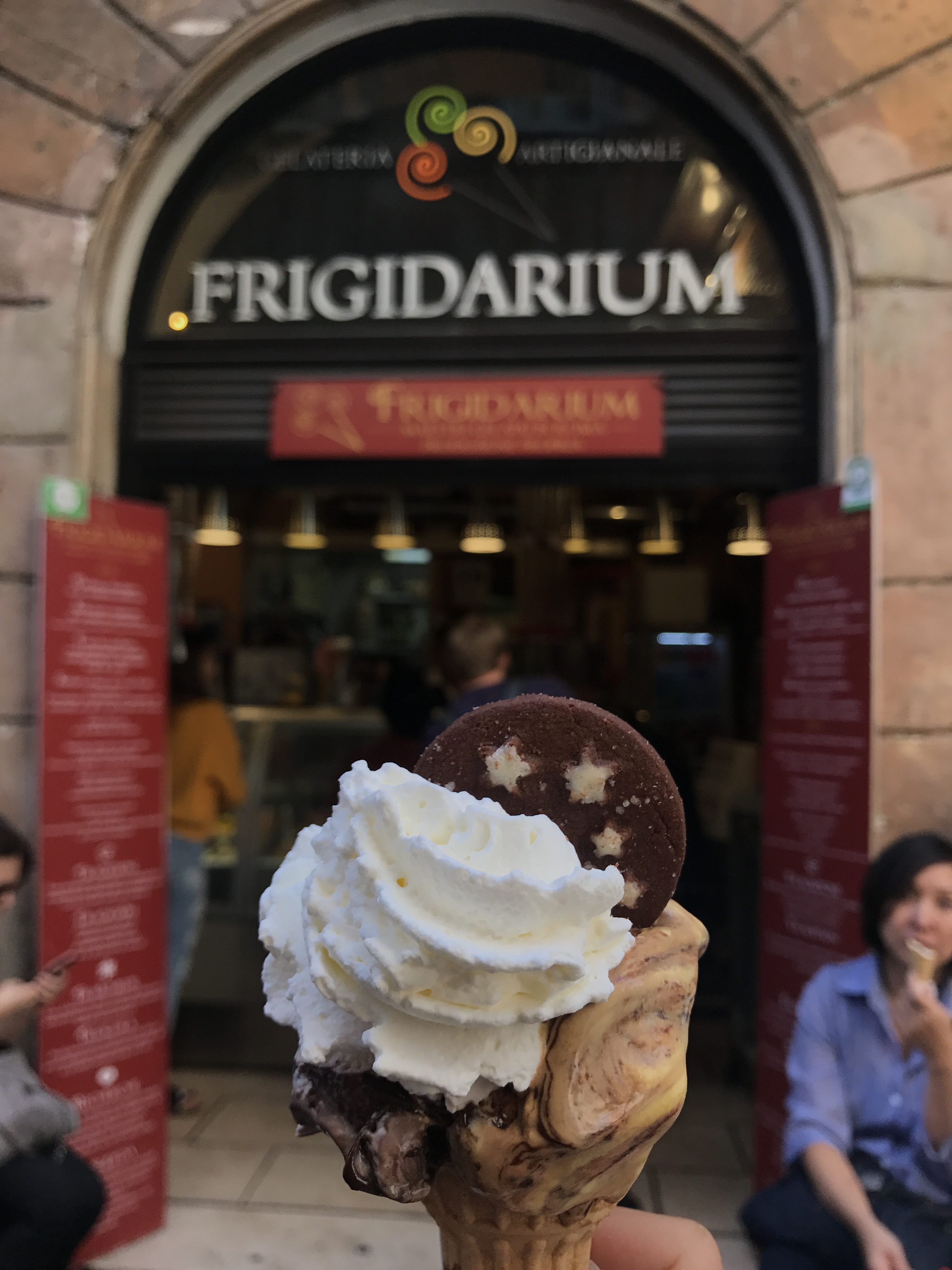 After visiting a drawing site to complete our homework, we stopped at Frigidarium, one of Rome's two dominant gelaterias (the other one being Giolitti's which I have yet to try). The first couple licks were fantastic, but quickly it became too rich and filling. Unfortunately, it didn't live up to the hype for me.

After a casual Sunday, Bri, MG, and I ventured to a gelateria across the street from the Villa. HOW DID IT TAKE US SO LONG TO TRY THIS PLACE?! They had so many flavors that all looked delicious. It was so hard to pick two flavors!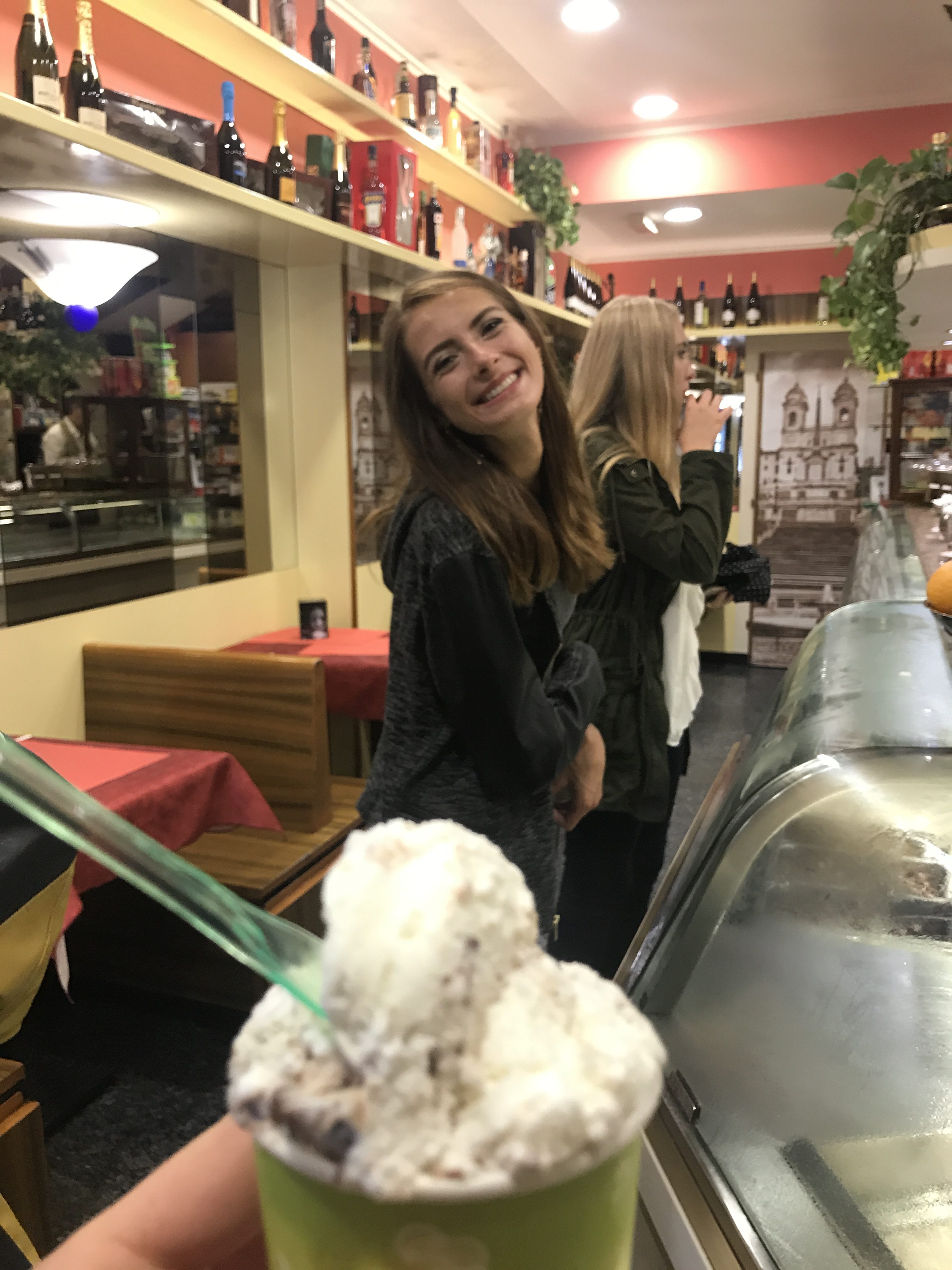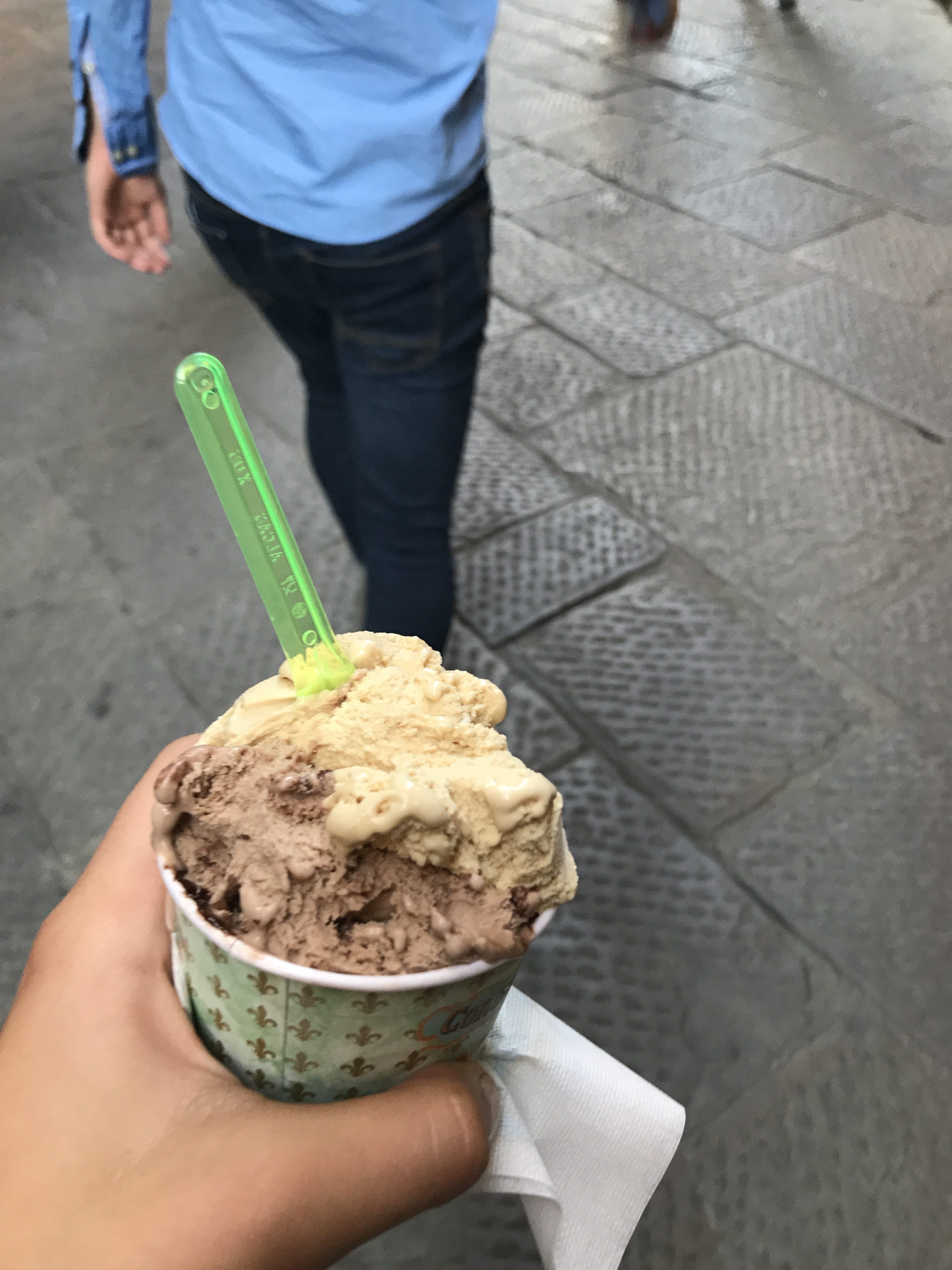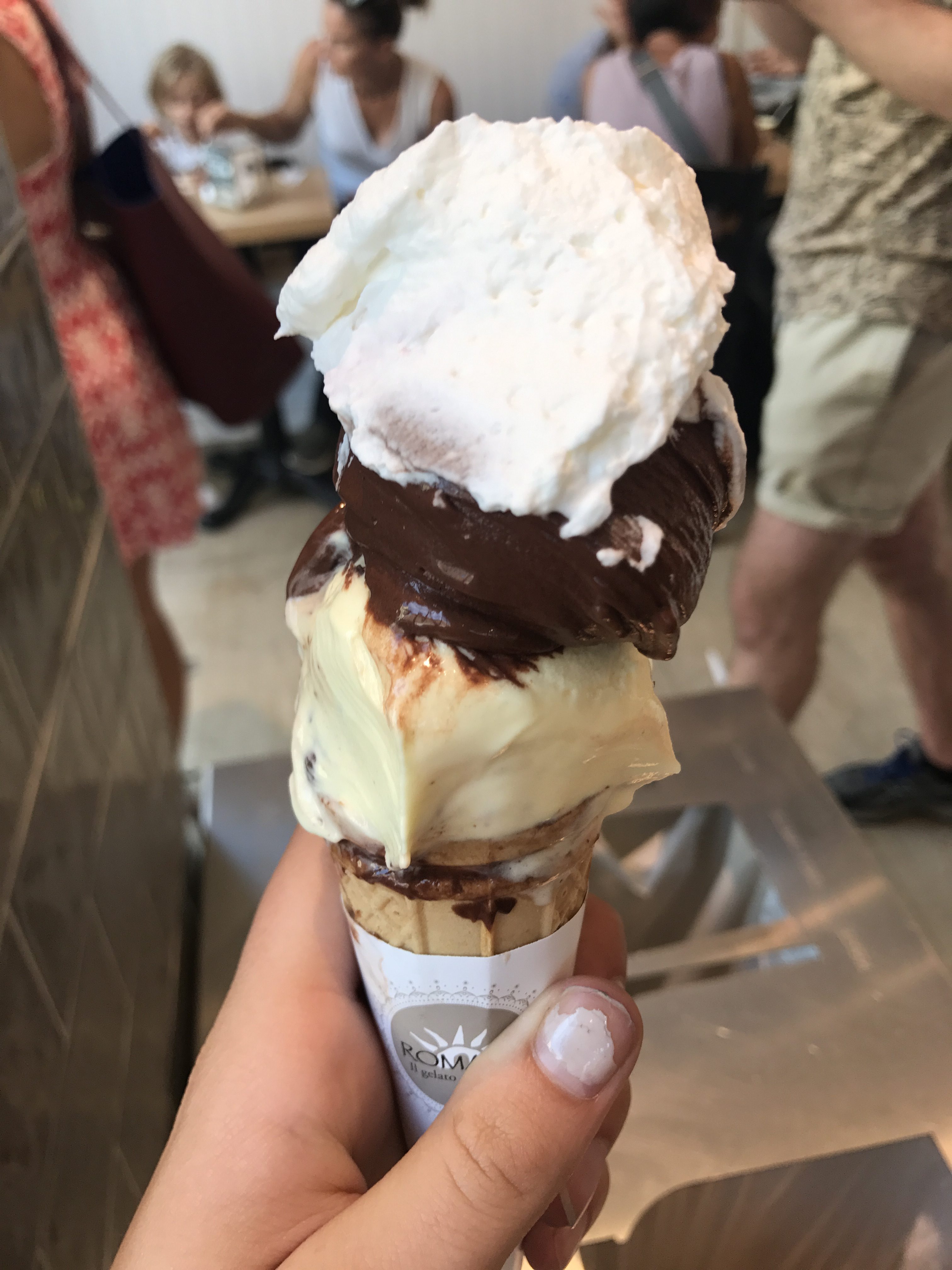 AMAZING gelato! We got it during our Italian Experience class after going to Centrale Montemartini in the Trastevere neighborhood. I got a cone with a chocolate core with cioccolato fondente (dark chocolate) and biscotti della nonna (grandma's cookies) with panna (italian whipped cream) on top!!

From a gelateria near the colosseum on Via San Giovanni in Laterano. Nothing special about the gelato itself, but having it with visiting ND friends made it memorable!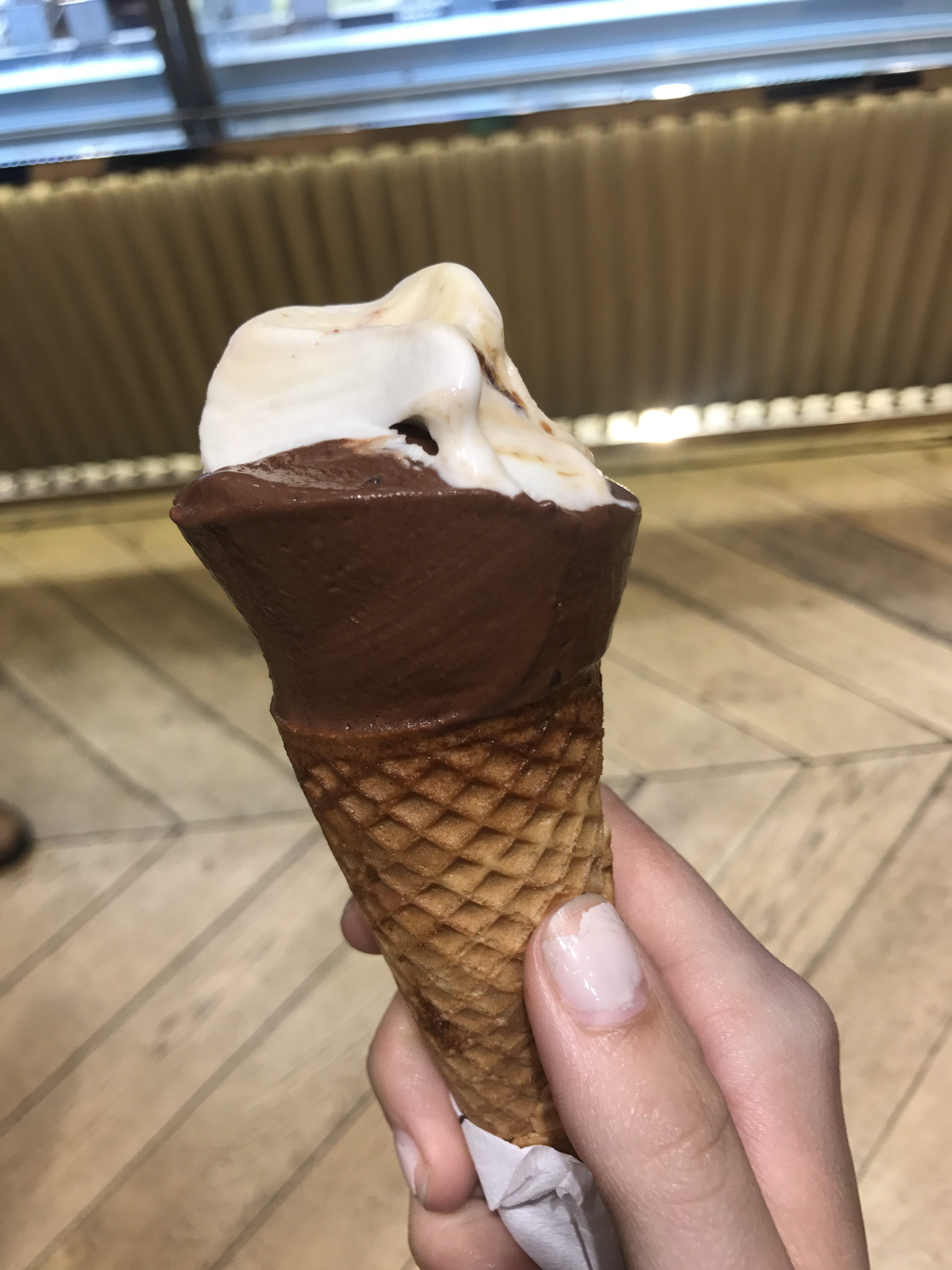 From a rather fancy gelateria on one of the main roads, the Via del Corso. The store's flashy gold decoration is accented by a chocolate fountain wall. A large group of us was pulled in late one night while returning from watching the first ND football game. One of the flavors I got was mascarpone with caramelized figs! Not super sweet but very yummy!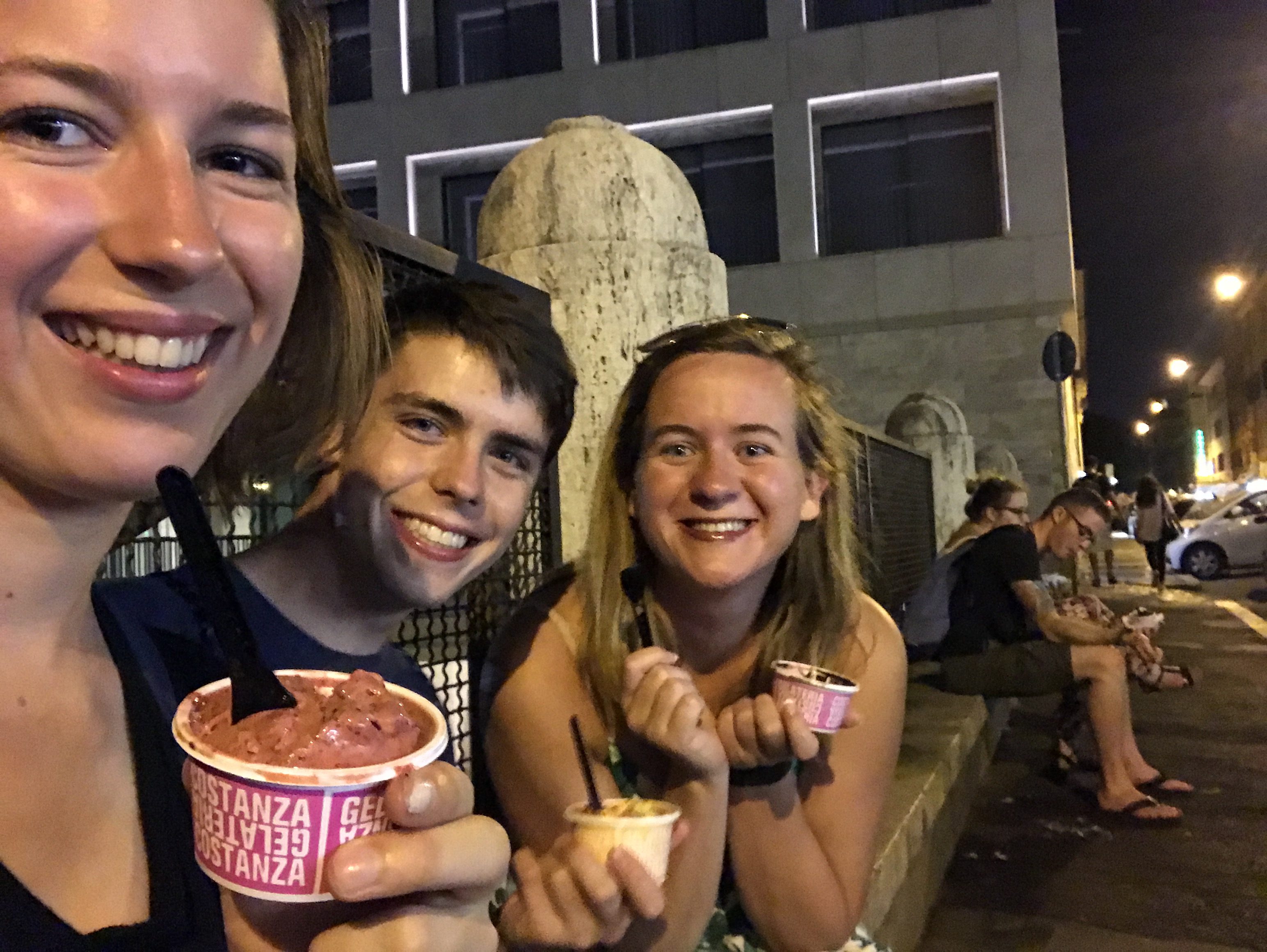 From a gelateria near the colosseum on Via San Giovanni in Laterano. Nothing special about the gelato itself, but having it with visiting ND friends made it memorable!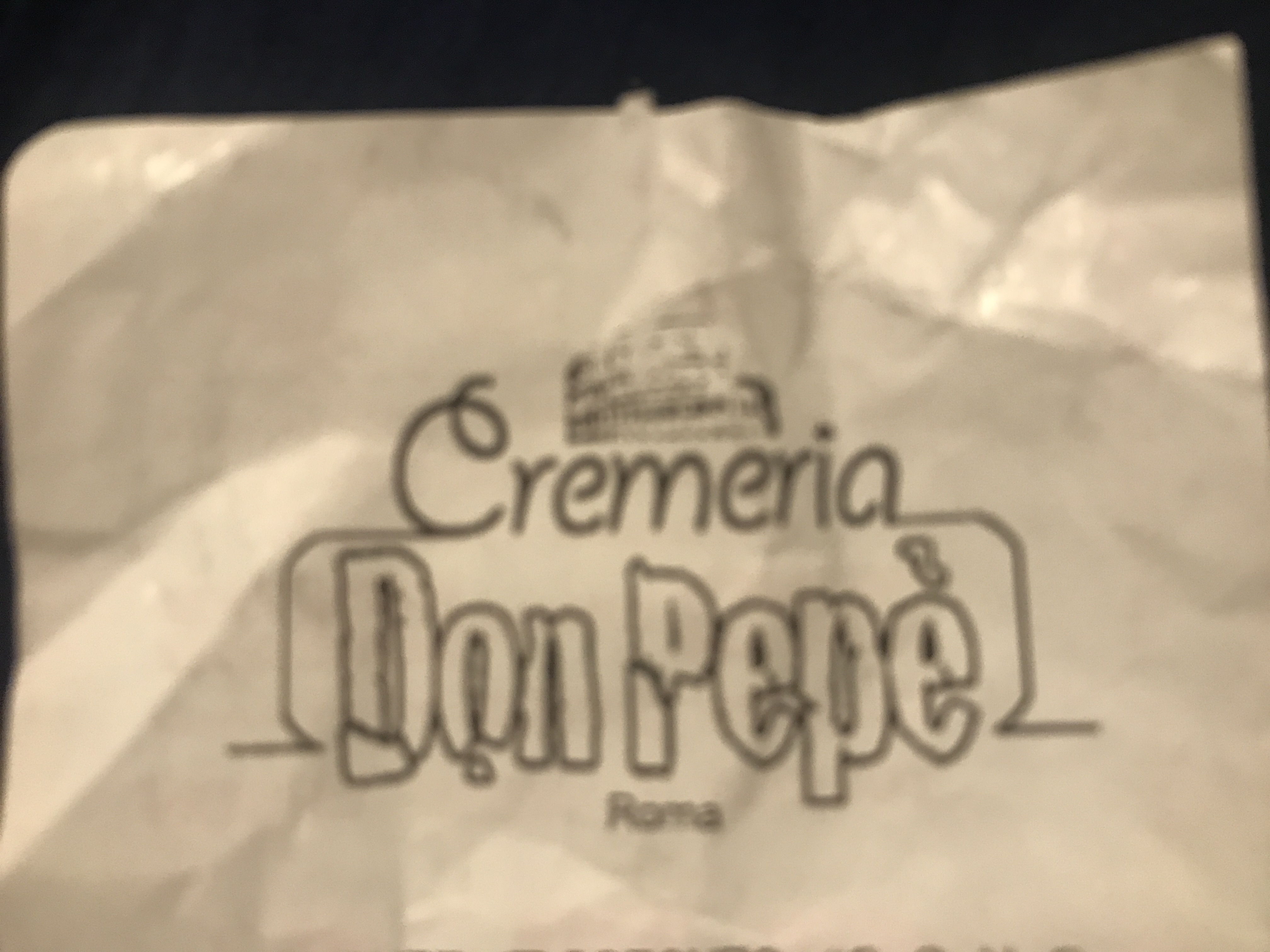 From a gelateria in our neighborhood. We thought we'd try a new place, but it was a little too touristy and lower quality to compete with other places near us. But no gelato is bad gelato!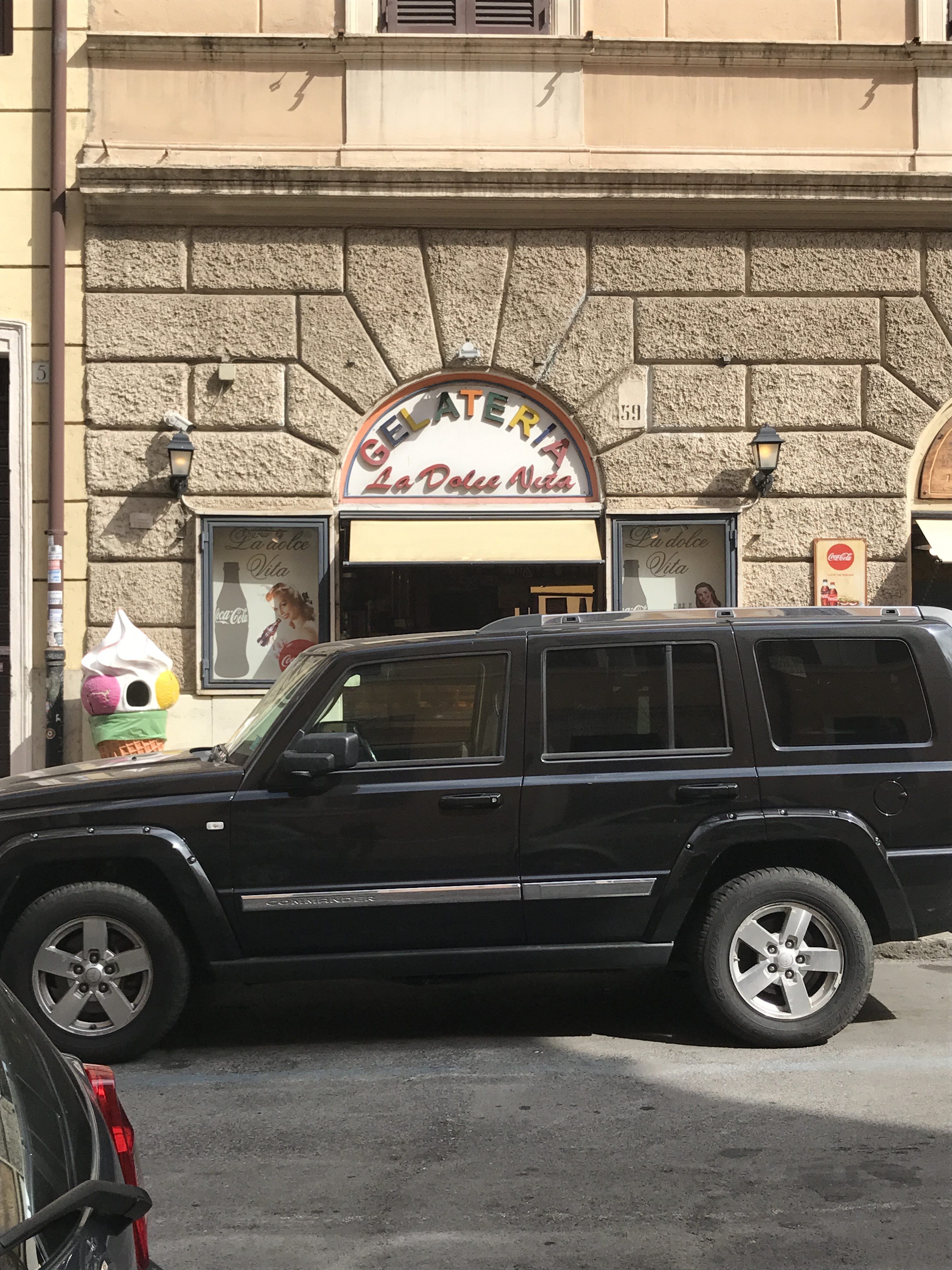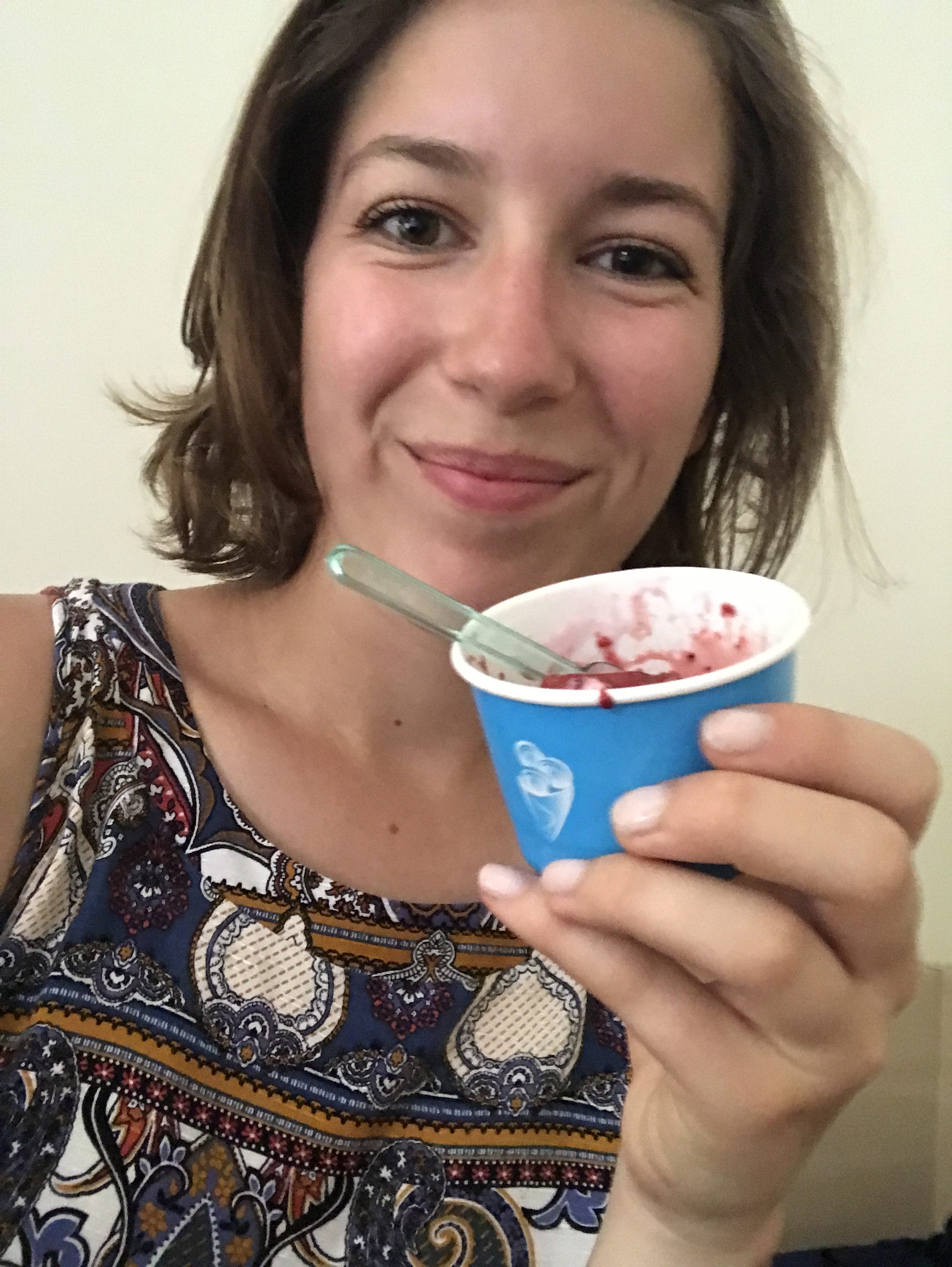 The Frutto di Bosco flavor quickly became a favorite. This one is from the first time I went to one of the two gelaterias across the street from the RGG. I suspect I will become a regular there.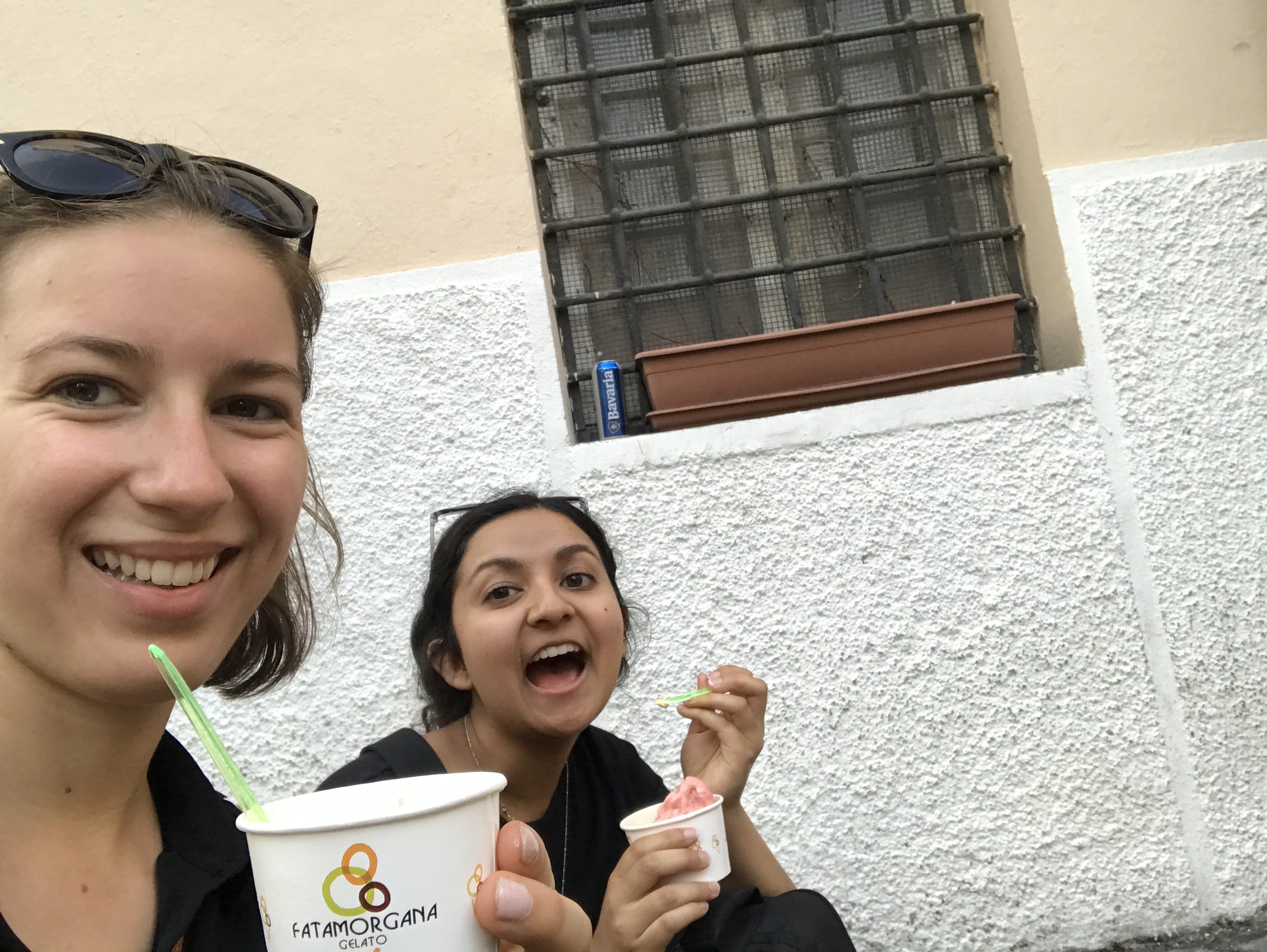 I got my second Italian gelato after our pilgrimage to three of Rome's seven major basilicas on my first Saturday. It was in a trendy neighborhood called Monti. The gelateria was organic/gluten free and had an array of crazy combinations! I got "Snow White," which is a vanilla base with raspberry jam and apple chunks. They had a basil and white wine combo flavor as well as "Black and White" (white chocolate and black garlic) for the adventurous. I tasted a friend's and it wasn't as bad as you'd expect, but it was definitely garlic-y!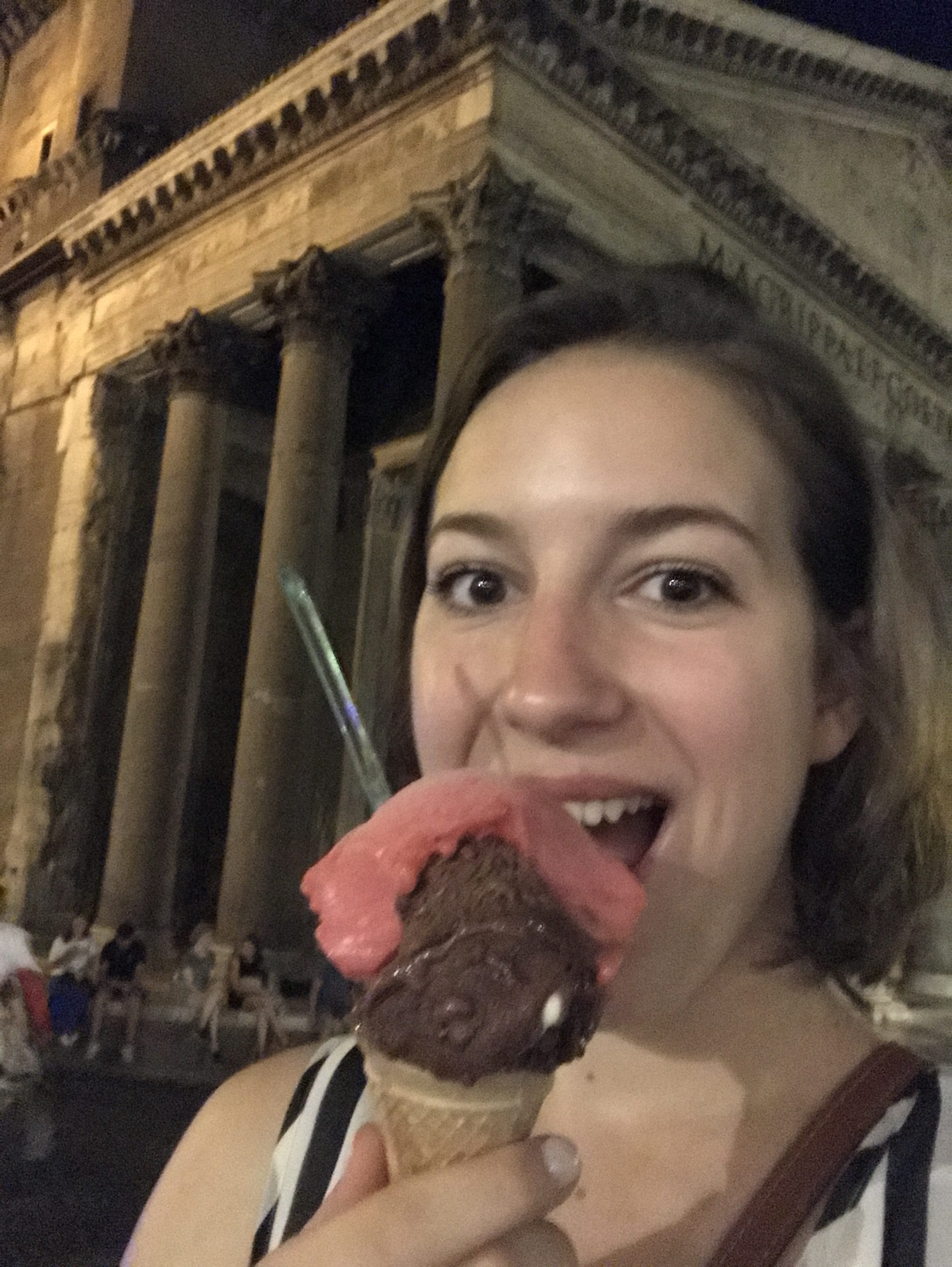 My first night in Rome and my first Italian gelato! And in front of the Pantheon no less!