Snow greeted me as I walked out of the villa that Monday morning!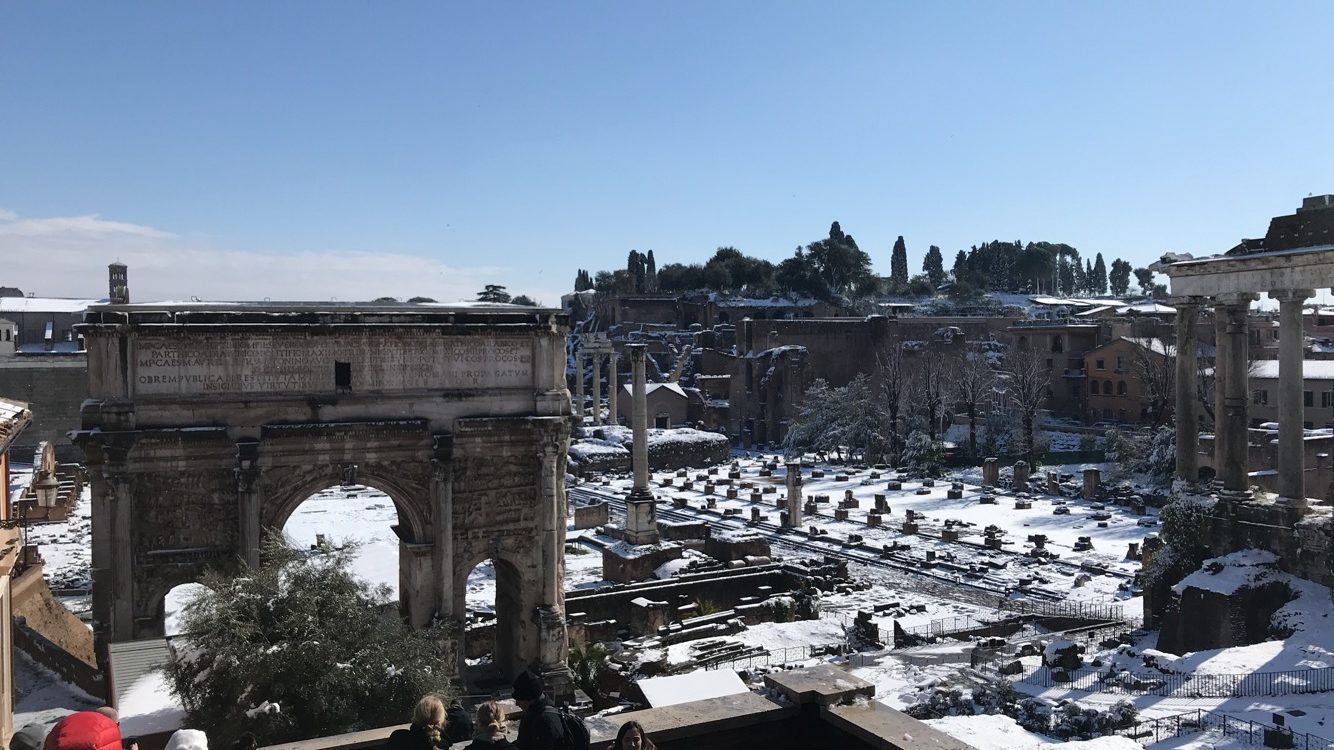 This view is pretty incredible on an average day, but even more special coated by a rare Roman snowfall.

Everyone in Rome dropped what they were doing to explore the city covered in snow!

The day before spring break was a perfect day for a roof-top picnic!
I'll do three weeks in one post since honestly they've all been a blur. I landed in Rome late Sunday night and met up with Olga and Jake, who stayed the weekend in Paris, and we split a cab back to the villa. I was able to sleep in a little before our Roman Construction lecture class. I went to yoga and had Studio in the afternoon. That evening one of our professors gave a lecture on traditional wash rendering, then we had a workshop the following day. Our Roman Construction class on Wednesday was held in the Colosseum where we focused on the impressive Roman concrete. We had Studio in the afternoon and yoga at night. We painted a still life for our Watercolor class. For our Villa and Garden class on Friday we had to prepare our first version of a model of an inventive villa including processional space and occupying the entire field. The weekend was mainly work days, but I saved some time at night to hang out with friends. In fact, Saturday night a couple of us went to Tacos and Beer for dinner, got gelato, and watched Dunkirk.
On Monday I woke up to a surprise: snow it Rome! I think it was the first time in three years that it happened! I went to Roman Construction and after a quick lunch was taking a stroll through the city to take in the whole experience!! Pretty much the entire city was shut down, so locals and tourists alike were flooding the streets for pictures! It was incredible to see some of Rome's most famous sites coated with a delicate layer of snow. We returned for Studio and tried to get lots of work done. Because of the abnormal weather, our day trip to see villas in Caprarola and Bagnaia was cancelled and will be rescheduled for later in the semester. This freed up more time to work in studio during deadline week. Jenna and I decided to take a work break and run to Pastaficio for lunch! Both Roman Construction on Wednesday and Watercolor on Thursday were cancelled because our professors were traveling. We had to review the second version of our models for the Villa and Garden class on Friday. Friday night I actually got dinner and gelato with my friend from home, Reilly, with whom I played high school soccer. She is also studying in Rome this semester!
Saturday and Sunday were work days for deadline. We reviewed all day Monday and Tuesday. Tuesday night our Assistant Rector Chris organized pick-up soccer, which we happily played through the pouring rain. Later, we celebrated my classmate Jake's birthday. Since our Roman Construction professor is traveling, we didn't have class Wednesday morning which allowed for rest. The afternoon during Studio we regrouped from midterm and talked about how to progress on our projects. I also finished building my model for my Villa and Garden class. We reviewed the models the following morning and I spent the rest of my Thursday doing chores. I had studio class on Friday and finished packing to leave for Spain the next morning!