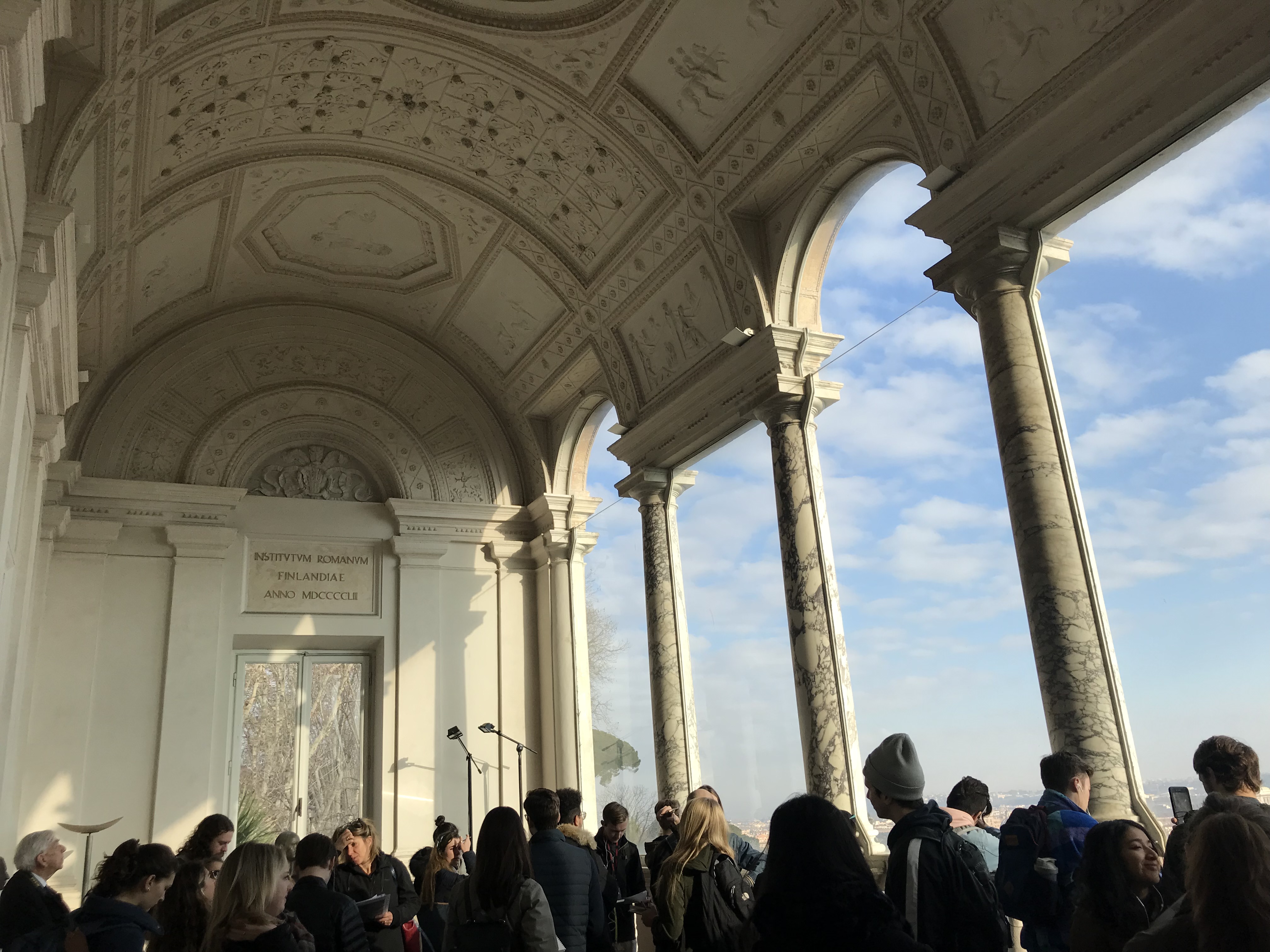 Villa Lante's portico has a scenic overlook of the city.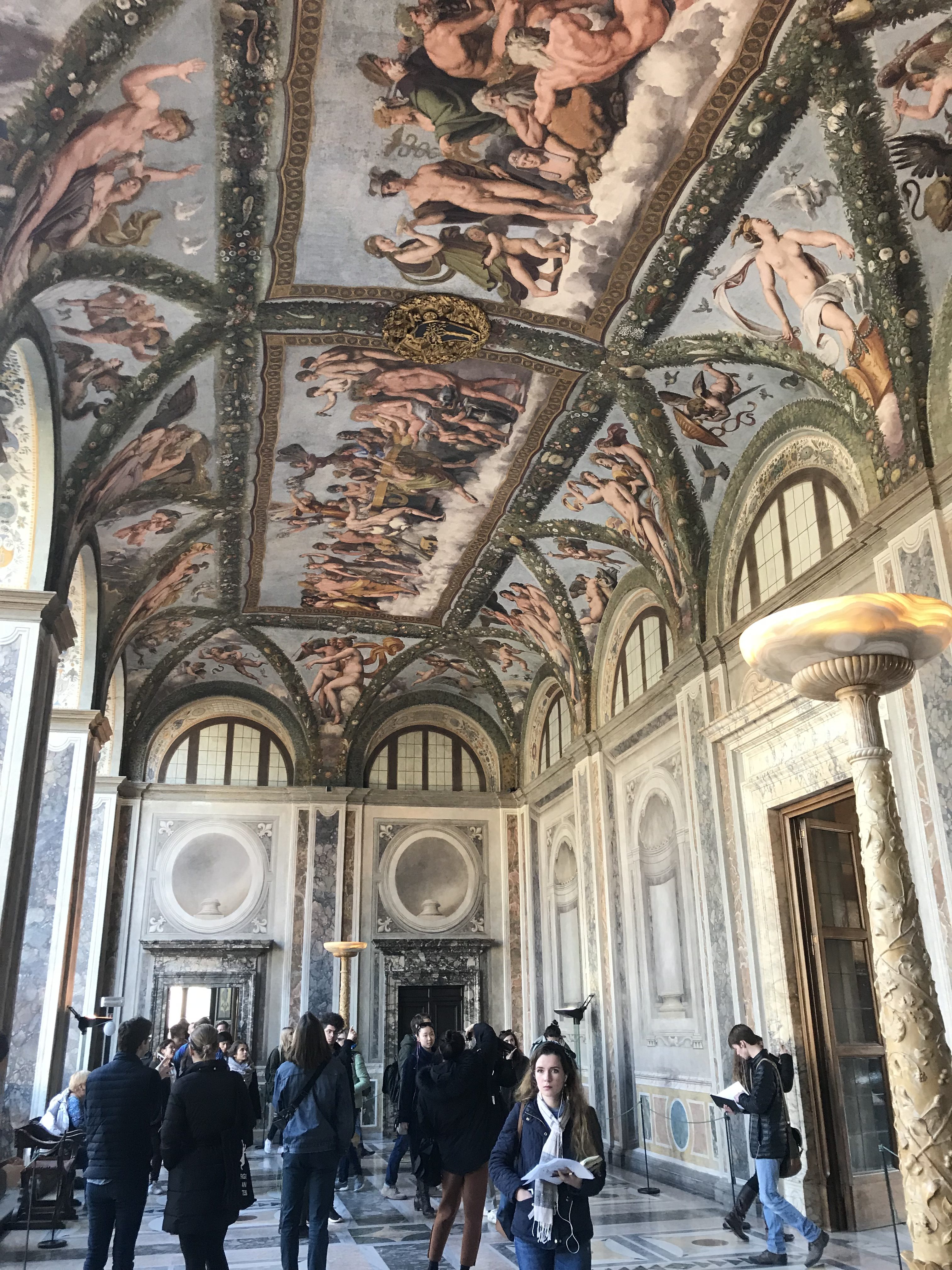 The beautifully frescoed loggia of Villa Farnesina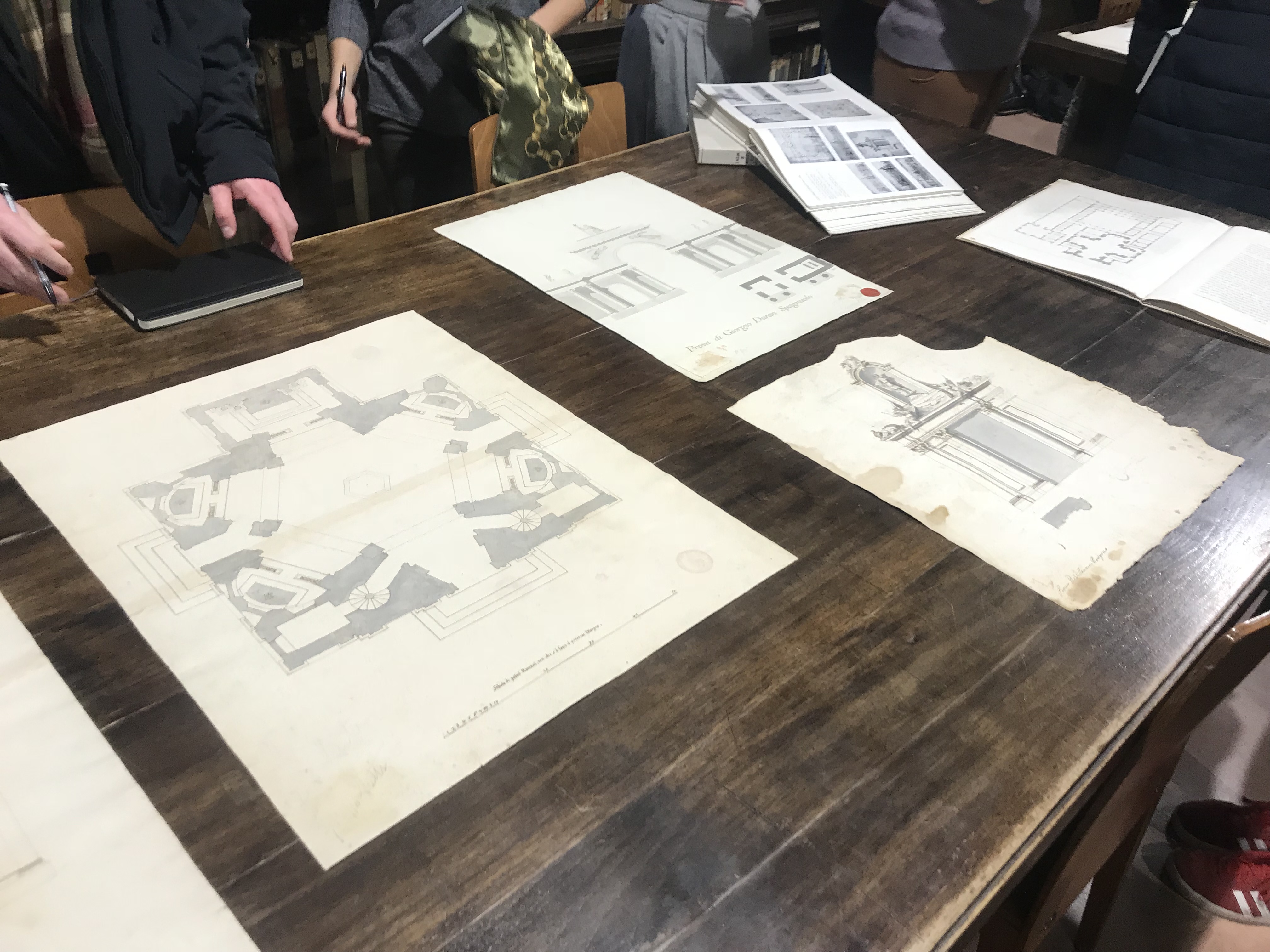 Inside the Accademia di San Luca we saw numerous old architectural drawings.

Michelangelo designed one of the city's gates, the Porta Pia.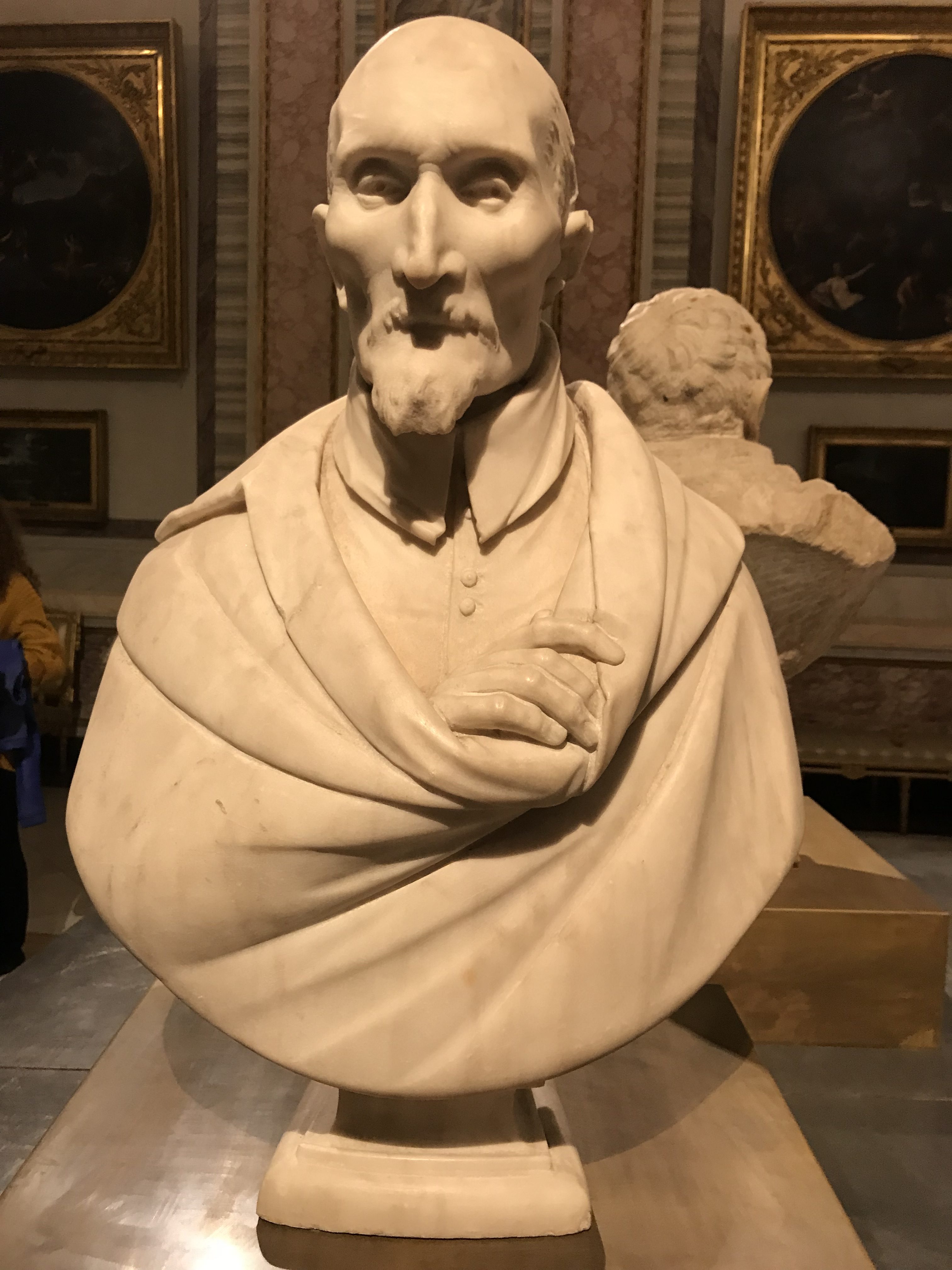 Bernini supposedly sculpted this bust when he was only 13!

"The Rape of Proserpina" was stunning to see in person! 

Bernini's Baroque "David" is very different from Michelangelo's Renaissance version. While Michelangelo's is calm, composed, and depicts the moment after his victory over Goliath, Bernini's "David" is in motion, determined, and captures the moments leading up to Goliath's death.

Bernini perfectly captures the myth of Apollo and Daphne, just as she is transforming into a tree.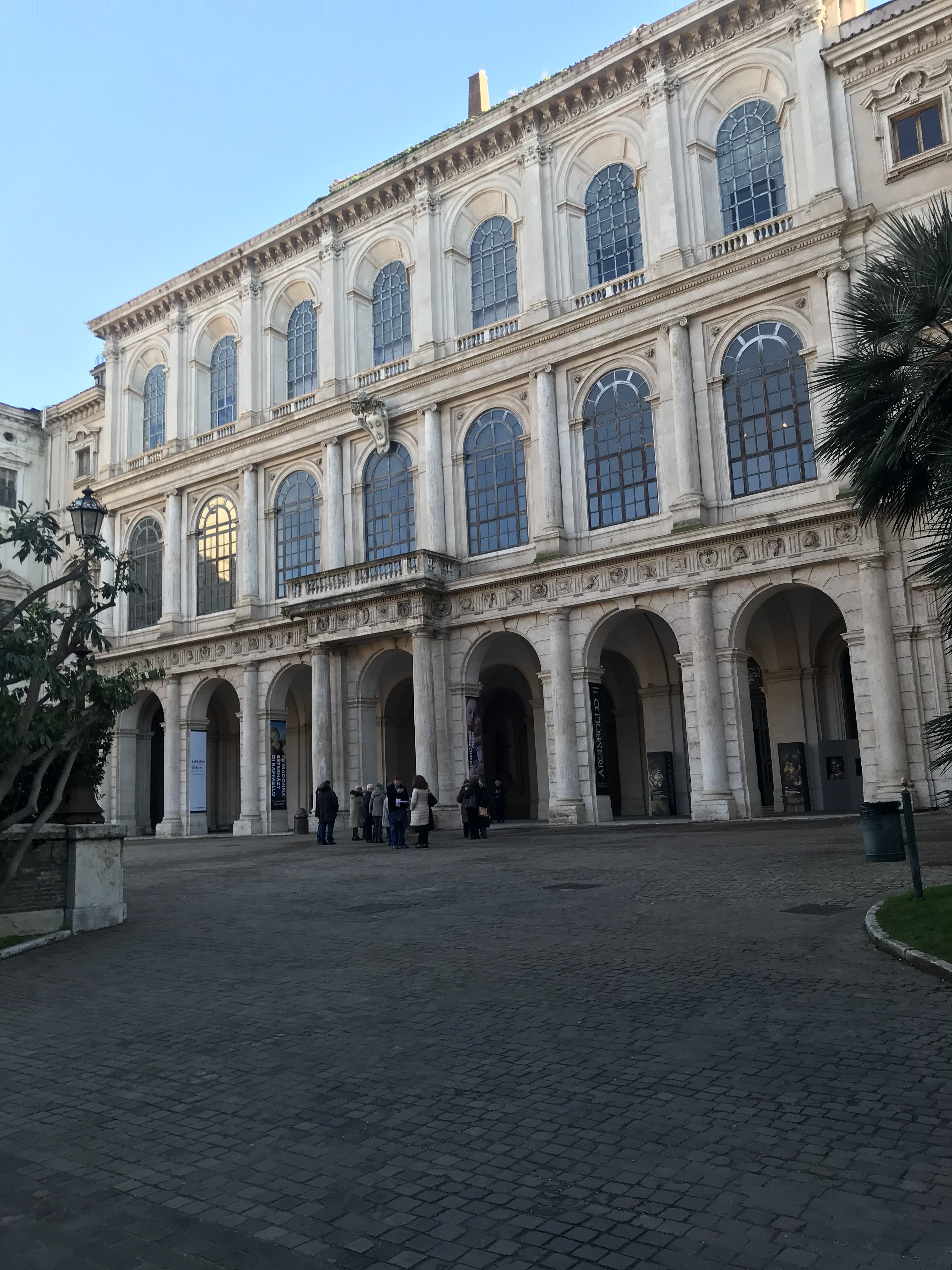 This is the exterior of Palazzo Barberini. Since the Barberini family seal is three bees, the insect can be found in architectural details throughout the grounds.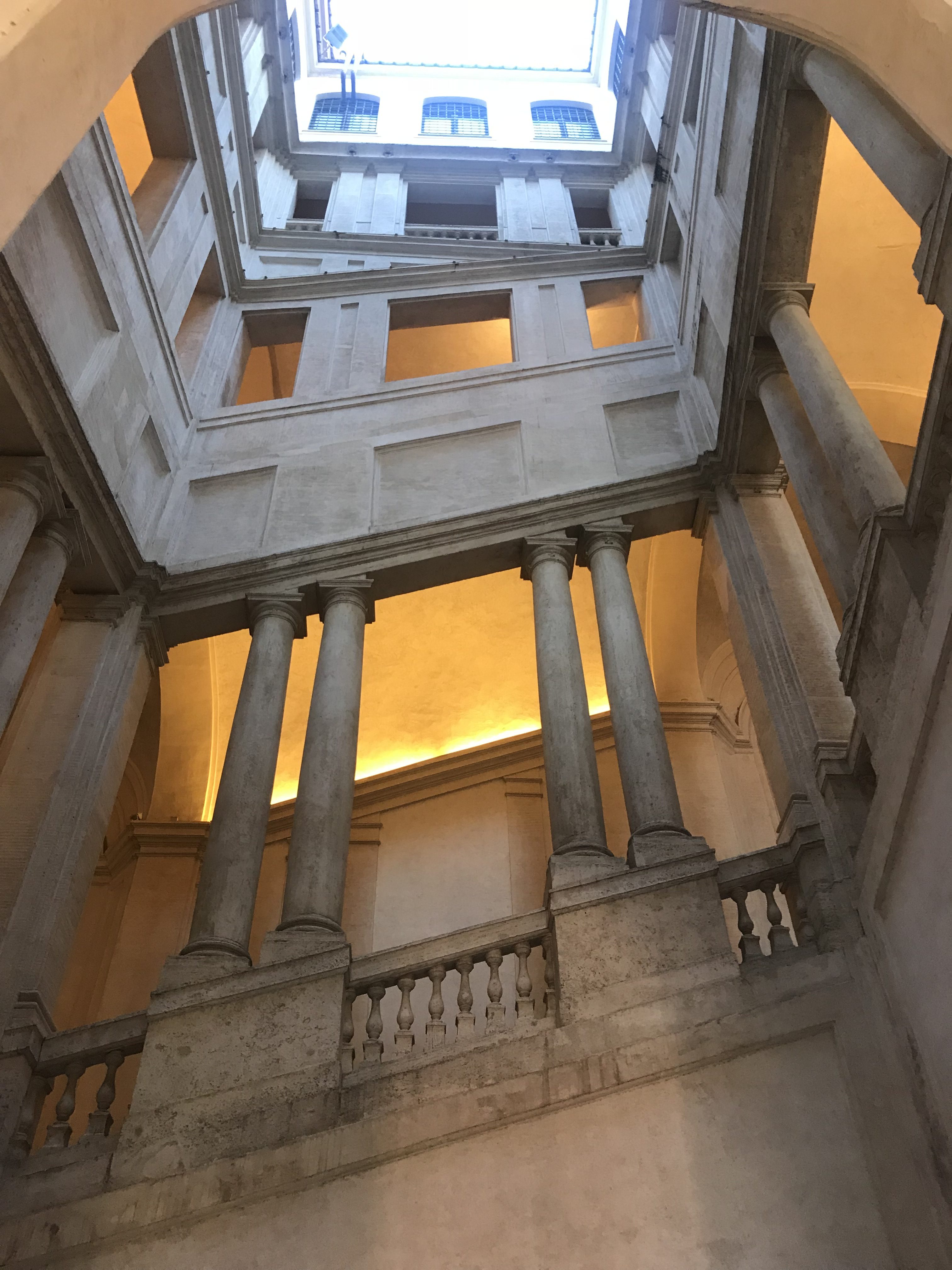 Palazzo Barberini has two fantastic staircases. This one, used by the museum, was designed by Bernini. Unfortunately I was unable to see the other staircase, a spiraling oval designed by Boromini and based on the Bramante's circular ramp in the Belvedere Palace in the Vatican.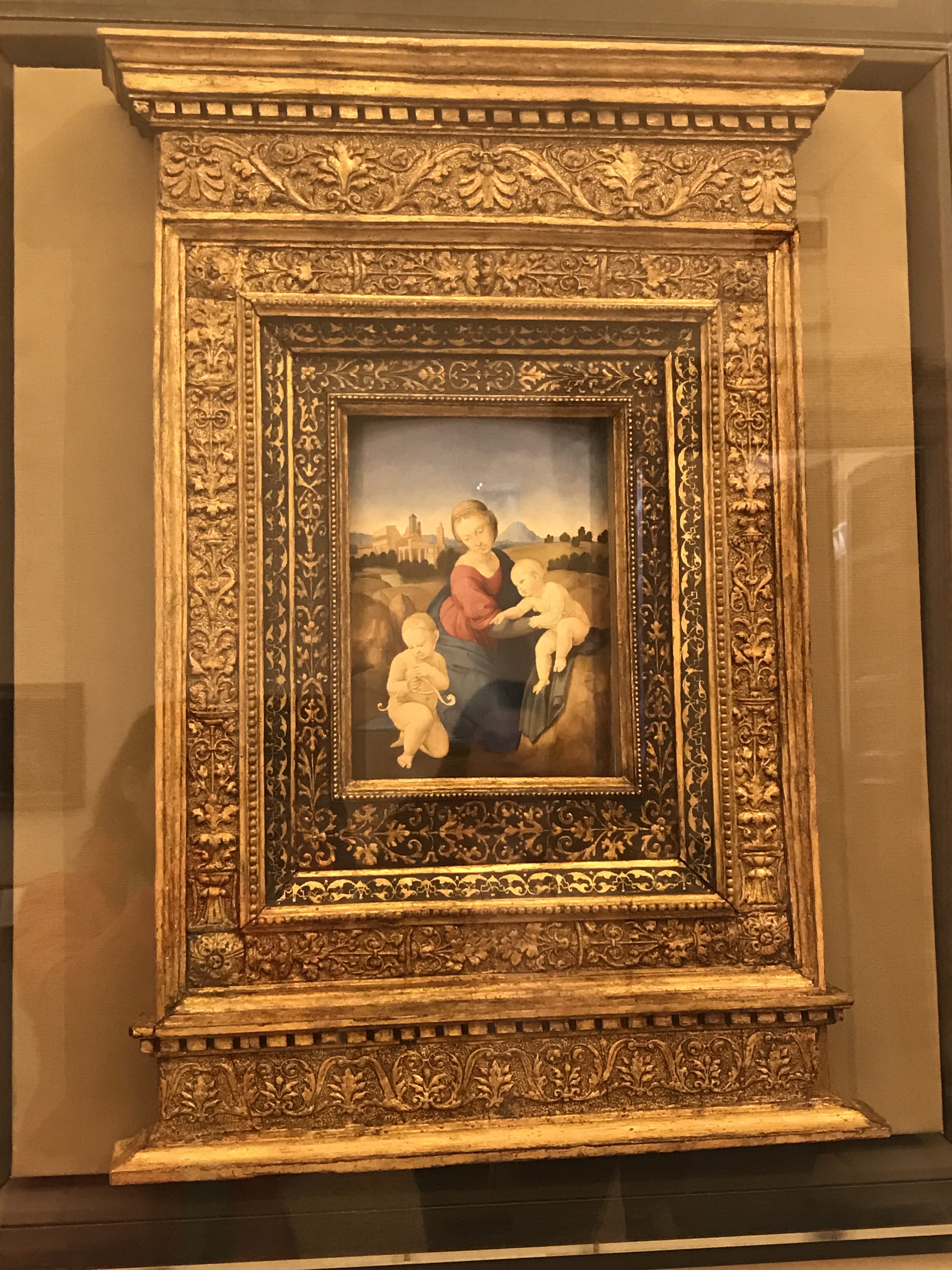 I was excited when I saw this Raphael painting of Mary with Jesus and John the Baptist because I had seen his preparatory sketch for it in the Raphael exhibit in the Albertina Museum when I was in Vienna over winer break!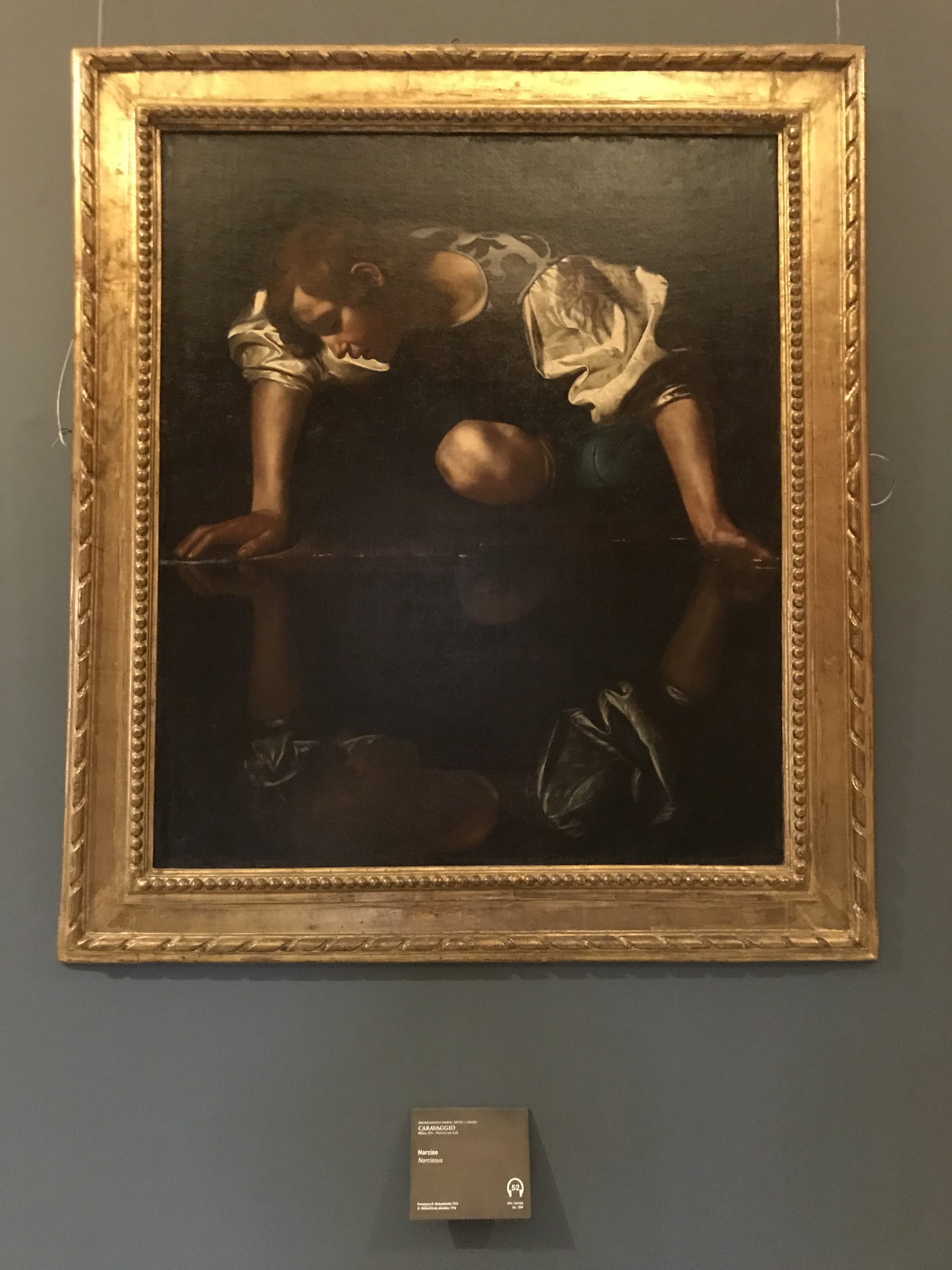 Caravaggio's paintings, specifically his stunning use of light, always seem to captivate me. Here he depicts Narcissus.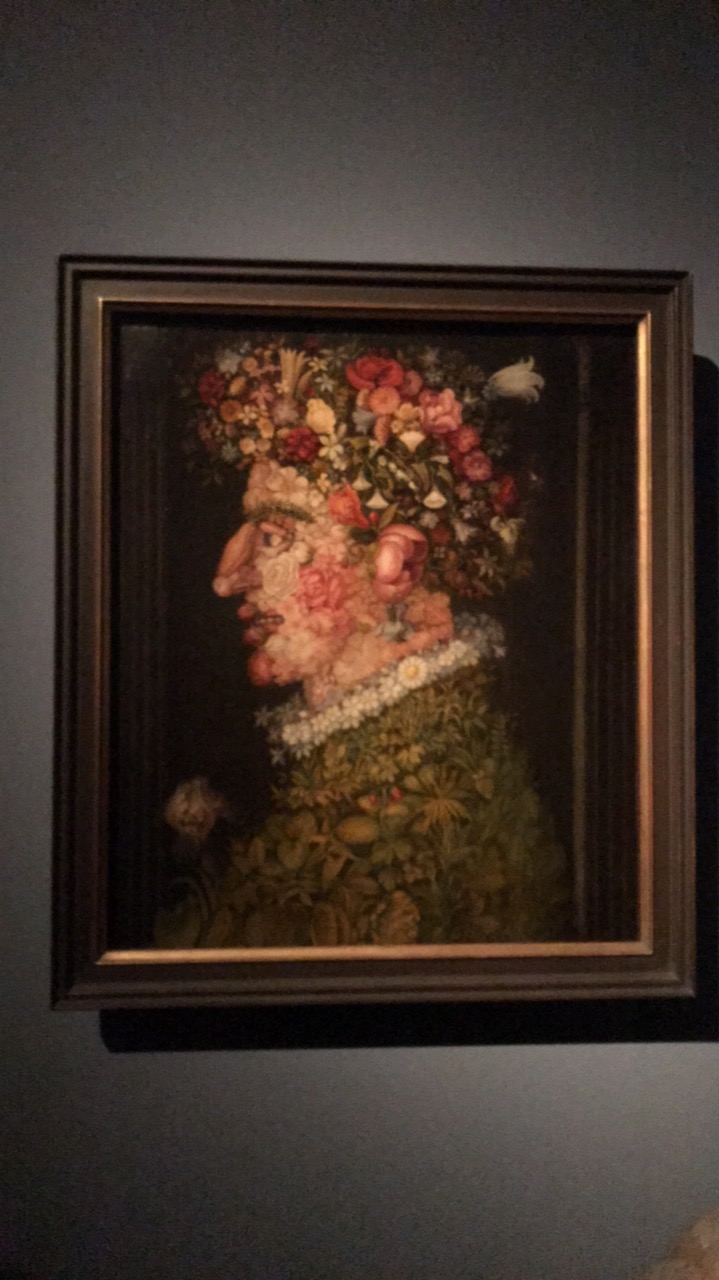 I am fascinated by Archimboldo's composite portraits. In this portrait depicting Spring, he creates the face by painting flowers. His "Summer" is made of fruit, "Autumn" of harvest crops, and "Winter" of twigs. He also has portraits of the four elements (Water is creepy!), as well as some optical illusions.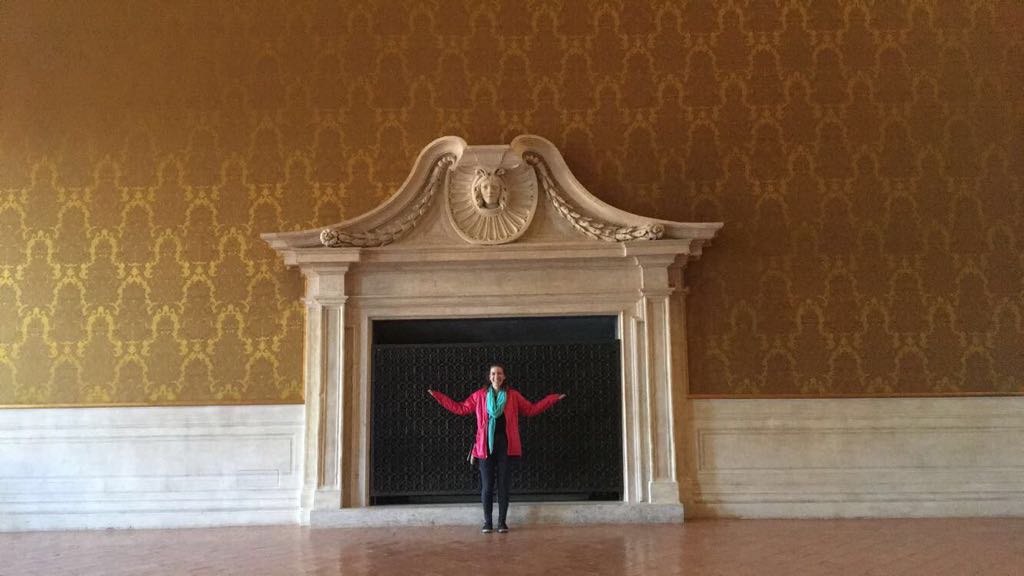 The Great Room of Palazzo Barberini was MASSIVE! Just look at the fireplace.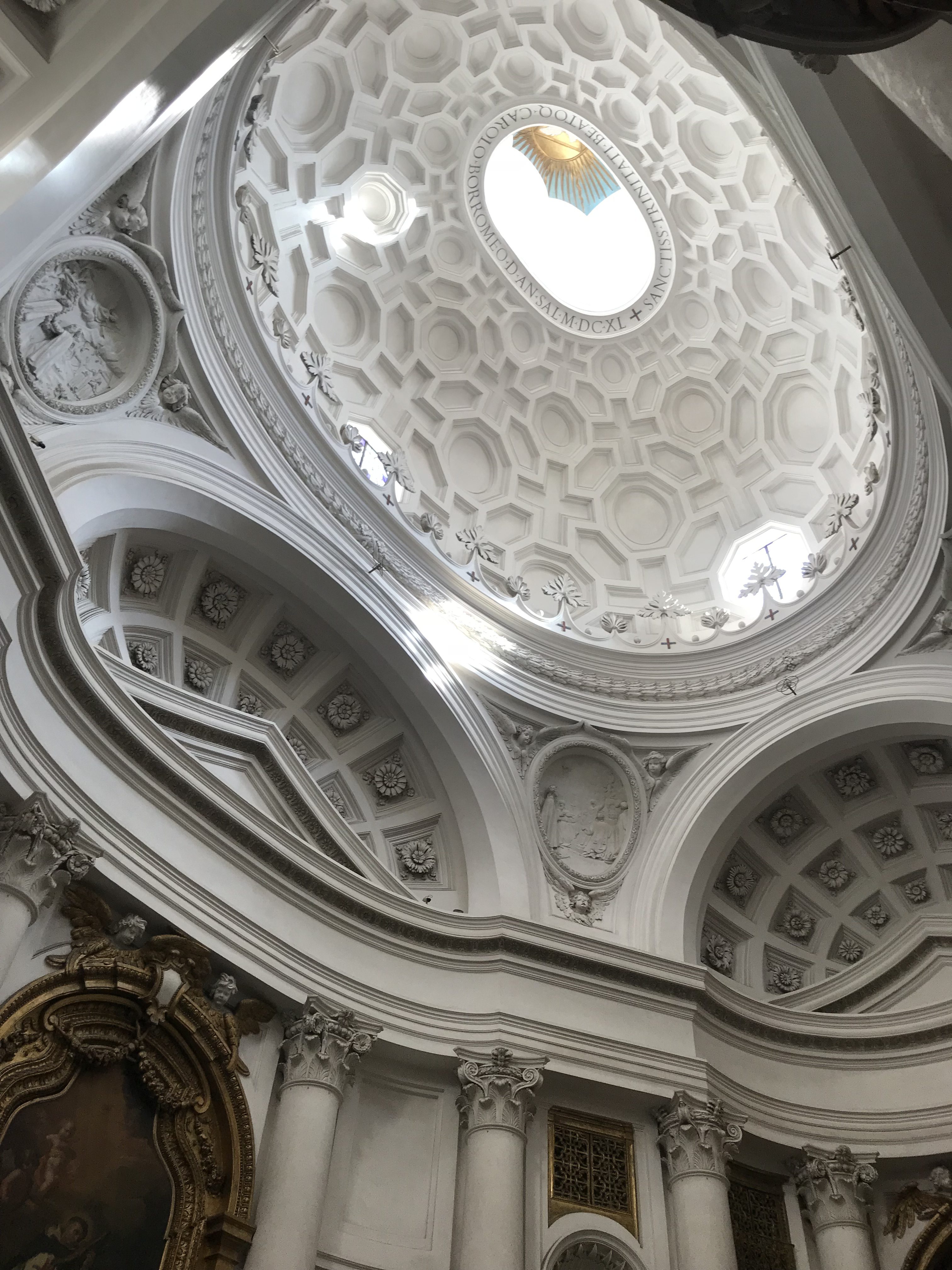 A surprising number of people fit in the tiny San Carlo alle Quattro Fontane for Mass.
I had yet another busy week! It began with our history lecture Monday morning. I tried something new during our lunch break and attended the meditative yoga class that the school organizes for us. It was a nice, relaxing, stress-relieving time. After a quick lunch I had Studio in the afternoon, followed by a lecture from esteemed architectural historian Howard Burns. I even got to chat a little with him after the lecture.
On Tuesday we had site visits for history, and Howard Burns joined, too. We went to Villa Lante al Gianicolo, San Pietro in Montorio (and the Tempietto), and Villa Farnesina. That evening we had to watch a French comedy, Mon Oncle, in which the sets and architecture are vital to the plot, in preparation for our upcoming Paris field trip.  
Wednesday began with our history final. We chose a topic from a reading as well as an architectural feature to study in depth. Then, our professor formed groups and we had 20 minutes to formulate a 20-minute lecture to present to the class. Studio that afternoon wasn't a regular class because we headed to the Accademia di San Luca, an historic Roman art academy. There we saw fantastic architectural drawings and renderings from as early as the 1600s. Some of the works we saw are the products of Bernini's students.  
For watercolor on Thursday we painted a still life of fruits, vegetables, and architectural elements. That evening a small group of us went to the Borghese Galleria in the Villa Borghese, which had a special exhibit on Bernini. We saw everything from his preparatory models, sketches, and statues. One bust on display is believed to have been completed by the prodigy when he was only 13. Three things in particular struck me about the master: His focus on detail, his skill, and his composition. One example of his detail oriented approach is the subtle traces of smallpox his bust of Cardinal Alessandro Peretti Damasceni Montalto, something that is easily missed with a casual glance. His skill astounded me many times. In "The Rape of Proserpina" he makes marble look soft and fleshy, especially where Pluto is grabbing her. In the mattress he sculpted for the "Sleeping Hermaphroditus," he transforms the solid, heavy, material into something light and pillowy. His ability in composition was probably his most astounding quality. With a truly Baroque sensibility, his art is dynamic, conveys motion, and can (and should) be viewed from every angle! After exploring Villa Borghese, we grabbed dinner at Pastificio, the delicious four euro quick pasta place (it was gnocchi night!), on the way back to studio to work.
Friday began with our Villa and Garden class where we reviewed our artistic studies of water and soil, as well as our speculative section of a garden based on the one depicted in the frescoed room of the Villa Livia a Prima Porta, as displayed in the Palazzo Massimo that we visited last week. In the afternoon we had Studio followed by a Paris Prep lecture about the city in the 19th and early 20th centuries. I spent Friday night working in studio. Saturday was full of work and running errands in the city.
Since Sunday was the first one of the month and many museums are open for free, I started the morning by going to see the art galleries in Palazzo Barberini, specifically its temporary Giuseppe Arcimboldo exhibit. Arcimboldo was a 16th century artist who is famous for his composite portraits made of strategically placed themed objects. For example, he did portraits of the four seasons and the four elements. Next we ran around the corner to stop in Borromini's San Carlo alle Quattro Fontane, where we stumbled in right at the beginning of Mass and stayed. After grabbing lunch, I completed the still life that was our out-of-class Watercolor assignment. The rest of the day was consumed with other work.